Sending kids back to school willy-nilly will not be an option in the Burnaby school district this year.
If parents decide not to send them back when the school year starts next month, they'll have to wait until either mid-November or mid-March, according to information presented at a special briefing on the district's back-to-school plans Wednesday.
District officials have made that decision "in order to maintain a stable learning environment for students at school and those learning at home," according to assistant superintendent Wanda Mitchell.
"Best efforts" will be made to get students back into their home school or program of choice, she said, but if there's no space, they'll be diverted to another Burnaby school for the rest of the year.
If they're diverted, however, they will be able to return to their home school or program of choice by September 2021.
Options
During the public online briefing, Mitchell outlined several options for parents who decide not to send their kids back to school during the ongoing COVID-19 pandemic.
For those who pick homeschooling – which involves a parent or family member taking on the entire educational program at home – Mitchell noted students are required to be registered at their catchment schools as homeschoolers.
Families can also opt for distance-learning courses through Burnaby Online, which delivers all lessons and assignments through an online learning portal, with teachers providing assessment and support via messaging, email or phone.
Mitchell noted teacher-student ratios for Burnaby Online are 1-30 for elementary and 1-50 for secondary, higher than for regular classes.
Assistant superintendent Roberto Bombelli also pointed out that Burnaby Online classes are not like the online learning with classroom teachers that students saw in June.
While teachers are there to support students, there are no daily check-ins, he said, and teachers don't schedule when assignments are due.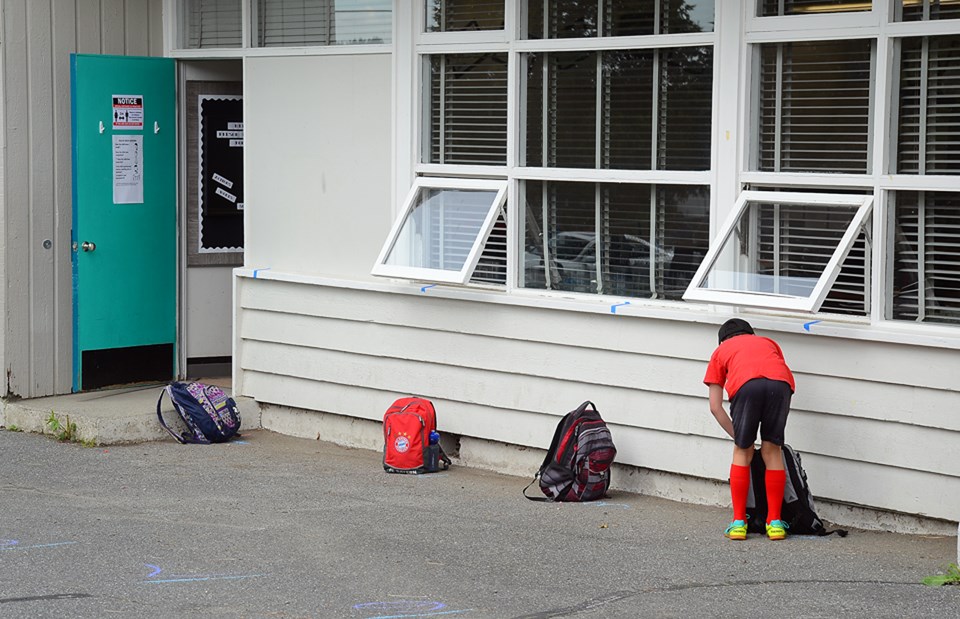 "Students need to manage their time and their ability to complete the program by a certain time if they wanted to complete it this year," Bombelli said, "so it might be quite different than what some parents might be used to."
For students who are immunocompromised, have an underlying medical condition or are living with someone who does, the district is also extending its existing Out of School Support Program, which usually supports students who can't go to school because of an injury or illness.
How the extra students in the expanded program will be grouped will depend on how many kids register, Mitchell said, but they will be assigned an online-learning teacher who will deliver the "full curriculum" through Microsoft Teams.
For parents of elementary school students who still need some time to make up their minds about sending their kids back to school, the district is also offering another option – albeit a short-term one.
Students whose parents make this choice will learn remotely from home with the support of a parent or family member, according to Mitchell.
Students would get some support from an online teacher, likely in the form of one-on-one check-ins, she said.
The date by which families would be required to make up their minds has yet to be determined.   
"Once we ascertain the level of interest, we will provide further information regarding the details of this plan," Mitchell said.
Bombelli said the wait-and-see option couldn't be extended to high school students because of the impact it would have on timetabling, specifically schools' ability to offer electives.
Students with special needs
All the options outlined by Mitchell will be available to families of students with special needs, according to the district.
Assistant superintendent Jeannette Laursoo said online options for special needs students "may not fully replicate the services provided in the educational setting," but the specialized supports, as outlined in students' competency-based individualized education plans, will be made available.
She added the following proviso, however: "The strategies used may be adjusted for the learning environment."
Staff will communicate directly with families of students with special needs in the coming days.
Electronic forms will be sent out to all parents this week, and they have until 3 p.m. on Sept. 1 to declare their back-to-school choice for their kids.
"It is my sincere hope that all students and families will see an option here tonight that will best support you in making a decision that suits your families," superintendent Gina Niccoli-Moen said at the meeting Wednesday.