A former B.C. Green Party candidate says he is now running as an independent in the Burnaby South byelection.
Valentine Wu, who garnered 13 per cent of the Burnaby-Edmonds vote in the 2017 provincial election, announced his candidacy on Twitter on Thursday.
"I here announce that I am working to run as Independent Candidate at Burnaby South," read the tweet.
Subsequent tweets said he was working to get the required 100 signatures from Burnaby South residents.
"Just home after visiting 7 families for signatures," he tweeted. "Some waiting on the couch with pajamas."
Wu was named as a candidate for the Burnaby Greens in the lead-up to the 2018 civic election, but pulled his name from contention. The federal Green party decided to not run a candidate against federal NDP Leader Jagmeet Singh.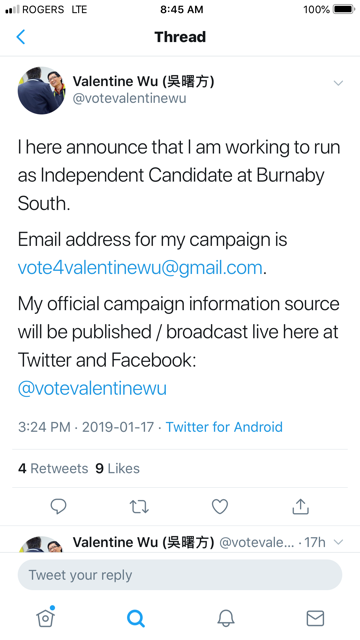 Wu has been an ardent critic of the Liberal Party of Canada's refugee program. He would like to see a review conducted.
"I believe current refugee policies need to be reviewed at least," Wu wrote in a Jan. 10 tweet, responding to an article in which Prime Minister Justin Trudeau defending Canada's refugee program. "Canadian lives are more important than your political & economic interests!"
Wu has told the NOW previously that he is close with the family of Marissa Shen, who was murdered in Burnaby's Central Park in July of 2017. A Syrian refugee has been charged with her murder and is awaiting trial.
In another Jan. 10 tweet, Wu addressed Trudeau directly: "Why so defensive? I think those ppl who criticize u r actually helping u to keep ur job. Improve refugee & immigration policies so that Canadians can still feel safe & comfortable. If the girl killed is ur daughter, will u talk like this?"
In a NOW questionnaire sent to 2017 provincial election candidates, Wu wrote about why he would make a great MLA: "Listen to people, take actions for people, fight for the public interest, especially working class."
The NOW has reached out to Wu via email for an interview.