Some collaborations are just meant to be.
Not long ago, Burnaby Mountain Secondary music teacher Deanna Gestrin got a call from an Indigenous hip hop artist living in New Westminster.
Theresa Warbus, who performs as Keliya, was looking for a youth choir to perform in a music video she's shooting with a $10,000 Telus Storyhive grant.
She had already contacted a few other Lower Mainland music teachers, whose plates were full, and the last had recommended Gestrin.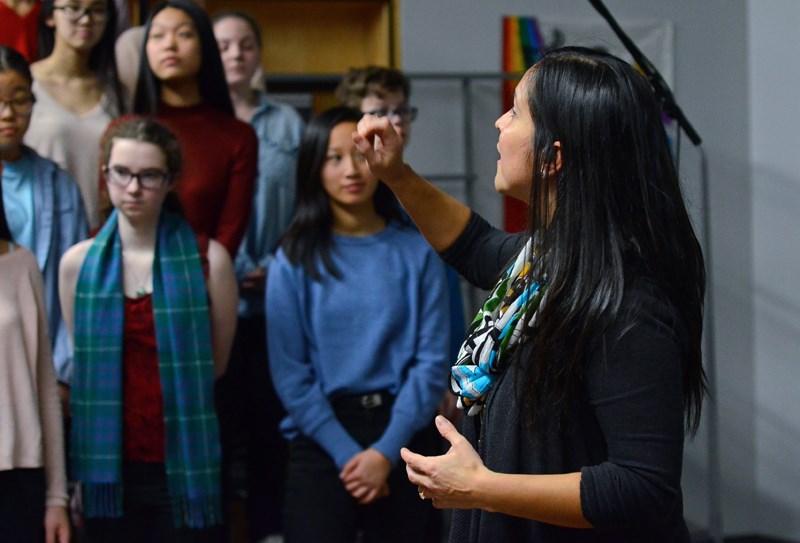 The women got to talking, and it turned out Warbus had heard about Gestrin before – a lot.
Gestrin's mom had worked closely with Warbus's dad, Steven Point, a well-known retired judge and former lieutenant-governor of B.C.
Warbus had spent a lot of time at her father's office in Chilliwack, she said, and Gestrin's mom had watched her grow up, often talking to her about her own girl, Deanna.
"She'd be like, 'Oh, my daughter, she just finished her degree in music. Oh, you do music too, don't you? You guys have to meet one day,'" Warbus said.
But the pair never did meet until the video project brought them together in the last couple months.
"Fate obviously brought us together," Warbus said.
The two agree the project has been a win all around.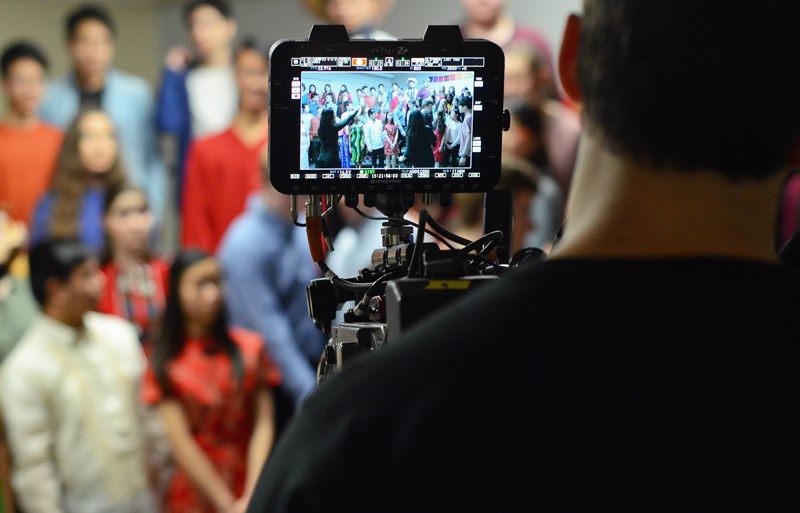 For Warbus, who is also a master's student in film production at UBC, it was a chance to reconnect with youth. Before dedicating herself full time to her art, she had worked for 10 years with youth in care and in the Downtown Eastside.
"I've always wanted to bring it back to that basic idea of giving back to the community and working with young people, inspiring young," she said. "I not only want to be that person of colour, Indigenous person they look up to, I want to be a person they look up to that's in their community, that they know, a real-world example of an artist having success. It's not all about just getting on Spotify, Youtube, being a star, blah blah, TV, mainstream. It is really about the craft and the art, and, if you love it, you can make it happen."
For Gestrin, it was a chance for her students to explore a more modern genre of music and to collaborate with an Indigenous artist living in the community.
"Everybody's been really excited," Gestrin said. "I think people understand sort of the scope of the project and also that it's a really special opportunity, so the parents are excited, the students are excited."
Gestrin wrote a choral arrangement for the chorus of Warbus's song Take Us and rehearsed it with Burnaby Mountain's 90-member concert choir for about three weeks.
"What the message means to me is it's about bringing everybody up," said Grade 11 student Ben McLennan, who called the song "inspiring."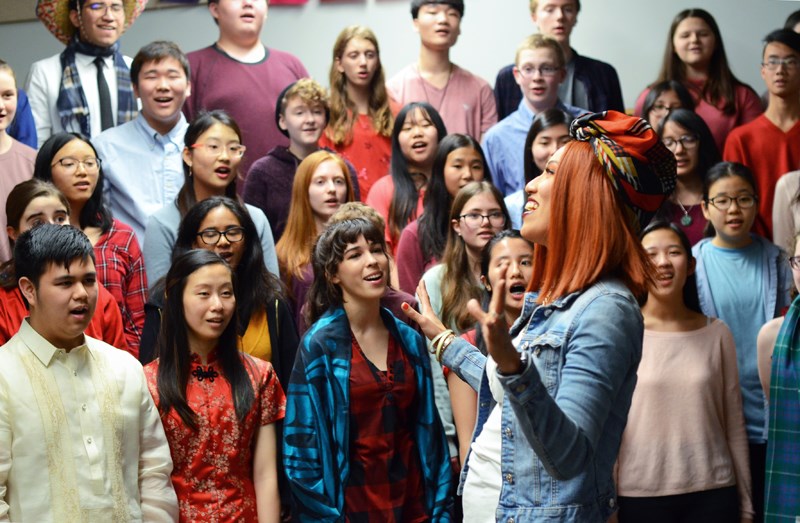 "'Take us to the edge of our freedom' is like, show us how liberated, how free we can be with ourselves and with one another," he said of the words of the chorus.
Grade 8 student Elisabeth Comley was equally enthusiastic. 
"I know this is really kind of cheesy, but I just like everything about it," she said. "I really love the message that Keliya (or Theresa) is spreading."
The project culminated for the choir two weeks ago, when a camera crew, led by filmmaker Zoé Arthur, set up in one of the school's music rooms and shot what will be the last scene in the video: Warbus rapping, backed by the choir singing the chorus.
Throughout the video, Warbus looks to challenge society's stereotypes of women, especially Indigenous women, as she takes on different identities.
"Her liberating lyrics invite disenfranchised communities to unite as one and show the world that we will not be defined by stereotypes," states a treatment for the project.
It's a message that resonated with Gestrin, who smiled seemingly irrepressibly throughout the video shoot with her students.
"I love what she stands for," she said of Warbus, "and I'm totally in line with the idea that we want to find our true self, in whatever way that appears, so, being confident with who you are, showing who are, regardless of titles and stigmas and people placing you in a certain box – just becoming yourself."