In Burnaby's Forest Grove Park, members of Tsleil-Waututh First Nation are building resistance to the Trans Mountain pipeline expansion, constructing a permanent cedar watch house in the pipeline's path.
Just south of the building, thousands gathered in a gravel soccer pitch off Forest Grove Drive after marching north from outside the Lake City Way SkyTrain stop Saturday morning, up Lake City Way, and past the Trans Mountain Pipeline Burnaby Terminal. Protesters carried signs, chanting, beating drums and singing as they marched in opposition to Kinder Morgan's pipeline expansion.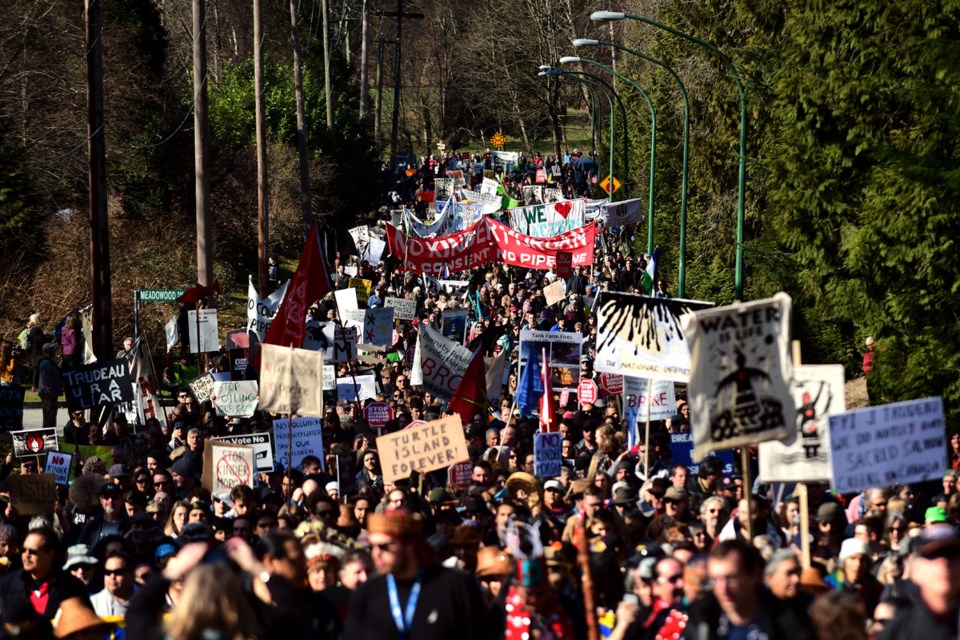 Will George, a member of the Tsleil-Waututh First Nation, said he was asked by his spiritual leaders and elders to build the structure, which is in the traditional style of a Sechelt Longhouse.
"There's an existing pipeline here that's been here for 60 years, and that was built without our consent," he said. "Today, it's unacceptable. We can't allow this pipeline to be doubled with increased tanker traffic."
George said he will be staying in the Longhouse "as long as it takes."
"We're going to stop Kinder Morgan. We're going to stop the Trans Mountain pipeline," he said. "We're continuing to send that message that we're not going to allow this pipeline to be built. 
The watch house is built of cedar planks created from one tree and is 20 by 20 feet. It's positioned near the south eastern corner of Kinder Morgan's property line and on top of the existing pipeline. A few metres away from structure, notices hung in plastic bags along the fence following yesterday's BC Supreme Court injunction in favour of Kinder Morgan, which prevents protestors from setting up blockades and interfering with construction.
Workers building the watch house said they were approached by a police officer that told them not to dig into the ground, but police did not intervene in any other way. Burnaby RCMP did not confirm the interaction when reached for comment.
Kennedy Stewart, the Member of Parliament for Burnaby South, said he would like to stay overnight in the building himself if the organizers approve. He said he hopes Saturday's protest communicates to the company and to Prime Minister Justin Trudeau that "this pipeline is never going to get built."
"In Ottawa, they call them the 'pipeline radicals,' but really you're just waving to the Moksha Yoga folks and the merchants along Hastings Street," he said. "Its a very, very grassroots movement against this pipeline, and that's why we'll win."
Organizers are in the process of building a "watch house" just north of the soccer fields at Forest Grove elementary. More to come. #KinderMorgan @BurnabyNOW_News pic.twitter.com/BLIAUro6rr

— (@laurby) March 10, 2018
Reuben George of Tsleil-Waututh Nation, said in a speech before the march that demonstrating is how they will affect change.
"Members of Tsleil-Waututh can't stand by and watch, while its in court, [and] watch the development of the pipeline, so we're standing up," he said in an interview. "This is a celebration today to bring awareness to the watch house the elders are building. The elders have said they want to do a call to all religious leaders, all spiritual leaders, all interfaith leaders, to come say a prayer at this watch house."
Chiefs, elders, and members from Indigenous groups across Canada came to support the Nation's opposition to the pipeline, including Squamish and Musqueam nations.
Squamish Nation Coun. Khelsilem said he hopes the rally leads to further support for the opposition of the pipeline.
"I think its important for us to come together and remind ourselves of our shared values. I think these events are part of the ceremony we do in our contemporary society," he said. 
"They teach and install values in our young people, and it's a way for older generations to pass down values to younger generations."
More than 8,000 people signed up to attend on the event website, organized by Tsleil-Waututh members.  Burnaby RCMP estimate a turnout of 5,000 people at the peak of the event. There were no arrest made. Organizers emphasized that today's protest was meant to be peaceful, but those present were asked if they would be willing to be arrested to stop the pipeline in the future.