Parents are scrambling to save a unique Burnaby preschool for deaf and hard-of-hearing children.
They found out last week that their kids' preschool at the BC School for the Deaf and South Slope Elementary in South Burnaby may be forced to shut down in two months unless it can get more funding from the Ministry of Children and Family Development.
Surrey parent Matthew Kalenuik, whose four-year-old daughter attends the preschool, said deaf and hard-of-hearing kids are going to be "screwed over" if it closes.
"We've got a responsibility as parents to make sure that doesn't happen, and the ministry's got a responsibility to step up," he told the NOW. "It's a human right to have equitable access to language."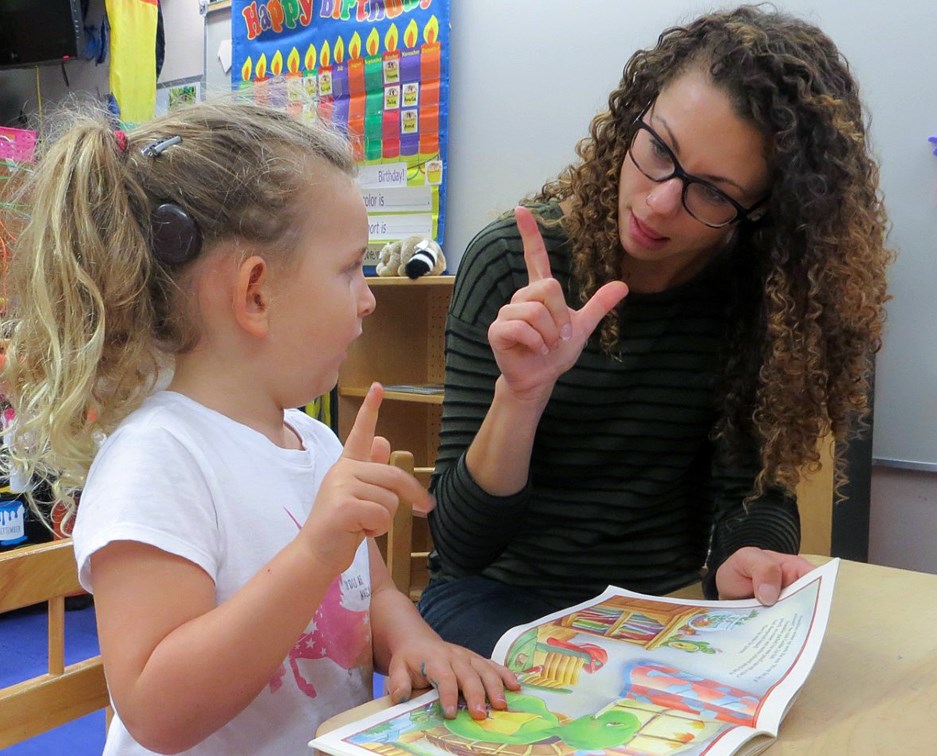 Kalenuik's daughter was born three months premature, and a hearing check at four months found she might have hearing loss, something specialists later confirmed.
She has hearing aids but relies a lot on American Sign Language to communicate, according to her dad.
What sets the Deaf Children's Society of B.C. preschool apart is that it is the only preschool in B.C. where kids are taught in both English and American Sign Language.
That's made all the difference to Kalenuik's daughter.
"This preschool has allowed her to make friends who are like her," he said. "She has peers that use American Sign Language that are like her, so she fits in. We had her in regular daycare for a bit, but she did pretty poorly. Daycares are loud; everything on her hearing aids is basically white noise; there was nothing she could pick up. She'd come home frustrated and angry and confused. At mainstream daycares, workers don't know sign language. They don't know how to do early childhood education with deaf kids."
Kalenuik's daughter is set to enter kindergarten at the B.C. School for the Deaf (housed on the same campus as South Slope) next year, and he said she wouldn't have been ready if it hadn't been for the unique preschool.
Funding cuts
MCFD funding for the Deaf Children's Society of B.C. has decreased dramatically since 2015, according to executive director Lisa Meneian.
Before 2015, Meneian said MCFD funded her organization directly, and the funds accounted for about 75% of its operating budget.
In 2015, however, the ministry contracted out all early intervention services for deaf and hard-of-hearing preschoolers to the B.C. Family Hearing Resources Society, which then subcontracted the Deaf Children's Society.
Since then, Meneian said, the number of deaf and hard-of-hearing children accessing early intervention services has more than doubled, but the ministry funding has never changed, leaving the B.C. Family Hearing Resources Society to make cuts.
In March, Meneian learned funding to her society's preschool was being eliminated starting April 1.
"At a time when the government is putting over a billion dollars over three years into child-care initiatives and establishing new child-care centres, we're facing closure," Meneian said.
For her, adequate funding for the preschool comes down to protecting deaf and hard-of-hearing children's human rights.
"Really what it comes down to is recognizing the language, accessibility and cultural rights of deaf children under the Convention on the Rights of Persons with Disabilities," she said.
Meneian warned the province will pay later if it fails to adequately fund early childhood education services for deaf and hard-of-hearing kids now.
"If we don't give them early language, it costs us big time later – in mental health, in unemployment," she said.
Looking for solutions
MCFD told the NOW it recognizes the importance of early language development and "understands the pressures" the B.C. Family Hearing Resource Society is feeling.
"These pressures are being considered as we proceed with developing a new child and youth with special needs service framework," stated an email from a communications staffer.
The email said ministry staff will continue to work with the organizations involved to find solutions.
Burnaby-Lougheed MLA Katrina Chen, the minister of state for child care, said she has asked her staff to set up a meeting with Meneian in the coming week or two to get more information about funding gaps her organization is facing.
She said she had met with Meneian in Victoria before the COVID-19 pandemic hit and hadn't been able to follow-up on that meeting.  
"When I met with Lisa, I did not realize the funding impacts could potentially cause the preschool closure, but now I'm aware of the fact, and I'm interested to find out what are the gaps," she told the NOW. "If it's connected to the MCFD side, of course that's something MCFD will have to work on, but if there's anything we can do with our child-care funding, we'll do our best."
In terms of the bigger question of funding for early intervention services for deaf and hard-of-hearing preschoolers, including MCFD's work on a new child and youth with special needs service framework, Chen said she didn't have enough information to comment.
"My understanding is MCFD is working on this as we speak, and they're hoping to provide more information in the coming days."