The City of Burnaby is boosting funding to accelerate the construction of new sidewalks in the coming years. 
Council voted in 2019 to increase its spending on sidewalks by $10 million per year to cover the 40% of local roads – 275 kilometres – without a sidewalk on one or both sides. 
Burnaby resident Don Anderson says that's good news, but he also has another suggestion for the City of Burnaby.
"How about Burnaby actually properly maintain or replace some of the existing sidewalks?"  
Anderson has lived on Tyndale Crescent for over 30 years and in that time the sidewalks have deteriorated, he said.
"When I sent in a sidewalk repair request, the maintenance crew comes along and does a cheap repair with either using asphalt patches or grinds high spots," he said.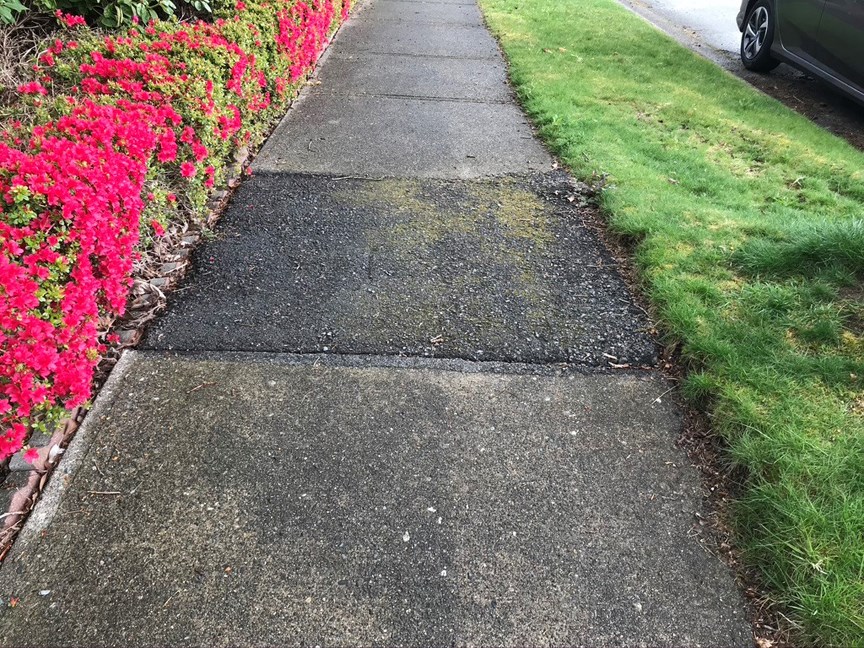 Anderson says these crumbling sidewalks are unsafe for seniors and people with mobility issues.
"Why would I want to use the sidewalk when it is actually safer to walk along a smooth road surface?" Anderson asked. "No need to worry about tripping over the bumps and abrupt edges or having a consistent walking surface."
The City of Burnaby advises residents to report these issues so it can assess and conduct repairs.
As for the areas that don't have any sidewalks, the city estimates it's missing 438 km of sidewalks.
Burnaby currently builds an average of 7 km of sidewalk every year – putting it on pace to cover only half the city's needs over the next 30 years, according to a staff report. Staff estimate "completion of the sidewalk network would take over 60 years through current policies, practices and funding levels."