Shattered glass rained down onto a busy street from the 29th storey of a Burnaby highrise Monday night.
Police and firefighters were called to 4485 Skyline Dr., in Brentwood's Solo District, just before 9 p.m., according to Burnaby RCMP.
They were told a large pane of glass from a highrise balcony had shattered and the glass was on the road.
Officers spoke with the people inside the unit at the time, according to police.
"They stated that, essentially, they heard a smash and they went outside and saw the glass on their balcony had shattered," police said.
Emergency crews blocked off the area in case any more glass came down.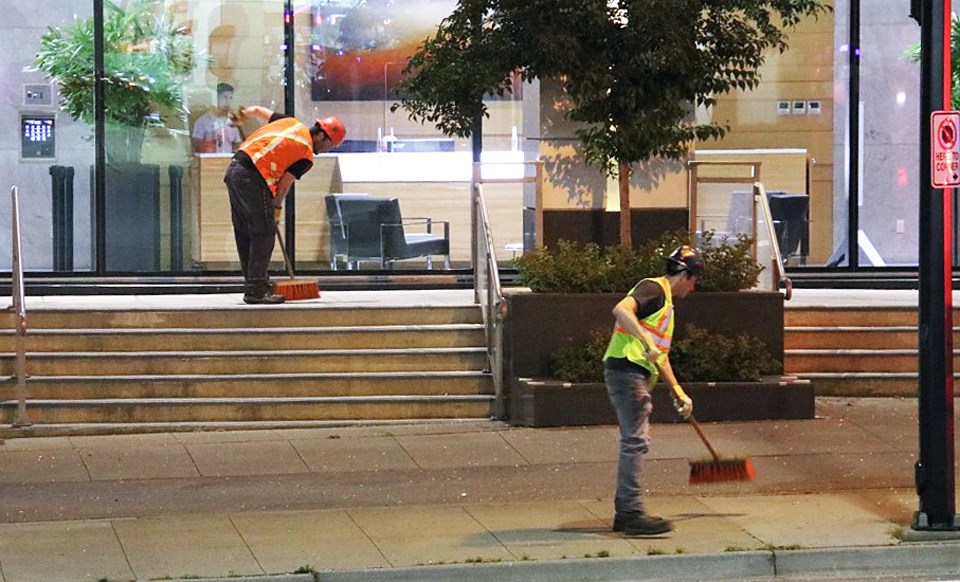 After crews determined the area was safe, city workers swept the shards from the sidewalk and the road.
No injuries were reported, according to police.
Appia Development, the firm that built the building, told the NOW it's waiting to hear from the RCMP about what happened.
"Because it's an open investigation, we can't comment," a receptionist said.
She said Appia doesn't own the building.
Rancho Management Services (B.C.) Ltd., the company that manages the residential strata, declined to comment.
Follow Cornelia Naylor on Twitter @CorNaylor
Email cnaylor@burnabynow.com