Greenpeace International co-founder Rex Weyler joined the ongoing protests against Kinder Morgan's pipeline expansion Monday.
Weyler, formerly a director of the original Greenpeace Foundation, was arrested along with Bob and Barbara Stowe, the son and daughter of Greenpeace founders Irving and Dorothy Stowe, with others who attached themselves with zip ties to the gate at the entrance to the Trans Mountain terminal in Burnaby. According to Burnaby RCMP, 14 people were arrested Monday related to the protests, following Saturday's action where 28 were arrested after blocking the entrance to the tank farm.
Protesters blocked the entrance to the facility in waves. A group of four attached themselves to the gate with zip ties Monday morning, and after they were arrested, three more took their place.
Four people have been arrested and taken away, and three people have replaced them. #kindermorgan #transmountain #stopkm #bcpoli #cdnpoli #vanpoli #burnaby pic.twitter.com/0PzNrKpAJj

— (@laurby) March 19, 2018
Weyler was in the first wave of those blocking the entrance Monday. He said he was hoping the protests will stop the project and protect communities from a potential oil spill in the Salish Sea.
"A tanker spill in this body of water is going to impact all our communities, all our economies, our fishing economy, our tourism economy," he said. "It's my goal to stop this ridiculous project."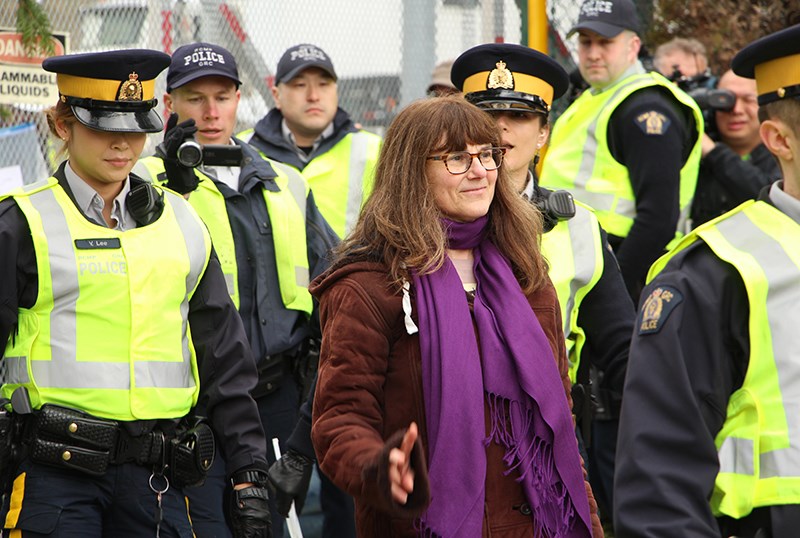 Barbara Stowe said she came to the demonstration because she still believes in values of Greenpeace, and supports the Tsleil-Waututh Nation's opposition to the pipeline.
"I came today to stop this government-mandated home invasion on Tsleil-Waututh unceded territory," she said. "If someone comes on to your property and starts drilling without approval, what are you doing to do? We're going to stop it.

"Where is our connection to the sacred? Where is our acknowledgement that we're connected to the earth?"
Protests are expected to continue all week.