Claire hates wearing a mask.
"I don't like smelling my own breath," she says with a laugh before turning serious. "But I do it because it's important."
Claire is wandering around Burnaby's City of Lougheed mall feeling more upbeat than she has in weeks. That's because she's in one of her favourite places.
Claire (who didn't want to use her last name) is a self-described 'superfan' of the City of Lougheed. She doesn't own a vehicle and lives walking distance from the mall and SkyTrain station, so it's her place to be and shop.
The City of Lougheed has been undergoing a transformation during the past two years, adding a sleek new food court to go along with the residential towers under construction.
But that progress has, of course, taken a hit with the COVID-19 pandemic. Now it is starting to reopen along with all of the other Burnaby malls as part of phase two of the B.C. Restart Plan.
That means the City of Lougheed has to convince shoppers to return. Claire, of course, needed no convincing. She had stayed away from the mall, unless she was grocery shopping. But once the province unveiled the next phase, she felt it was time to return to a more normal routine.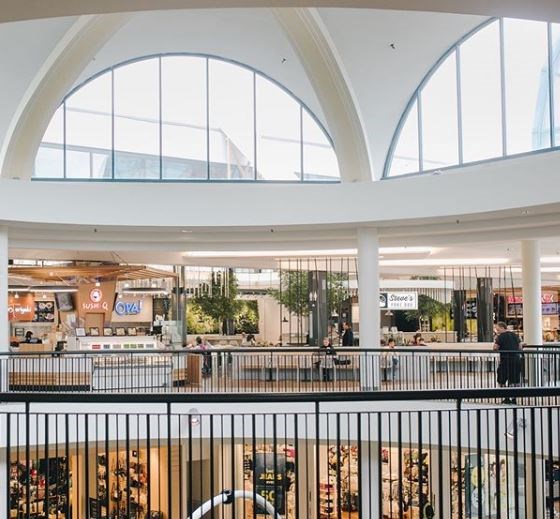 How many others share this view is unclear. Some will stay away from malls and restaurants and other businesses that are reopening because they will still feel it's not worth the risk. Others won't be shopping because they have lost their jobs or fear they could still lose their jobs as the pandemic drags on.
"I feel bad for all the workers here," Claire said. "There are some really nice people who have had their lives turned upside down."
The City of Lougheed has unveiled what it's doing to ensure shoppers are safe. (You can read about the Amazing Brentwood here and Metropolis at Metrotown here.)
"We have been closely monitoring the current novel coronavirus (COVID-19) outbreak and will continue to stay up-to-date on the latest information and recommendations from the Fraser Health Authority, the BC Centre for Disease Control and the Public Health Agency of Canada," reads a mall statement. "In addition to regular daily cleaning within all of our buildings we have added the following precautionary measures: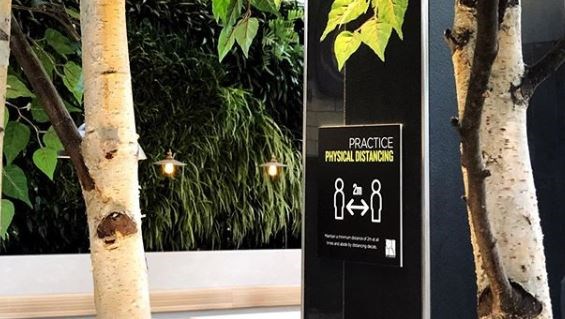 We are providing our tenants the opportunity to reduce their operating hours to 11:00 am – 6:00 pm daily.  As some of our retailers will choose to operate outside of these hours please connect with individual retailers directly. Although our core operating hours have been modified, access to the Centre will remain unchanged. These hours will remain in place until June 1, 2020 and we will advise at that time if this change will be extended.
The placement of hand sanitizer at all entrances.
Doors will be propped open when possible to allow for touchless entry.
Increased cleaning frequency, particularly of high touch areas.
A deep clean and full sanitization of all common areas overnight each evening. 
The temporary closure of our Children's Play Area.
The temporary closure of our Family Lounge.
Pausing of guest services including complimentary kiddie stroller rentals, coat check and gift wrap.
All programming and events have been postponed until further notice.
Eateries service will be take-out only.
With these increased precautionary measures in place within our properties, we are asking the following of our guests:
If you are feeling unwell, please do not enter the centre
Be kind and maintain a physical distance of minimum 2 meters
Keep to your right
Sanitize and wash your hands frequently
Shop efficiently and only handle what you plan on purchasing."
The following retailers are currently open, while others may be reopening soon.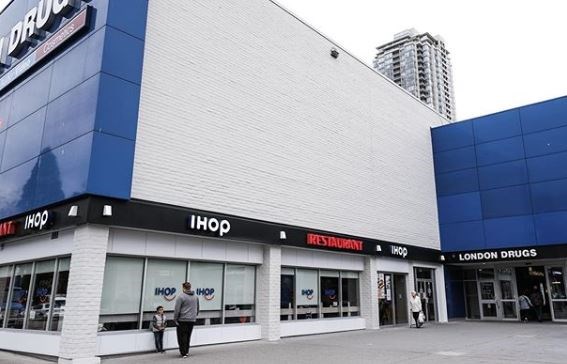 ESSENTIALS
Walmart
London Drugs
IParty Dollar Store
Oomomo
Print Images (Post Office)
MAJOR STORES
The BaySport Chek
FOOD & GROCERY
COBS Bread
Cazba Persian GrillCurry Express
Bubble Waffle Cafe
OPA! of GreeceSashimi Sushi
Shiny Tea
Tim Hortons
BANKING
Bank of Montreal
CIBC
HEALTH
Nutrition House
Highroads Medical Clinic
Lougheed Mall Dental
Image Optometry
FASHION
H&M
Garage
Suzy ShierShoe WarehouseCruz-ingAngela Fashion
BEAUTY SERVICES
ProfessioNailChattersParis StudioLougheed LaserBarbershop Network
SERVICES
H&R BlockJohnston Meier Insurance
TELECOMMUNICATIONS
Wireless Wave
MISCELLANEOUS
EB Games
Showcase