A 28-year-old man has been arrested and charged by Metro Vancouver Transit Police after shooting a dog in the foot during an argument with the dog's owner at a Burnaby transit station.  
At approximately 8:20 a.m. on Tuesday, Jan. 15, two men began arguing in the area of Metrotown SkyTrain Station over the sale of a cell phone.
"The men were previously known to one another and panhandle together in the area of the Metrotown SkyTrain Station and bus loop," said a Transit Police news release. "As the argument escalated, one of the men allegedly pulled a pistol style BB-gun from his jacket and demanded the cell phone, saying he would shoot the dog. The suspect then allegedly shot the dog once, hitting the dog's front paw and causing it to bleed."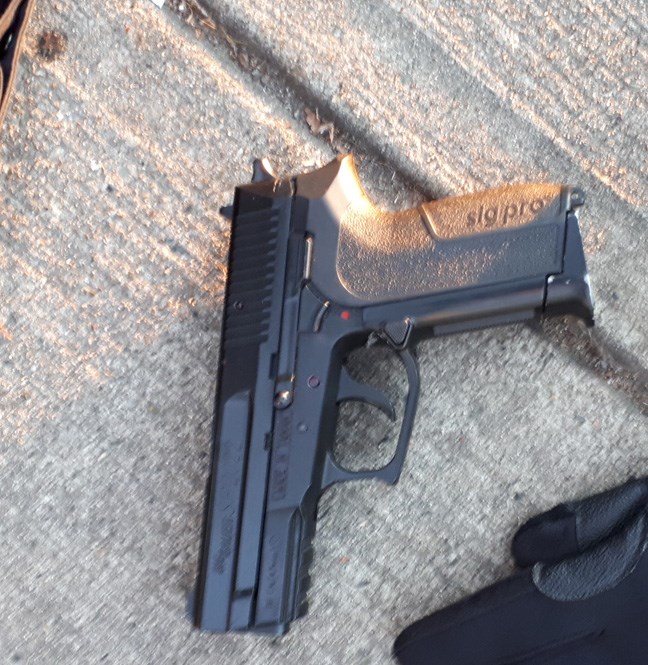 Transit Police say its officers conducted patrols in the area, heard the men arguing and approached. A suspect was arrested and a black Sig Sauer pistol BB gun, which closely resembled a legitimate firearm, was recovered from the suspect. 
William Michael Ayers, 28 years, of no fixed address and known to police, has been charged with injuring a dog, possessing a weapon for a dangerous purpose and carrying a concealed weapon. Ayers was released on an undertaking with release conditions of keep the peace and be of good behaviour, no contact with the victim, not to attend the area of Metrotown mall and not to possess weapons including knives. His next court appearance is scheduled for Feb. 6, at Vancouver Provincial Court.  
Mac, the canine victim, suffered minor injuries and is expected to make a full recovery.