Jagmeet Singh wants to be your MP, Burnaby. 
The federal NDP leader officially announced Wednesday that he would be running in the Burnaby South riding. If a byelection is called, Singh will run to replace outgoing MP and Vancouver mayoral candidate Kennedy Stewart who submitted his resignation last week.
Burnaby NOW reporter Lauren Boothby met with Singh at Metropolis at Metrotown mall to talk about his first impressions of Burnaby and how he plans to win over voters as someone who currently doesn't live in Burnaby or British Columbia. 
He addresses Burnaby's housing issues, the Trans Mountain pipeline, parks and a new favourite gym. The following interview has been edited for length and clarity.
Lauren Boothby: What do you think of Burnaby so far?
Jagmeet Singh: Burnaby's awesome. Really vibrant community. I got a really strong sense about how much people care about one-another, and care about making sure people are doing well. There's a strong sense of community, a strong sense of really sticking it out together, and it super diverse, really vibrant with so many different cultures and communities. I really enjoy it.
Where do you live right now? Are you going to move to Burnaby?
That's the plan. I've got to find a place to live out here. Right now, I have a place in Toronto. The GTA is really where a lot of my family is. The plan is to move out here.
Why did you pick Burnaby?
I felt an instant connection when I spoke with people out here in Burnaby. There's just this really strong passion for social justice, people really care about taking care of one another. The issues that matter to me – housing, healthcare – these are really important issues that people here in Burnaby really care about, and making sure we protect the environment, defend the environment, and ensure we've got a future that's sustainable.
Have you been looking at places to live?
I started to look at some of the neighbourhoods that I think are cool. I hear Metrotown is pretty cool because you've got great access to the SkyTrain. I've looked at the South Slope. It's beautiful, it empties out to the Fraser so that's pretty cool. Deer Lake is amazing because that emersion into nature is really incredible.
Kennedy Stewart only won by 547 votes in the last election, so it wasn't quite an NDP landslide. Are you at all worried that it might be hard to get the support you need in the riding?
The question isn't about the support for me, it's about how I can help people out. People can't afford to wait anymore. People are talking about the housing crisis as a crisis. People can't afford to live in neighbourhoods they've grown up in. And the government, federally, the Liberals are talking about waiting two years before investing, and people can't afford to wait two years when we hear from healthcare workers. 
The pharmacist that I spoke to talks about how hard it is for her knowing that patients leave the hospital not knowing if they can actually have their prescriptions filled out. The government says we need another study. We don't need another study, we need universal Pharmacare. So these are issues that I think are so important that we've got to champion right away.
Kinder Morgan: you seemed to have changed your mind on the issue. Why take the stance you take now?
No, I have not changed my mind at all. I have firmly, firmly said this is not the right decision. I have strongly denounced it, said, listen, we should not be spending public dollars on a 65-year-old leaky pipeline. That is not the priority for Canadians. We should be spending money on clean energy jobs for today and for tomorrow, made it clear that this is something that is problematic for the environment, for the coastline, Indigenous peoples. On a whole host of issues, this is problematic and I've raised that concern.
What are you planning to do about it?
For one, make sure that we oppose this decision – this is not the way to go ahead – and talk about the alternative. Do we want to be a nation that invests billions of dollars on technology of the past, or do we talk about investing billions of dollars in renewable energy, jobs that can be created for today's workers, and for the next generation? That's the choice we have, and I want to make sure we put that choice forward to Canadians.
What happens if the deal goes through, we end up buying the pipeline, and then NDP wins the next election? Now you own a pipeline. What are you going to do?
We have to figure out the quickest way possible for us to make sure that our priorities are in line with what Canadians want. Canadians want a future that is sustainable, a future where we defend the environment and a future where we are investing in the direction that the global society is heading toward, which is renewable energy, clean energy, and jobs that are for the future. 
We've got to make decisions quickly that can actually help us get back on track.
Are you planning on doing anything like Kennedy Stewart has done to stop the pipeline? To go up there and protest?
I'm honoured to have such a strong platform to talk about these issues. I want to use my platform to champion the alternative, to talk about what Canadians really want for our future, what we can be doing with our resources with our public dollars, how we can invest them in a way that would actually prepare us for the future. I want to put those ideas forward and be a strong champion for the fact that this is not the way we want to go. We don't believe in buying leaky pipelines, that this is not the future for Canada.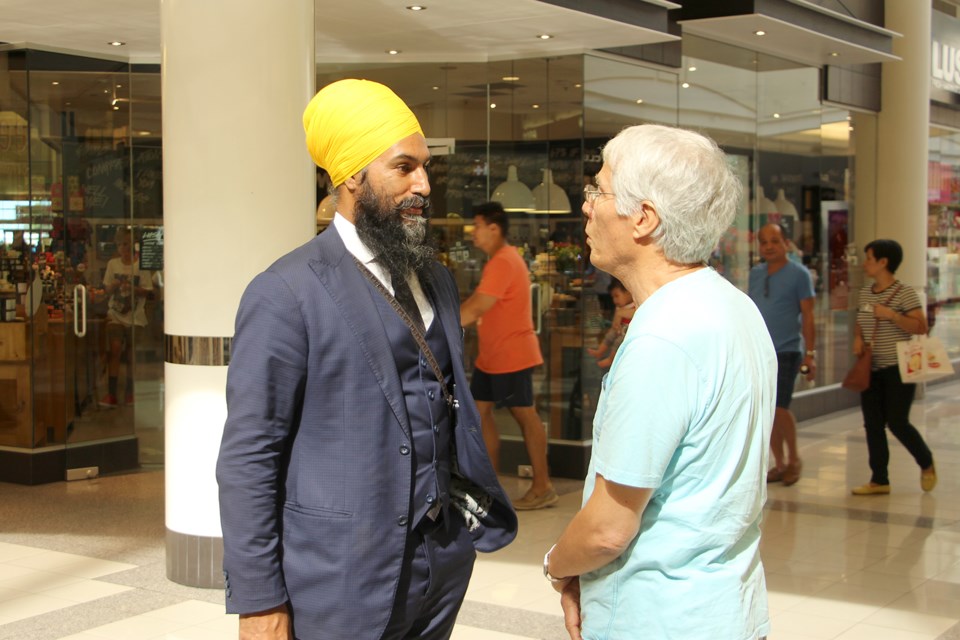 Where are some places you've visited in Burnaby so far, and what do you think?
I'm a bit of a sucker for farmer's markets. I went to the farmer's market by city hall and had a great time there. Probably spent more time there than I should have, back during the leadership contest.
I've got to spend some time in the parks – I mentioned Deer Lake.
I've spent some time in some community homes around the area. I've been able to meet with health care workers. I went to a couple start-up communities, met with some youth groups and their community hubs. 
Of course, Metrotown.
I hit up the gym. I like to work out a lot, so I've checked out Good Life, I worked out a couple times there so I feel like that could be my local gym. 
When you live here, anywhere else you think that you might be spending a lot of time?
Well, I mentioned the gym. For me, that's huge, and it's 24-hours so that's a key thing. So I checked that out and I like the vibe of it so I'm definitely going to be there a lot.
I really appreciate that people in the community really care so much about their parks. I really want to soak that in. There's a number of lakes here, which are incredible. I really want to spend some time enjoying the beautiful nature that's offered here in Burnaby.
Have you noticed the rents here are different than in Ontario?
Yes, it's pretty rough here. There's a reason why housing is top-of-mind for a lot of people in Burnaby and in B.C. Toronto also has a lot of issues around the lack of opportunity for affordable housing, so I know that is an issue that's not just B.C.-based, not just Toronto-based. In fact, we're hearing people across Canada raising this concern.
I really got the sense that this is a national issue where people are really worried about being able to find a place they can afford. So that is going to be an added challenge, but we'll find our way around it. 
One issue that some NDP supporters are facing is, while they like what the NDP stands for, Burnaby city council is affiliated with the NDP, and a lot of people are concerned with how they have handled housing. Do you think that connection will hurt you when you run in this riding?
I think first we need to take a moment to reflect on how frustrating it is for people who can't find a place to live, and how hard that is when you lose your place to live. That is a real struggle people are faced with. I can't imagine how hard that must be. 
We take it for granted, the basic thing that all of us need is a place to call home, and when it's so hard to be able to find a place and afford a place, that's just so crushing. 
So, acknowledging that, right now we have a provincial government in B.C. that is working hard. We've seen some of the steps they're taking to address the housing crisis. 
The city is taking some steps, there's conversations around changes to those zoning bylaws. But what we haven't seen for the past number of years, is the B.C. Liberals didn't invest in housing, and that's why we're in the position we are. Federally, ten years of Conservatives and the past number of years of Liberals, they haven't really done anything to invest in housing.
At the federal level, there's a responsibility to partner with the city to make sure we invest in housing and do something. We've got the province and the city now stepping up. We need the federal government to step up, and that's the big gap that's missing here.
Can you give any specifics on what you might do to make that happen in Burnaby?
We've got to have a strong voice. We've heard the Liberal government say it's okay to wait. They've called it a crisis, but said we're not going to roll out the funding until two years from now. How many times have you had a crisis and you've said you're just going to wait two years before I do something? 
If it's a housing crisis, that means we need funding immediately. We need a holistic solution. The Liberals aren't looking at this as an entire problem around housing. People want to go buy a home can't, people can't find a place to rent, there's accessible housing issues, there's affordability, there's also assisted housing that there's an issue. We've got to have a holistic solution that addresses all of these concerns. 
What about the fact that you don't live here? Do you think it's going to be difficult to connect with residents because you're from out of town? 
I'm going to work really hard with the issues that I know now, and continue to learn more about the issues that come up. I know some of the issues that are really pressing are housing, healthcare and the environment. Those are issues I feel passionate about. We've got a better voice pushing those issues forward. We know that Liberals haven't done what's needed. The Conservatives aren't going to push forward on the issues that matter to everyday people. New Democrats are determined to make life better for people. When you get a New Democrat MP, you get someone who's in your corner, who's going to fight for the issues that matter. 
Anything else you would want the people of Burnaby to know?
I'm an avid cyclist, so I'm looking forward to checking out the cycling infrastructure to see what that's like.