If you're a Burnaby resident with a sprained ankle, a cut that needs stitching or a kid with bad earache, you now have another option besides heading to Burnaby Hospital's emergency room.
The new Edmonds Urgent and Primary Care Centre opened its doors this week offering a new kind of health-care model, according to Fraser Health Authority officials.
The facility is open evenings and weekends, and patients can walk in without a referral to get treatment from a rotating team of local doctors taking shifts and working as a team with nurses, social workers, counsellors and others.
The Edmonds clinic is the second urgent and primary care centre in Fraser Health.
The first opened in Surrey in November 2018 and has now seen 4,000 patients.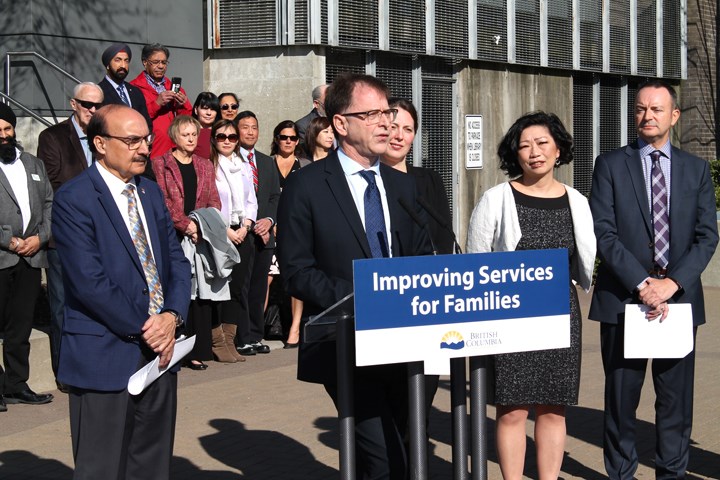 The Burnaby centre is a partnership between Fraser Health, the Burnaby Division of Family Practice and PrimeCare Medical Centre, a private clinic.
"Substantial renovations" have been done to the building PrimeCare is in, according Fraser Health's executive director of primary care and chronic disease, Kathleen Chouinor.
She said PrimeCare will continue to operate in the same spot, but doctors from the clinic will also help staff the new centre, which has been built in the same building right next door.
New model
The Edmonds centre had been scheduled to open in May, but Chouinor said its team-based model is very new and Fraser Health took a bit longer than expected to iron out some of the details.
"We were working through the logistics of the model and the legal relationships and the agreements and the challenges and all of those things," she said.
Recruiting doctors to work at the centre, however, was not a problem, according to Chouinor.
"The team-based care model is really interesting and exciting for a lot of people," she said. "In this environment, we're actually providing a range of resources for the physicians to work with so that they're not having to just merely serve as a referral mechanism. They've got the people in their offices to work as a team to be able to provide a different kind of service."
Experience gained from the opening of the Surrey centre, however, has taught the health authority that simply putting a bunch of health-care providers in the same place, doesn't make them a team, according to Chouinor, so officials have put more emphasis educating those involved on how to work together.
When treating patients as a team, for example, the centres had to work out things like whether the patient would go from room to room to see different staff members or whether the patient would stay put and the health-care providers would come to them.
"We've done a lot of support and coaching about workflows," Chouinor said.
The Edmonds Urgent and Primary Care Centre is located at #201-7315 Edmonds St.
It's open weekdays from 5 to 9 p.m., Saturdays from 2 to 8 p.m. and Sundays from noon to 6 p.m.
Not an ER
But Fraser Health cautioned the centre is not an emergency room and cannot treat serious or life-threatening injuries, only minor pains, like sore throats, earaches and upset stomachs; minor illnesses like fevers and infections; and minor injuries, like sprains and small cuts needing stitches.
In an emergency, patients should still head to their nearest hospital emergency department or call 911.
The NDP government announced in May 2018 that it would hire more doctors and open urgent and primary care centres around the province in an attempt to redirect British Columbians without a family doctor away from hospital emergency rooms.
An estimated 40,000 Burnaby residents don't have a family doctor, according to the health ministry.
"The new Edmonds Urgent and Primary Care Centre in Burnaby will help address gaps in everyday health care and make sure that residents of Burnaby and the surrounding area have an easier time accessing the care they need," Health Minister Adrian Dix said at the opening Wednesday.