Burnaby Heights residents will soon have a snazzy new outdoor facility for playing basketball, ball hockey and gaga ball, thanks to parents at an elementary school in the area.
After years of fundraising, parents at Gilmore Community School got school board approval this week to totally rebuild the school's beloved and much used outdoor sport court.
The $140,000 project will see the construction of an enclosed, multi-use hardcourt off Triumph Street with a regulation-sized basketball court, six hoops, four built-in ball hockey goals and spectator seating.
Outside of the enclosed area will be a "physical literacy" area and an octagonal mesh "pit" for gaga ball – a fast-paced but gentler version of dodge ball.
"We're a community school, so it's for the whole community," said Marcy McCabe, president of the Gilmore parent advisory council.
When asked why the PAC decided to take on such a big project, McCabe said parents were looking to get more out of the Gilmore school grounds.
"We have an area outside that's under-utilized, and we have an existing basketball area that is very popular, and the kids play on it whether we have cracked pavement or not. They adore it," she said. "They love playing basketball, and we also have a large contingent of kids who come after school, a big group of them, and they bring their own nets, all their own gear and play ball hockey every single day."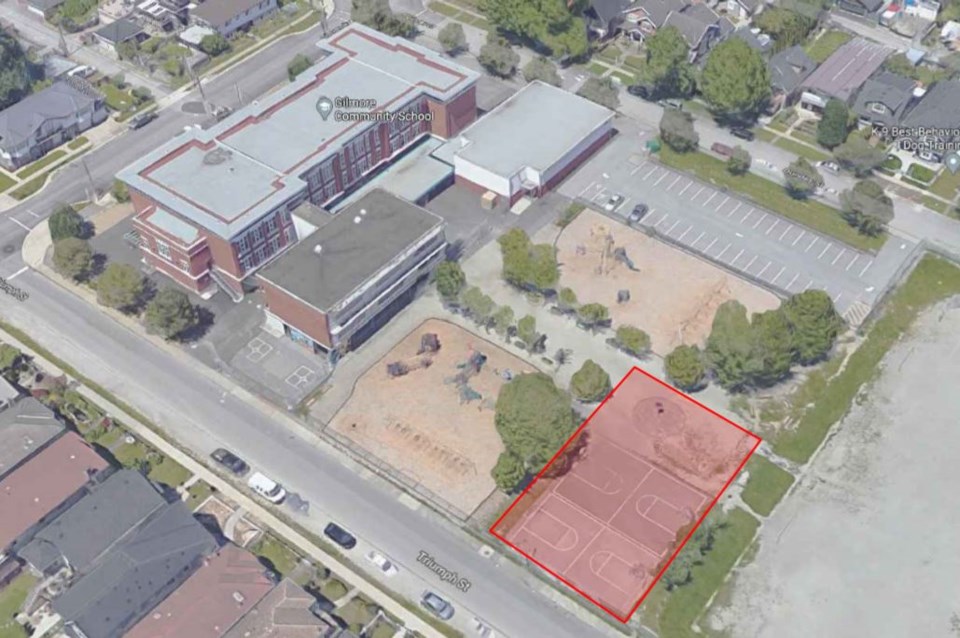 The Vancouver Basketball Foundation, a non-profit committed to growing the sport of basketball, caught wind of the parents' plans and reached out to see if they could get involved and help.
They are pitching in about $30,000 for the design and painting of the new sport court.
Once the project's done, McCabe said they've committed to putting on free monthly events there for the community.
"They're heavily obviously interested in basketball," McCabe said.
Project organizers are still figuring out when they'll be able to break ground, according to McCabe, but the court should be finished this year, mostly likely by the fall.