The views from the top of more than 42 storeys are, well, dizzying.
Even residents of the new Sun Tower 1, when it's completed, won't be up this high. But some will be close. (Scroll through the photos above to see more.)
A "topping-off" event was held Tuesday at the top of a new member of Burnaby's skyscraper row, located across the street from Metropolis at Metrotown mall and the SkyTrain station.
Located on Beresford Street, Sun Tower 1 is one of the tallest towers in all of Burnaby, with very few challengers.
Cement was poured ceremoniously to mark the topping off, with Burnaby Mayor Mike Hurley on hand and Jay Lin, vice-president of development for Belford Properties.
"Being so close to a transit hub like Metrotown will make life more convenient for residents," Lin said.
The project was approved by council before Hurley became mayor, but he said that the project's new 14,000-square-foot on-site child-care centre meets some of the criteria for what he wants to see in residential projects.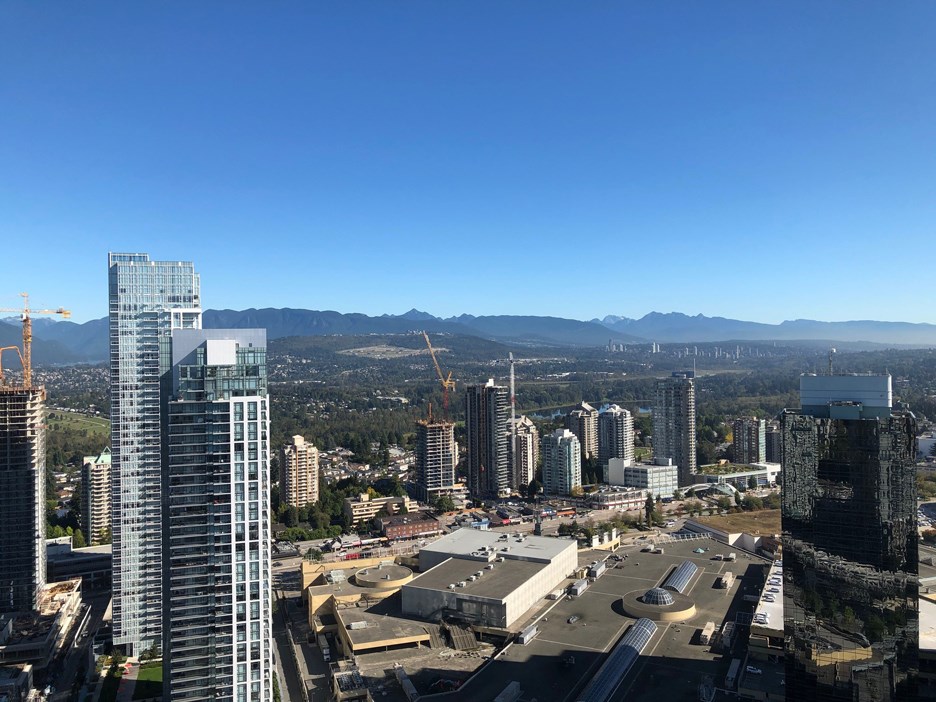 "This aligns with what I'd like to see in future projects," Hurley said.
The project will have 285 residential units, retail and office space, the daycare, and a restaurant.
A second Sun Tower is expected to be 26 storeys once completed.
The 285 units will all be sold at market prices. Belford is planning on four other residential towers - if approved by council - after the second Sun Tower.
Hurley made clear that the future buildings will have to include non-market rental housing units as per new rules put in place by the City of Burnaby after the mayor's task force on housing. So, in a way, the Sun Towers are the last of their kind.
One person who has enjoyed watching Sun Tower 1 go up is Antonia Beck, executive director of Burnaby Neighbourhood House, which is located next door.
"Belford has been a big supporter of Burnaby Neighbourhood House," said Beck, adding that Belford funded an arts program at the friendship club BNH set up at Burnaby's Maywood school.