Some 60 people were arrested today after protesting outside the Trans Mountain terminal in Burnaby, bumping the total number of related arrests this week to nearly 200.  
Demonstrators were arrested Saturday for violating an injunction order that prohibits blocking the entrance to the tank farm and coming within five metres of the Kinder Morgan property line. Some 200 others rallied near the entrance protesting Trans Mountain's $7.4-billion pipeline expansion, singing and carrying banners, many taking shelter from the rain and snow under tents erected by organizers of the protest.
The expansion will add approximately 980 kilometres of new pipelines, 12 pump stations, 19 tanks to storage terminals, and three berths at the Westridge Marine Terminal.
Jayeon Choi, who lives in the Edmonds area, was moved by what he saw when he visited the site of the protest Saturday with his 15-month-old son. He said he's been following developments on the pipeline, but has never been to any of the protests, and wanted to see what was happening for himself.
"As soon as I stepped on the hill down there, I felt like somewhat crying inside. Kind of heartbreaking to see this kind of thing going on," he said. "I wanted to witness this together with my son. He's not going to remember anything, but still, I just wanted to tell him in the future I was here to participate."
"I just walked in to see what people are doing, what it actually feels (like). I guess this could be the start of participating in the protest in the future."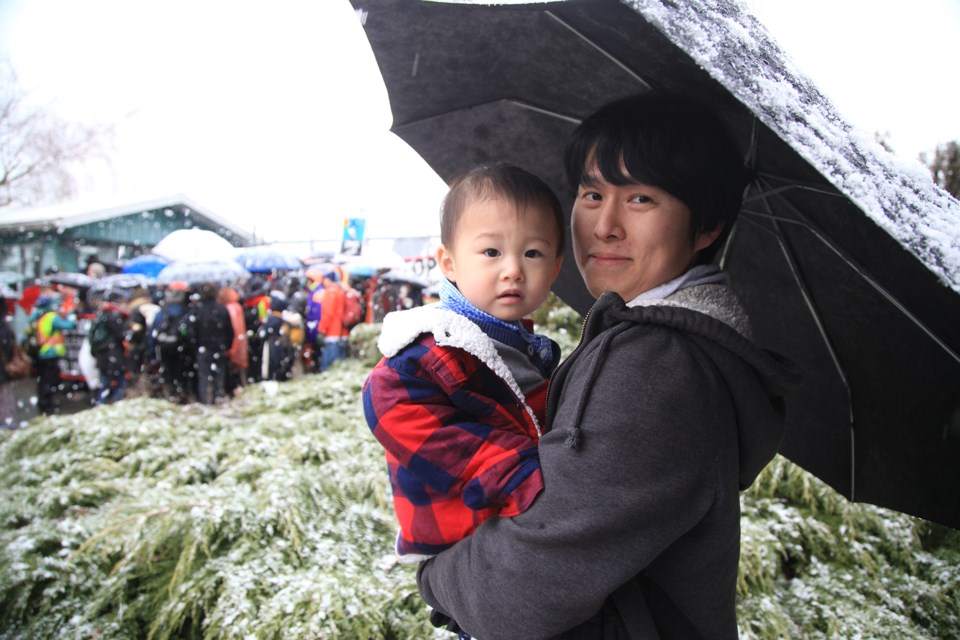 Nikki, who would not give her last name, attached her arm with a zip tie to the gate. Although she now lives in Squamish, she was raised in Burnaby, and said she remembers how the oil spill in 2007 affected the local people and environment.
"I see how it affected the residents of North Burnaby, how it made their lands, their property, their homes uninhabitable," she told the NOW Saturday morning before police began making arrests.
"I see what it did to the marine ecosystem when the oil went into the inlet. I see this is being crammed through people's lands, their yards, without due process. I see that this is an environmental disaster waiting to happen." 
Nikki said she was supporting local Indigenous peoples' land rights, and because she's concerned how the increased oil production will harm the environment her children and future grandchildren will live in.
"I'm not going to be leaving here voluntarily. They will have to arrest me to get me to leave," she said.