Police were called to a trustee all-candidates meetings at a Burnaby high school Wednesday evening after a noisy altercation between an incumbent candidate and an anti-SOGI audience member.
Ten of Burnaby's 13 school board hopefuls gathered at Byrne Creek Community School for an event organized by the district parent advisory council.
The moderator spelled out at the outset candidates wouldn't be asked questions about issues on which they'd already made public statements.
They were told they'd be asked randomly drawn, parent-generated questions.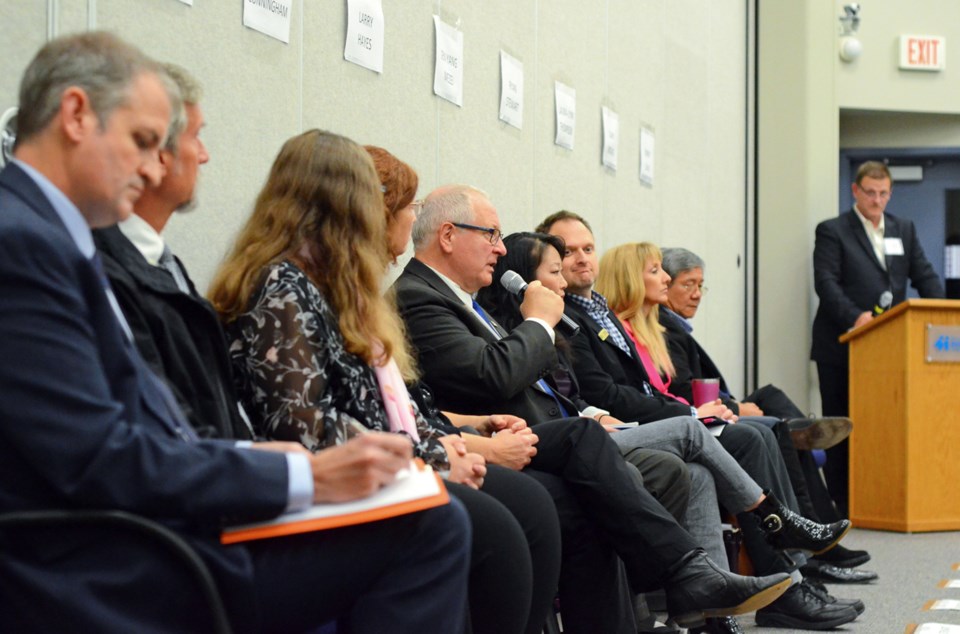 The meeting hummed along without much debate until independent candidate Laura-Lynn Tyler Thompson – a vocal opponent of SOGI123, a Ministry of Education resource designed to help educators make schools inclusive and safe for students of all sexual orientations and gender identities – drew her second of two questions about French immersion.
When asked how she would promote French immersion and other specialist teachers to the district, she said:
"How would I promote them? I'd say, 'Come on in.' I mean, we just want good French immersion teachers. I'm not sure that's a question worth two minutes. … I think a more important question is what are we teaching kids with respect to transgenderism in our schools. A real problem is that from kindergarten to Grade 5, we have 14 transgender books, and I think that's a more important question. We've already covered French immersion."
Burnaby Citizens Association candidate Ryan Stewart called her remarks "shameful," and the moderator told her to stick to the question.
Picked to rebut Thompson's response, incumbent BCA candidate Gary Wong said Burnaby schools also had numerous books about religion. He then went onto answer the specialist teacher question.
Wong said the Burnaby district has created the "right type of working environment" to attract and retain staff.
"We respect our teachers; we respect our administrators," he said. "It's a place that a lot of them want to be, so that's how we attract our French immersion teachers."
None of the candidates' answers sparked much of a response from the 40-member audience until Jimmy Zhao, another anti-SOGI candidate, arrived to the meeting 50 minutes late.
Organizers gave him a chance to respond to one randomly drawn question to end the evening.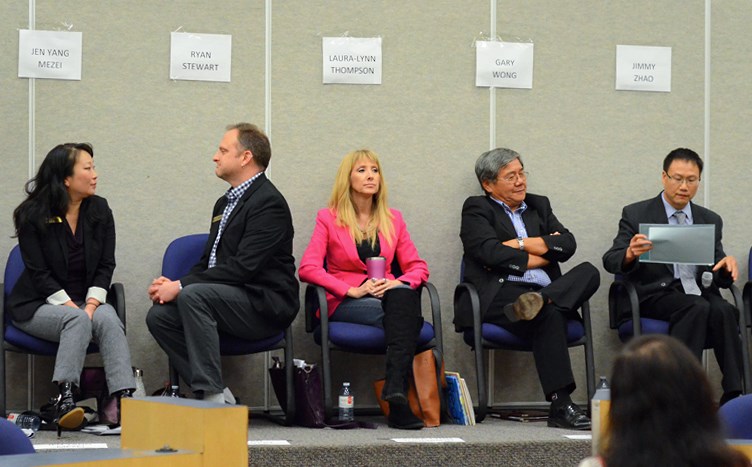 Asked how he would advocate for students with mental health challenges, Zhao said: "The first thing I'm concerned about is SOGI123. I think it's the most important thing for us."
"That's not the question!" yelled one of the other candidates.
Zhao was cut off by the moderator, and the mike was handed to BCA candidate Jen Yang Mezei for a rebuttal.
"I think what we really need to do is focus on the fact that there's so many different areas that we need to support kids," she said, "and we really need to elect a board that understands the breadth of what our public education system needs to do and the breadth of what our public education system needs to support."
That ended the meeting but not the drama, as various candidates on the stage began arguing loudly about SOGI123.
At one point, anti-SOGI audience members broke out in a chant: ""We're against SOGI! We're against SOGI!"
The chaos culminated as incumbent BCA candidate Larry Hayes went to leave the meeting room through a crowded doorway.
A scream rang out, and a woman carrying a baby could be heard loudly yelling, "Why are you pushing me? Why are you pushing?"
Zhao told the NOW Hayes had called him "an idiot" as he passed, and audience members said they had then seen Hayes push the woman when she confronted him about the remark.
Hayes told the NOW the woman had barred his way and then pushed the baby into his face.
"It's almost as if the baby was brought as a prop," he said.
When asked if he'd called Zhao an idiot, he said he had called Zhao's comments "idiotic."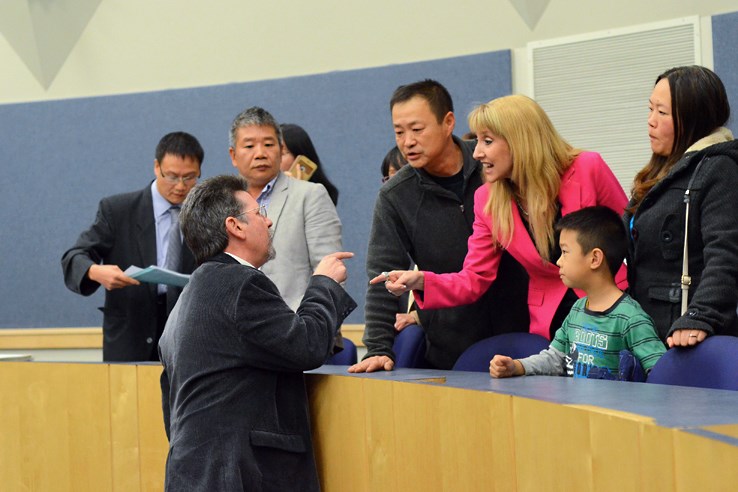 He said the issue is an emotional one for trustees who were on the Burnaby school board six years ago, when it faced similarly vocal opposition to its LGBTQ-specific anti-bullying policy.
"It probably shouldn't bother us as much, but, just to hear some of that rhetoric again, when it has not been an issue, it's really digging up hate, and that probably brings out the emotions in some of us who did fight, I think, a pretty good fight to ensure that inclusion ruled," he said.
The incident sparked yelling between pro- and anti-SOGI audience members, and the RCMP was called in.
About four officers attended and questioned witnesses, telling others to leave the building.
"I was expecting a different conversation," said BCA audience member Lee Loftus, who spent some time yelling at anti-SOGI attendees.
He said opposition to LGBTQ-friendly policies in Burnaby was not new but that he wasn't concerned anti-SOGI candidates would be elected.
"I think there's a small group of people that are very vocal about it," he said. "I don't think it's any bigger than that. That's what they're going to continue to have, is 30 people following them around, and they're going to get that platform on that. People like to hear the controversy."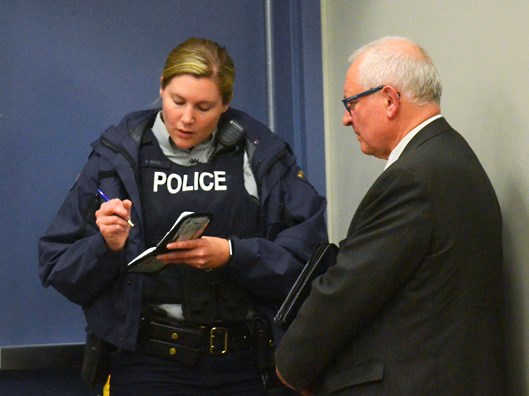 Thompson disagreed, saying local parents are upset about SOGI123, and the meeting should have included questions about the resource.
"We already had three questions on French Immersion," she said to the NOW. "For God's sake, ask a SOGI question!"
DPAC chair Laura Ward said all the candidates had already made their position on SOGI clear.
"So, we were trying to avoid any sort of controversy," she said. "It was a decision that we didn't take lightly. We debated it for a good hour together."
Burnaby RCMP confirmed it was investigating a possible assault related to the meeting but no charges have yet been recommended.