A Buddhist temple on Richmond's Highway to Heaven has closed its doors for the foreseeable future due to coronavirus concerns.
Lingyen Mountain Temple, at No. 5 and Williams roads, closed Tuesday night, according to a notice posted to the temple's website and Facebook page.
According to the temple, it's unknown when it will reopen.
"Mass gatherings might increase the chance of getting coronavirus," one of the temple's volunteers told the Richmond News.
"We want to make sure everyone is healthy, so we made the decision (to close to the public)."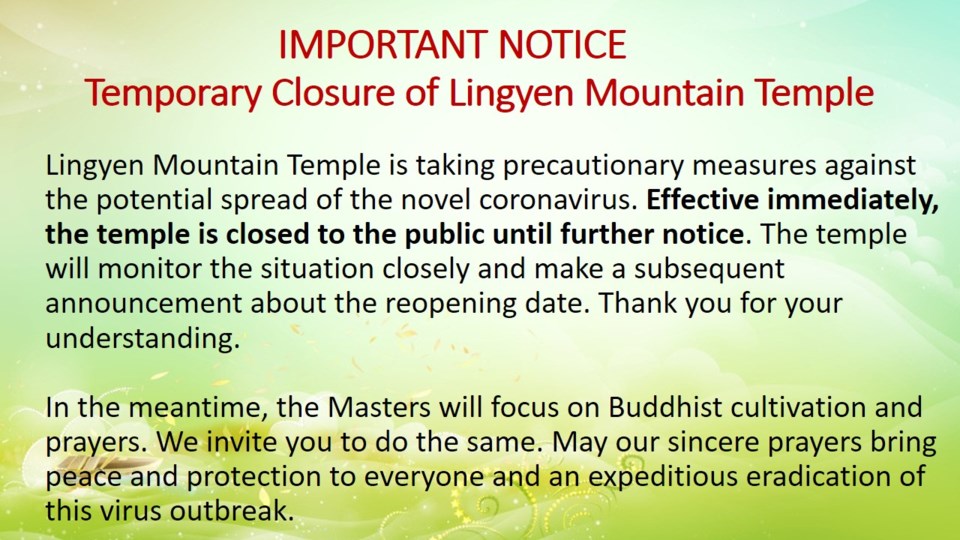 As of Thursday morning, Covid-19 has infected 60,414 worldwide, and killed 1,370 — surpassing the number of people killed by during the 2002-2003 outbreak. Only three deaths have been outside mainland China, in Hong Kong, the Philippines and Japan.
In the online notice, the temple stated it's taking precautionary measures against the spread of the virus, which health officials are now calling Covid-19.
"The temple will monitor the situation closely and make a subsequent announcement about the reopening date," reads the notice.
During the closure, the temple's masters will focus on Buddhist cultivation and prayers, according to the notice.
"May our sincere prayers bring peace and protection to everyone and an expeditious eradication of this virus outbreak," it reads.
At a media conference Tuesday on the virus, provincial health officer Dr. Bonnie Henry was asked if it was necessary for events to be cancelled, especially in the Chinese community, where people are avoiding public places.  
"The risk is still very low here (in B.C.), so, no, I don't believe we should be cancelling events," she said.
B.C.'s coronavirus count holds at four patients, who are all recovering at home in stable condition, according to Henry.
All four cases are in the Vancouver Coastal Health region, which includes Richmond, Vancouver and Sea-to-Sky up to Bella Coola.
There are three other Canadian cases of the virus in Ontario. 
As of Tuesday, the B.C. Centre for Disease Control has tested 371 samples and 264 people — some individuals were tested more than once — for coronavirus.
Both the federal and provincial governments are asking anyone who has travelled from China's central Hubei province, where the virus originated late last year, to self-isolate for 14 days when they return to B.C. and Canada.