Burnaby city council granted its park department an increase to its playground renewal budget for a program staff said would "put the 'wow' factor back into the city's playgrounds."
The program includes increasing the budget per playground replacement, replacing a fourth playground per year and adding a funding stream to create specialty playgrounds.
Playgrounds have become 'less inviting'
Burnaby currently replaces three playgrounds per year, meaning a typical playground gets replaced every 28 years – though a structure's lifecycle is only about 15 years.
This has led to "maintenance issues" and "patch repairs to extend (playground) life well beyond the target replacement periods," according to a city staff report.
At least half of Burnaby's playgrounds are more than 15 years old, and most of those do not include accessible features.
Each playground redevelopment currently has a budget of $185,000, a number that has remained the same over the past decade, according to the report.
Meanwhile, purchasing power has declined by 60 per cent since 2016 – "along with the level of public satisfaction," said the report.
The playground structures have since become "smaller and less inviting."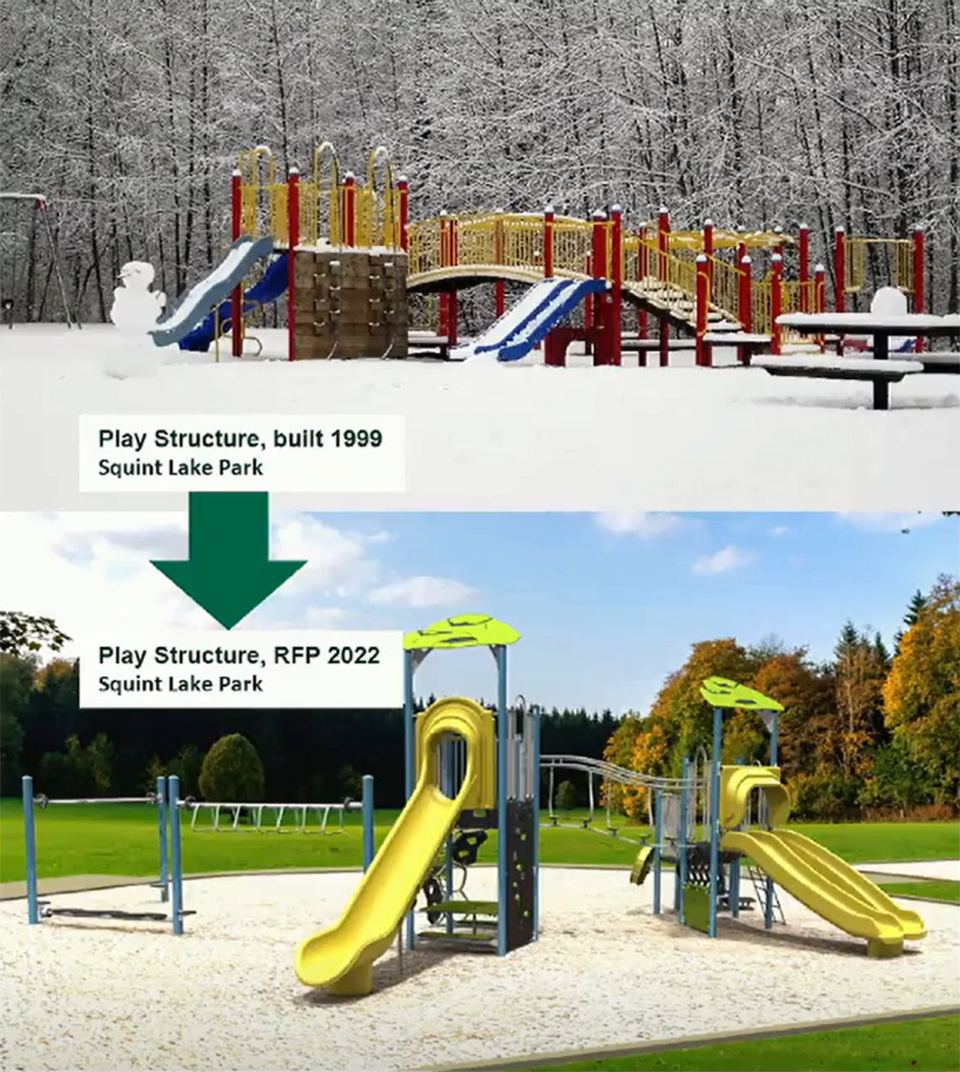 The budgets don't include features like water fountains, shade canopies, benches, or enhanced rubber surfacing that could make playgrounds more accessible.
Playground budget to be increased
City staff asked council to increase the budget per playground replacement from $185,000 to $300,000 (a 62 per cent increase) and replace four playgrounds per year instead of three.
Staff also want to add more "exciting playground attractions," like those with nature play and adventure features such as ziplines, 10-metre tall "tree house" towers, spiral slides, and rope walkways, to recognize older children who don't want to be bored with a "too safe" playground.
The recommended program has an added funding stream for the creation of "enhanced" and "destination" playgrounds over a three-year cycle, creating two enhanced playgrounds for two years and a destination playground in the third year.
Enhanced playgrounds cost about $750,000 for play areas that support schools, daycares and dense neighbourhoods with more wear and tear.
Destination playgrounds for major parks, intended to attract children from around the city and beyond, are budgeted at $3.5 million.

Staff suggested 12 sites for the enhanced playgrounds, and eight sites for destination playgrounds.
Staff are also recognizing the city's town centres have more density, meaning the playgrounds will get more use, and want to ensure that socio-economically challenged areas have equal access to play.
Staff asked to create a playground program coordinator position as part of the 2024 budget. The role would include liaison work internally, with school districts and senior governments, and project management.
The program was unanimously approved by council.
Destination playground cost covered by developers
Burnaby Citizens Association (BCA) Pietro Calendino asked whether the money for the $3.5-million destination parks comes from development cost charges (DCCs), which are collected from developers, rather than the taxpayer. Staff confirmed the money would come from DCCs.
Calendino also asked whether the new playground program coordinator role was needed, and if the parks department could consider restructuring its staff rather than creating a new position.
BCA Coun. Maita Santiago questioned if the playgrounds, which are developed for children between five and 12 years old, could incorporate features for teens.
Edwards responded there is a separate line item in the capital budget for equipment, including for fitness equipment, which is often used by older age groups. She noted the scope of the playground program didn't include other types of play like skate parks or bike skills parks, but that there are other opportunities.
BCA Coun. Alison Gu asked if it were possible to have one central playground that could meet a variety of accessibility needs.
Edwards said a playground in Central Park came to mind quickly, which was always intended to be upgraded with an expanded budget to be accessible.
Burnaby manages 85 playgrounds around the city's 164 parks.
Burnaby playgrounds up for upgrade in the next three years
Eastburn Park (2023)
Burnaby Lake Park (2023)
Harbourview Park (2023)
Sumas Park (2023)
Poplar Park (2024)
Lobley Park (2024)
Cariboo School Park (2024)
Greentree Village Park (2024)
Maywood Park – enhanced (2024)
Burnaby Heights Park (2025)
Ron McLean Park (2025)
Suncrest Park (2025)
New site TBD (2025)
Central Park – destination (2025)