Nineteen-year-old Dillon Juel Stanton, son of notorious ex-Hells Angel Juel Ross Stanton, was at home the day his father was gunned down in the family's backyard in 2010.
The teen would inherit $500,000 from his biker dad but blew through it in six or seven years after turning to oxycodone to dull his unresolved trauma and grief from that day.
By early 2017, he had moved on to heroin and was desperately trying to keep his spiraling addiction from his wife.
To get the drugs he needed, he and a friend and fellow addict, 20-year-old Nicholas Lenard Traviss, terrorized a string of small stores across the Lower Mainland.
That was the story that emerged in B.C. Supreme Court last Thursday before Stanton and his partner in crime were sentenced to nearly four more years in jail for their 2017 crime spree.
Lives threatened
Stanton and Traviss, both of Burnaby, pleaded guilty in April to six robberies, five counts of using an imitation firearm to commit a serious offence, one count of assault causing bodily harm and one count of possessing an illegal firearm.
Between Feb. 20 and March 13 in 2017, Stanton, who was 26 at the time, and Traviss, who was 20, robbed small businesses from Burnaby to Abbotsford, grabbing thousands of dollars' worth of cash, cigarettes, vape products and lottery tickets.
They were also caught with a stash of stolen property from break and enters as far away as Mission.
Crown prosecutor Georgia Clark said the robberies traumatized victims, some of whom had had their lives threatened.
At Hoys Market in Coquitlam, Stanton hit a female clerk with a hockey stick after she tried to resist the men with a stick of her own.
At Hemp Hemp Hooray in Port Coquitlam, Traviss pistol-whipped a male clerk who broke free after his arms were zap-strapped behind his back.
The man was left with a concussion, and his scalp had to be stapled, Clark said.
End of the road
Police caught up with Stanton and Traviss on March 13, 2017, after an SUV Stanton was renting was identified during a robbery that day at the Red Apple Food Store in Abbotsford.
Police located the vehicle and followed it to Langley, where Stanton and Traviss went to separate gas stations to check their stolen lottery tickets.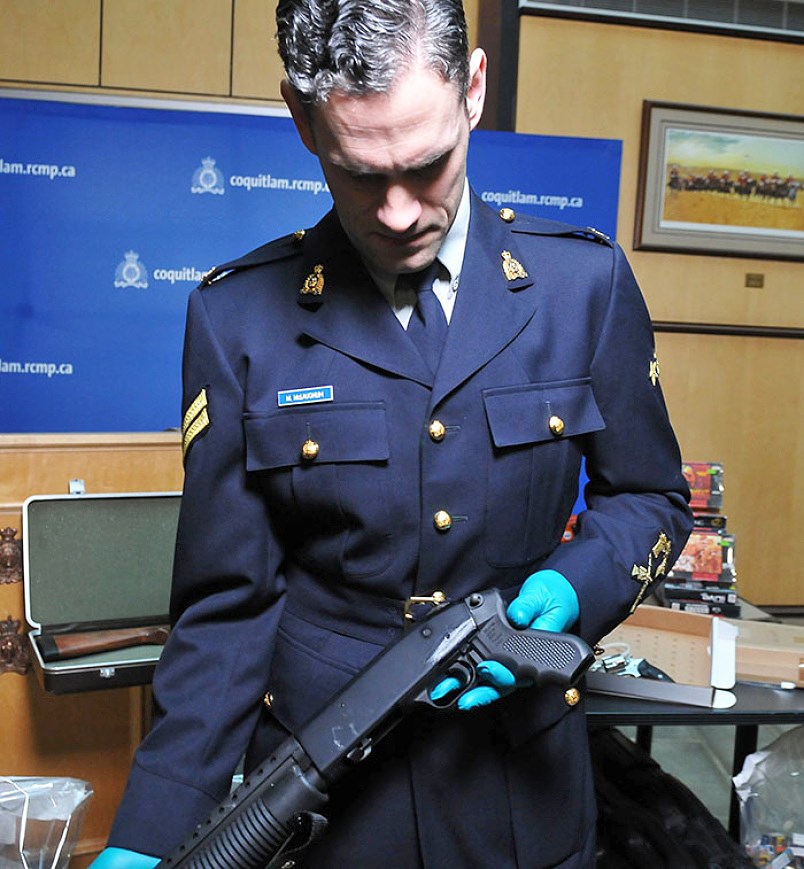 After their arrest, a search of a Coquitlam mini-storage locker rented out in Stanton's name turned up stolen goods from numerous robberies as well as a treasure trove of property reported stolen from homes across the Lower Mainland, including at least three guns that had gone missing in Mission.
In total, police found 11 firearms, including some with the serial numbers filed off.
In a joint submission, Clark, Stanton's lawyer, Colleen Elden and Traviss's lawyer, Gloria Ng recommended a total sentence of seven years and five months jail.
Traviss, who is now 22 years old, did not have a criminal record at the time of the robberies.
Like Stanton, he had been in the grips of addiction, using cocaine on the daily basis.
He said he had been high during each of the robberies and that that was the only way he could bring himself to commit the crimes, according to a pre-sentence report.
Stanton, who is now 29 and has a young son, had 12 previous convictions, but Elden noted only one of those was for a "crime of violence."
'Cowardly'
B.C. Supreme Court Justice James Williams concluded the sentence proposed by the lawyers was appropriate but that a longer sentence could also reasonably have been imposed given the circumstances.
"Harm was done to many," he said, calling the robberies "terrifying."
"The victims, in effect, had their lives threatened; they were brutalized by the conduct of these offenders, and it is not unfair to say that the conduct of these two offenders in these offences was cowardly."
As mitigating factors, however, Williams noted Stanton and Traviss had pleaded guilty, Traviss had had no previous criminal record, both are taking rehabilitative steps in custody, both have family support and both have shown "genuine remorse."
With time-and-a-half credit for time served since their arrest, that means Stanton and Traviss will be in jail for nearly four more years.
Both men read out letters of apology before being sentenced.
"Nobody deserves to be put through the events that were caused by me on those days," Stanton said. "That is not the kind of person I am or was ever raised to be. I was at a very big low of my life, suffering from substance abuse and untreated trauma and depression from witnessing the assassination of my father. I am truly sorry from the bottom of my heart."