November is Adoption Awareness Month and one New Westminster family is sharing their story to encourage others to adopt.
Adoption Awareness Month – promoted through the Adoptive Families Association of BC - draws attention to the number of children and teens who are waiting for permanent homes through adoption, guardianship, or a kinship placement. Families in B.C. adopted 1,400 kids from government care in the past five years, but more than 750 children and youth currently have adoption in their care plans.
Adoption has been a life-changer for New West residents Vince and Eric, who added Jamestin to a family that also includes Coco, their 10-year old Shih-Apso.
Vince and Eric detail their journey in this interview.
Can you briefly describe your family?
We live in a suburban area in a lovely neighbourhood, with diverse neighbours who watch out for each other. We help in the community by volunteering our time with association initiatives, as well as at Jamestin's school. We love to spend time doing outdoor activities such as camping in the summer or walks around the neighbourhood.
Can you tell us a bit about your experience with the adoption process overall?
Our adoption process had its ups and downs.
From the beginning, up until our son joined our family, our journey was over 6 and a half years. We had matches that didn't work out, which was very disheartening. We were almost at the point of giving up.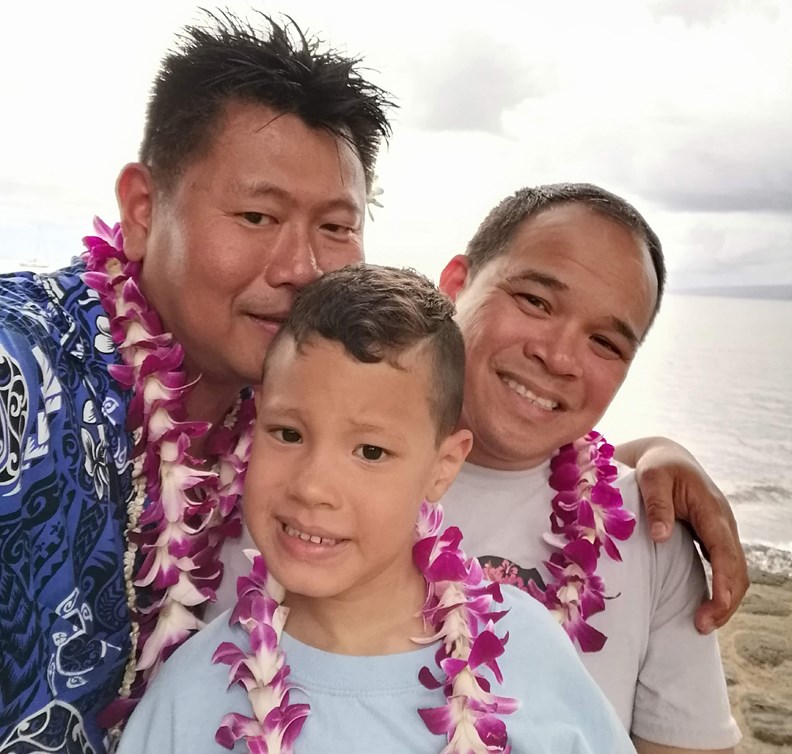 But once Jamestin came into the picture, everything went smoothly and has been great since – the ups have definitely outweighed the downs.
What's your best bit of advice for families considering adopting?
•  Stock up on patience!
•  Go through Adopt BC Kids (adopting from foster care)– the Ministry of Children and Family Development (MCFD) is very supportive
•  Expect a long process
•  Make sure to connect with AFABC for support and resources
•  Reach out to Facebook groups and other groups for support – there is a very good community out there
Can you tell us about one high point and one challenging point in your adoption experience?
A high point is when our son came into the picture, of course. Nothing can beat the feeling of meeting your child for the first time, bonding with them, and knowing we were going to be parents.  Our transition was a little bit longer than we expected but it was very worth it. By the time Jamestin officially moved in, we had already mastered the attachment piece of the process.
A challenging point, aside from matches falling through, was dealing with the emotional attachment of Jamestin's foster parents. He grew up with the family and as much as we were very happy for ourselves, seeing the foster family grieve for their loss was hard to watch.
You participated in this video about your family for AFABC. How has your life changed since then? Is there anything you'd like to comment on regarding the video?
Our life has not changed much since then. We are still a normal family going through our everyday routines, though we do get people who recognize us and ask questions. We send people who inquire to the video or direct them to the AFABC site. 
 But this is a good indication that the video is helping with awareness, and gives an opportunity for potential parents, particularly in the LGBTQ community to consider adoption.
How as AFABC made a difference to your family?
They are AMAZING!!!! 
AFABC provides us with lots of support, even after hours.  They have proven themselves to be a not just a service-oriented organization, but they have also become friends who watch out for our emotional well-being. AFABC has also been instrumental in connecting our family to others and bringing us into a wonderful community where we have commonalities.
Quick Facts
Adoptive families are incredibly diverse, just like the rest of BC. Any BC resident over the age of 19 can apply to adopt!
Approximately 750 children and youth in government care in BC have adoption in their care plans and are waiting to be adopted.
If just 0.4% of Canadians who have considered adopting from foster care followed through, then every child in Canada's government care system would have a safe, loving, and permanent home.
87% of the children and youth with adoption in their care plans are school aged (between 4 and 18 years old), and 35% are teenagers (over the age of 12)
40% of them are part of sibling groups that need to be adopted together
59% are Indigenous
What kinds of families are needed?
Adoption matches are based on the best fit for the child. That means that some adoptive families will be matched quickly, while others will wait longer. The greatest need is for adopters who are:
Indigenous
open to adopting siblings
open to adopting a teenager; and/or
open to adopting children with special needs (such as early abuse or neglect, behavioural challenges, learning disabilities, Autism Spectrum Disorder, or Fetal Alcohol Spectrum Disorder).
Learn more
To learn more about adoption in BC, check Adoption Basics, a free online presentation that will answer your top questions: www.bcadoption.com/abasics.