Neil Davies has a problem.
It's a problem most businesses would likely crawl over broken glass to have right now as the COVID-19 pandemic continues to destroy many industries, even as B.C. tries a phased reopening process.
No, Davies says his business, Jubilee Cycle in South Burnaby, didn't have to close as the pandemic unfolded and is "busier than we have ever been," but that's created an issue.
"We are definitely one of the more fortunate industries who have been able to remain open and stay strong through the pandemic," said Davies. "At this time, however, our imminent issue is our industry is literally running out of bikes to sell."
The reason why the shop is so on fire is because the pandemic has forced a shift in thinking with many people who are now working from home. New health measures have thrown people's routines for a loop and Davies detailed how through the sales of bikes.
"What we are hearing from a lot of people who are purchasing bikes because of the pandemic is that they need to get out and exercise as they do not have their fitness centre or gym to go to," he said. "We are also experiencing many families purchasing bikes so they can continue to do things together as a family. It has also become a way for people to get out of the house who may be working from home or are not working at all at the moment. As well with travel heavily restricted, we realize more people are staying home as opposed to travelling for vacations or long weekends."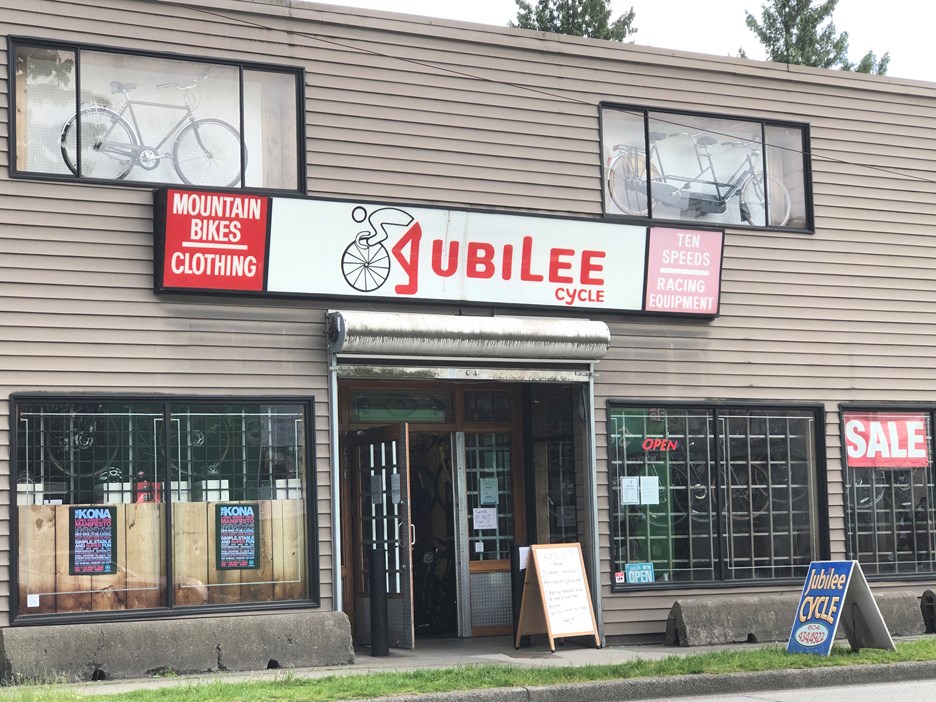 Just how busy is Jubilee, a store that's been operating since 1946 and is family owned since 1974?
There are lineups out the door on many days. The store's service department is "absolutely maxed out," Davies said, which means that the "turn around" time for bike service is at two weeks. 
"There are days when we have all four of our staff members on the floor selling bikes, which means there is absolutely nothing going on in the workshop, except prepping and assembling new bikes," he said.
Jubilee has also adjust to the new health measures, which makes serving customers a more arduous experience.
They've cut store hours in order to reduce the staff's exposure, and clean and disinfect the store throughout the day, all while limiting the number of customers inside and no longer permitting helmet or shoe fitting.
"I would say that 99% of our customers are being extremely patient and understanding of the situation," Davies said. "Occasionally, we have to point out the lineup to a person who might have just walked in the door without noticing the line, but the reaction is usually, 'Oh, sorry, my bad' and they join the back of the lineup."
All this and we haven't even hit prime cycling season as the weather warms up.