It's the time of year, again, when Metro Vancouver residents feel the wrath of overprotective parents. Not hockey parents – it's the crows that have murder in their eyes.
For several days, Effie Fiddick said the issue was so bad, with three to eight crows showing aggressive behaviour near her Greta Street home, she was unable to tend to her tomato garden.
"One of the crows has hit my head at two different times, and my husband's," Fiddick said. "I can't even go out and water my tomatoes. They watch for us to come out the door."
The issue of aggressive crows in Metro Vancouver isn't new – beyond annual coverage in the media, a pair of Langara College instructors built a crowd-sourced interactive map of aggressive crows in the region in 2016.
So far this year, the CrowTrax map has had 14 entries in Burnaby, mostly in early and late May. The most-reported area is between Beta and Delta avenues just north of Lougheed Highway, with seven incidents reported in early May, along with another two nearby at Holdom Avenue.
Another incident was reported near the Burnaby Mountain Golf Course on June 2, with one incident each reported in the Sullivan Heights, Cascade Heights and Middlegate areas.
One incident is reported in the alley behind Fiddick's home on May 30, in which the person says the crows followed and swooped, but did not touch the person.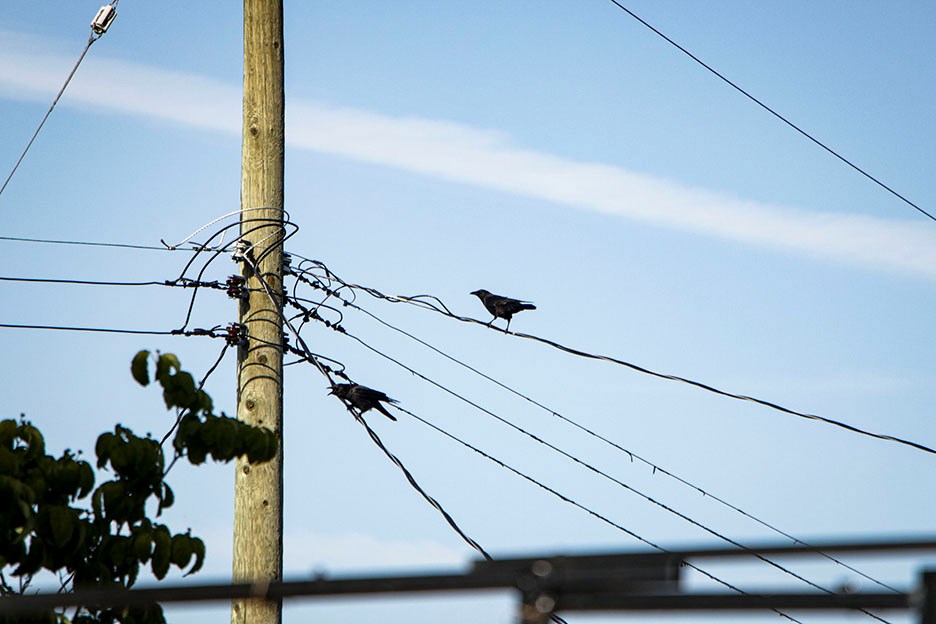 An interview request with the instructors behind the CrowTrax map did not yield a response.
According to a short writeup on the map's website, crows exhibit aggressive behaviour to protect their fledgelings.
And Fiddick said she's seen plenty of that aggression this year, despite never seeing it in years past.
"Across the alleyway, the old gentleman over there was doing his gardening and the crow hit him a couple of times," she said. "Fortunately they haven't scratched us or pecked us … They sit on the roof, and if they see us come out and he lands on the roof, he'll peck the metal, and just bang, bang, bang, bang!"
Fiddick said the crows chased someone down the alley recently, which gave her cause for concern for an elderly neighbour who uses a walker.
"I made my way over there with an umbrella and told her 'don't come out in the alley because they will chase you,' " she said.
She attempted to ward off the crows with fake dead birds and with an automated sprinkler equipped with a motion detector that would spray at any sign of life. Neither worked.
However, by Tuesday morning, when a Burnaby Now reporter attended Fiddick's home, the crows appeared to have cooled down, and no aggression was seen.