For kids growing up in neighbourhoods dominated by apartment highrises, playgrounds aren't just playgrounds, they're backyards too, according to one Burnaby principal.
"Maywood is an urban school with little greenspace," said Maywood Community School principal Kathryn Yamamoto. "You can see how many apartment buildings are in this area."
Yamamoto was speaking at a press conference at her school in the heart of Metrotown Friday morning.
Education Minister Rob Fleming was there to announce $5 million in grants for new school playgrounds around the province, including three in Burnaby: a $105,000 universally accessible playground at Maywood and new $90,000 standard playgrounds at Second Street Community School and Sperling Elementary School.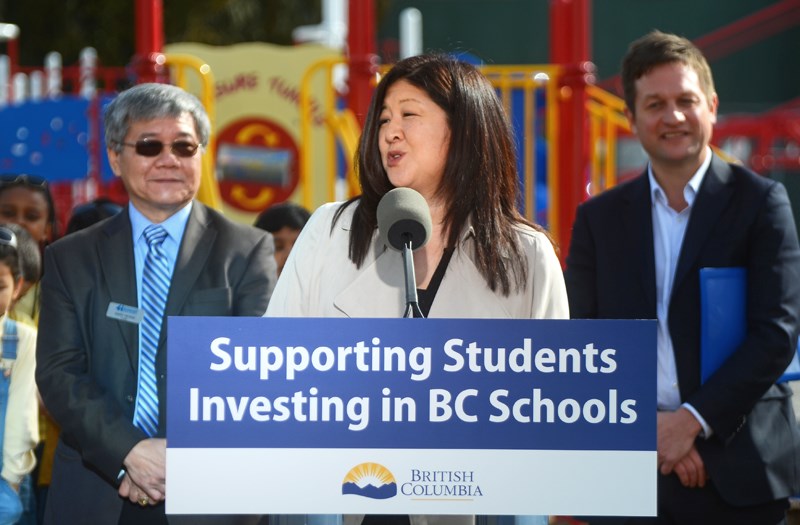 Yamamoto said she's been a principal for 11 years and has always dreamed of the day someone would announce one of her schools was getting a new playground.
District Parent Advisory Council president Laura Ward, a Second Street parent, said parents at her school have been dreading the thought of having to fundraise for a new playground.
"It takes a huge burden off of all of us," she said.
School board chair Gary Wong also thanked the province for lifting that burden.
"In this regard, we have one less concern with the imbalance that's created between have and have-not schools," he said.
The $5 million announced Friday was the second round of funding under the NDP government's new playground equipment program announced last May.
Suncrest Elementary was the first Burnaby school to get a grant under the new program last year. It unveiled its new playground in January.
The playgrounds announced Friday will be built over the next six months and are expected to be ready for kids to play on this fall.