The provincial government is changing its playground equipment program to ensure all new school playgrounds will be accessible for kids with special needs, according to Education Minister Rob Fleming.
Fleming was at Burnaby's Second Street Community School Wednesday for the official opening of three new playgrounds in the city.
Under the province's playground equipment program announced in May 2018, grants have till now come in two amounts: $105,000 for universally accessible playgrounds and $90,000 for standard.
Only one of the Burnaby schools, Maywood Community School, had received the province's grant for a universally accessible playground.
Second Street and Sperling Elementary had been awarded grants for standard playgrounds.
To ensure those playgrounds would be accessible for all kids too, the school district stepped in with $30,000 and took care of the installations.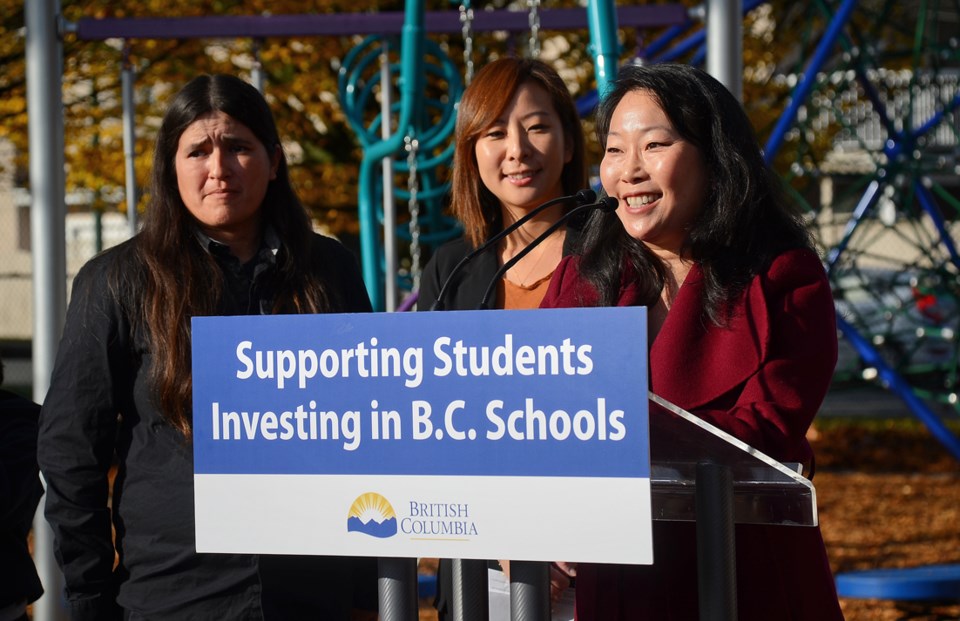 In the future, Fleming told the NOW all playgrounds funded under the playground equipment program will be universally accessible.
He said the province made the change after the end of last school year based on feedback from school districts.
"Of course it costs a little bit more, but it's important in terms of what we're trying to do in the school system to be inclusive of every kid," he said. "Upon reviewing the program, which it's really still in its infancy, we decided that that policy shift was probably the right thing to do."
School board vice-chair Jen Mezei, who advocated for government funding for school playgrounds as president of the B.C. Confederation of Parent Advisory Councils before being elected to the board, applauded the change.
"Equity, access and inclusion are an integral part of our district's values," she said at Wednesday's event at Second Street. "A child's access to a safe playground should not be dependent on ability or disability. A child's access to a safe playground should not be dependent on a school community's capacity to raise funds. Government-funded playgrounds and playground replacements have helped relieve a huge burden that has been placed on parents and PACs' shoulders."
Universally accessible playground equipment is designed to be accessible by all elementary-aged students, including children with disabilities or developmental challenges who need to interact with playgrounds in a specialized manner, including wheelchair use.