TransLink is proposing "tactical changes" for one of Burnaby's most congested streets to improve traffic flow, especially for its buses.
TransLink released a series of fixes for traffic earlier this week and one item involves change the way traffic flows on Burnaby's busy Edmonds Street from Canada Way to Griffiths Drive.
Edmonds was one of several Metro Vancouver roads that TransLink thinks could be fixed up by the end of 2020 with municipal support.
"Tactical changes include a range of small changes that can reduce delay for buses and other vehicles without significant impacts to other street users," TransLink said is a new report released Thursday. "These measures include addition of right-turn pockets at intersections (see the image embedded in this story), turn restrictions, transit approach lanes, signal timing adjustments, temporary pilot projects or construction mitigation measures. Most of these measures can result in improved conditions for all road users as they reduce delay for both buses and vehicles."
Right-turn pockets are suitable at intersections where motor vehicle turns made from a general-purpose lane can cause delay to buses by limiting the flow of buses through an intersection. They are also useful at intersections with high volume of pedestrian crossings, where a right-turning vehicle needs to wait for pedestrians to complete crossing before it can safely complete a right turn.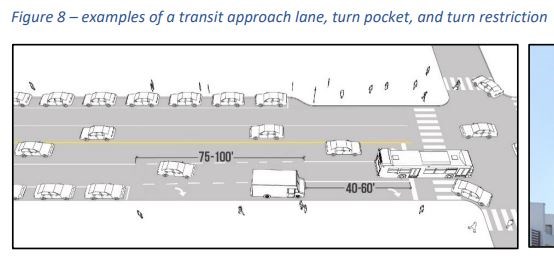 Edmonds at Kingsway sounds like a perfect location for the right-turn pockets.
Quick implementation of right-turn pockets at intersections can be accommodated in the parking lane, said TransLink.
"Similarly, turn restriction can improve the flow of buses through an intersection. Turn restriction can be time limited or for the duration of the day where needed. They can be quickly implemented through signage or as pilot projects. Transit approach lanes are short bus lanes on the approach to major intersections, which allow buses to bypass long queues that form at major intersections. They can be quickly implemented by reallocating road space at intersections through lines and signage."
TransLink has been working with municipal partners and providing funding to support near-term intersection tactical change projects.