With just over a week to go until the 43rd federal election comes to its final vote, it was clear in a Burnaby hotel that Andrew Scheer and the Conservatives were the bogeymen the Liberal Party seeks to invoke to rally its base.
In fact, Liberal Leader Justin Trudeau even broke from his earlier tendencies to focus more on polarizing conservative premiers Jason Kenney and Doug Ford. During a rally at the Element Vancouver Metrotown hotel to stoke his local base of supporters, Trudeau mentioned Kenney and Ford just twice each.
By contrast, Trudeau mentioned Scheer eight times and the Conservatives 10 times.
Notably missing from Trudeau's speech was his progressive rival in whose home turf he rallied Friday night: NDP Leader Jagmeet Singh.
The evening saw a succession of speakers, starting with New Westminster-Burnaby candidate Will Davis, followed by Burnaby North-Seymour incumbent Terry Beech. Sophie Grégoire Trudeau, the prime minister's wife, introduced Burnaby South candidate Neelam Brar, who in turn introduced Trudeau.
In all of their time at the podium, Jagmeet Singh was brought up only once: Beech introduced Grégoire Trudeau as the person who would "introduce the candidate who's going to defeat Jagmeet Singh."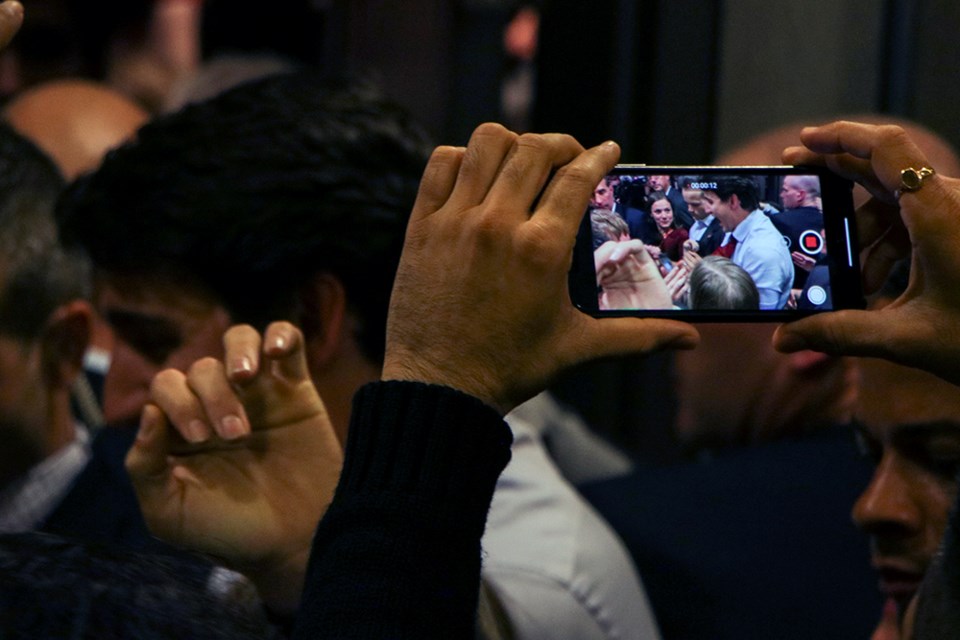 Former Conservative prime minister Stephen Harper, on the other hand, got four mentions in the rally, which ran about 45 minutes.
The hall was packed with a few hundred supporters, many of whom were volunteers in local campaigns, and who brought lively responses to the Liberals' speeches.
Upon mentions of the Conservatives, conservative premiers and Scheer, the crowd promptly booed, while at other moments chanting "four more years!" and "Choose forward!" (The latter is the slogan for the Liberals' election campaign.)
Trudeau's speech was a balance between highlighting his own record and invoking the ghosts of Conservatives past, present and future.
"Are we going to go back to the failed policies of the Harper years? Or are we going to keep moving forward?" Trudeau asked the enthusiastic crowd.
"(Scheer) wants to make pollution free again because he would rather jeopardize our kids' future than stand up against Doug Ford, Jason Kenney and other climate denying conservative friends of his."
In her short, more positive speech, Brar spoke to how she saw Liberal Party policies of the past affecting her own family's life, from her father's immigration to Canada in the 1970s to growing up in a Canada that encouraged multiculturalism, women's equity and middle-class growth.
"I grew up in Canada with encouragement and belief that through hard work and determination, I could become anything that I set my heart on," Brar told the crowd.
"I, a daughter of humble immigrants who came to Canada with nothing, am now standing on a stage right here with you, with the leaders of Canada."