As many of his longtime Burnaby Citizens Association comrades prepare to plunge into another municipal election battle, one veteran BCA school board trustee is already far from the fray.
After serving more than three decades on the Burnaby Board of Education, Ron Burton has already moved to sunny Vernon, to play tennis, mountain bike, tool around on his motorcycle and care for his two-year-old grandson, while many of his former colleagues get ready to do battle on the hustings once more.
"Yeah. I am jealous," said Mayor Derek Corrigan, who was first elected in 1987, the same year as Burton.
The veteran trustee stepped down during the last board meeting of the school year last month.
"It's been an honour and a privilege to serve here," an emotional Burton said in a few, characteristically brief words of farewell.
Superintendent Gina Niccoli-Moen, hired during one of Burton's many terms as chair three years ago, called him "a man of great integrity and fairness, who has really left an indelible mark on public education in Burnaby."
BCA trustee Baljinder Narang lauded his mentorship, leadership and sense of humour.
"Your one-liners have cracked us up," she said.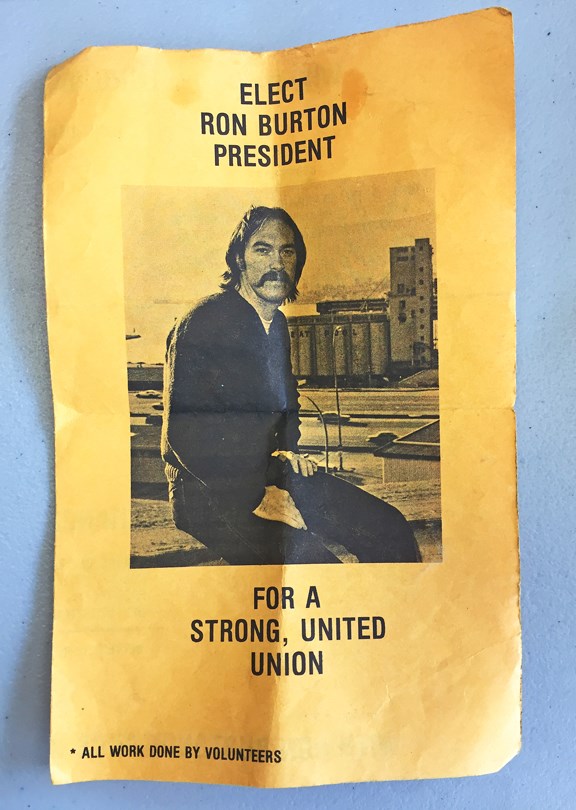 Early days
Burton's political career began nearly 40 years ago on the Vancouver waterfront, when he first successfully campaigned to become president of the Grain Workers Union Local 333 ILWU as a long-haired, handle-bar-moustached 25-year-old.
An East Vancouver native, Burton's summer job at the docks had become permanent – and his academic aspiration at SFU curtailed – at age 17, when his mother was killed by a drunk driver and he was left to support his younger brother and sister.
He soon joined the NDP in East Van, however, and threw himself into the trade union movement.
When he moved to Burnaby in 1982, Don Jantzen, former vice-president of IWA Local 1-217, encouraged him to join the Burnaby Citizens Association and run for the executive.
"At that time it was the communists and the NDPers," Burton said of the BCA. "I got along well with (the communists) and knew them all really well, so, when I ran, I kind of topped the poll."
When a seat came up on school board in 1987, he ran and won that too.
After four earlier campaigns, Corrigan, a young defence lawyer at the time, also made his debut on city council that year.
By that time, Burton and Corrigan were already good friends after years with the BCA.
"It was all about who you'd like to go for a beer with," Corrigan said. "That's the way it worked in those days. Ron and I were both the type of guys that people wanted to go for a beer with …We would sit down and we would talk about a broad range of issues… a lot of the time was spent figuring out how to run an organization because we were novices."
While Corrigan campaigned his way into the mayor's chair, however, Burton stayed put on the board.

Only twice did he consider moving up politically, he said: once for a council nomination in 1990 that he eventually deferred to Celeste Redman, who had been around longer and deserved the seat more than him, he said; and again after longtime Burnaby MP Svend Robinson stepped down in 2004.
"There were rumours out there, and there were a lot of people trying to get me to run," he said of 2004. "I was really interested because the labour (issues) I was interested in (were) federal."
Looking back, though, he said he has no regrets about not moving up the ranks.
"You tend to get watered down and not be as effective at that level," he said.
Collaboration
During 31 years on the school board, many of them as chair, Burton worked with a total of 21 education ministers – on both sides of the political spectrum.
Socred Tony Brummit, who worked with the district on the then-new Burnaby South Secondary in the early '90s, was among the best and most accessible, Burton said, while ministers in Glen Clark's NDP government were among the most difficult.
"One thing I think our board has always tried to do is work with the government in power regardless of who it is," he said.
He admits his BCA colleagues on city council haven't always followed the same dictum.
"I think they're more political," Burton said. "We just feel that we can't get stuff done unless we have help from the provincial government."
Provincial funding cuts, though, still stand out as the most challenging part of Burton's years on the board.
"Always the cuts were difficult times," he said.
Despite their diverging approaches to working with the province, however, Burton said the BCA school board and city council have enjoyed a uniquely fruitful relationship, leveraging the most out of projects, like new schools, that they've partnered on over the years.
He credits mayors Doug Drummond and Corrigan for pushing for a more equal relationship between the city and the board, the latter having historically been treated more like the little sibling of municipal politics.
An "empathetic guy"
When it comes to the city of Burnaby, however, public education isn't the only thing Burton has "left an indelible mark on."
An ardent mountain biker, Burton also helped convince city council to get on board with the unsanctioned trails already being built on Burnaby Mountain.
"I remember when we first took the councillors for a walk to show them, what was going on," he said. "I was on the school board at the time, and so I was telling them, 'We're building trails here. You guys either get on board or you're going to miss the train.'"
The mountain has since become a mecca for mountain bikers, and it's one of the many things Burton, now 64, misses about his longtime hometown.
After selling their Forest Grove house, however, he and his wife are now mortgage-free in Vernon, and retirement has left them with the time and energy they need to look after their grandson, of whom they have full custody.
It's not your typical retirement, but that doesn't shock Burton's friends.
"It's surprising, but not for Ron," Corrigan said. "If there was anybody who I would think would be prepared to take on something like that, Ron would be the kind of guy. He has always been an extremely empathetic guy. He's always been a guy whose heart went out to the most vulnerable."