A man shot at a Burnaby gas station Sunday night has died, and homicide investigators have taken over the case.
First responders were called to the Chevron gas station at Willingdon Avenue and Canada Way – across the street from BCIT – at about 6:30 p.m. after reports of gun shots, according to police.
When emergency crews arrived, they found a man suffering from multiple gunshot wounds and not breathing, according to first responders on scene.
Emergency crews performed CPR on the victim and transported him to hospital by ambulance in critical condition.
The man has since died.
There were multiple shell casings and a pool of blood seen on the ground in front of the gas pumps.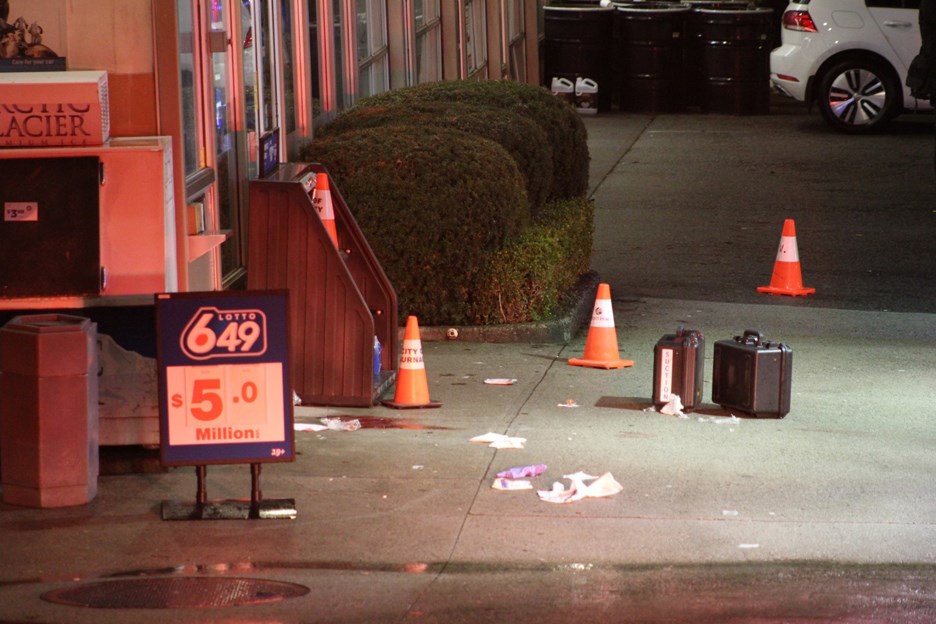 Anyone with information is asked to contact IHIT by phone at 1-877-551-IHIT (4448) or by email at ihitinfo@rcmp-grc.gc.ca.
This is the second shooting in Burnaby two weeks after an 18-year-old was shot in the leg on Jan. 5 at Willingdon Avenue and Burke Street at about 10:15 p.m., according to a press release.
In that case, police said they found a shot-up Suzuki Swift that had crashed into some bushes. The three men who had been in the vehicle had fled, according to police, but an 18-year-old who had been shot in the leg was found not far away on Willingdon, and the other two occupants were located shortly after.
This also follows the death of 51-year-old Joseph Vincent Morrissey of Vancouver, whose body was found on Jan. 13 in the 6700-block of 4th Street in Burnaby by Robert Burnaby Park. Morrissey was discovered to have injuries consistent with foul play and IHIT has now taken over that investigation as well.