A heckler who interrupted a Burnaby South byelection debate Wednesday evening had some choice words for federal NDP Leader Jagmeet Singh.
"Why are you picking fights with Aboriginal people?" a man shouted across a ballroom at the Delta Hotels Burnaby Conference Centre.
The protester took aim at Singh over his recent comments in support of the Coastal GasLink pipeline. In January, 14 people were arrested for violating a court injunction allowing pipeline workers onto Wet'suwet'en territory. Hereditary First Nations chiefs in the area are opposed to the project and say the RCMP actions violated their land title rights. 
"We don't want you elected if you're supporting pipelines," the heckler yelled at Singh.
An Indigenous man has just interrupted the debate, angry about Singh's support for the Coastal GasLink pipeline through Unistoten territory. #bcpoli #cdnpoli pic.twitter.com/vsq2r4hJBb

— KelvinGawley (@KelvinGawley) February 7, 2019
The protester was joined by two other people who did not speak. All three were wearing clothing with American Indian Movement logos. 
After the debate, Singh told the NOW he understands why the man was mad.
"I think people who are frustrated want to be able to express their point of view and the Indigenous community is a community that's faced a lot of injustice and a lot of unfairness and are going through a lot of frustration right now," Singh said.
First Nations communities along the natural gas pipeline route to Kitimat from Alberta have largely been well consulted, Singh said. 
"It's an example of positive steps that need to be taken in terms of community buy-in, but work is still needed," he said.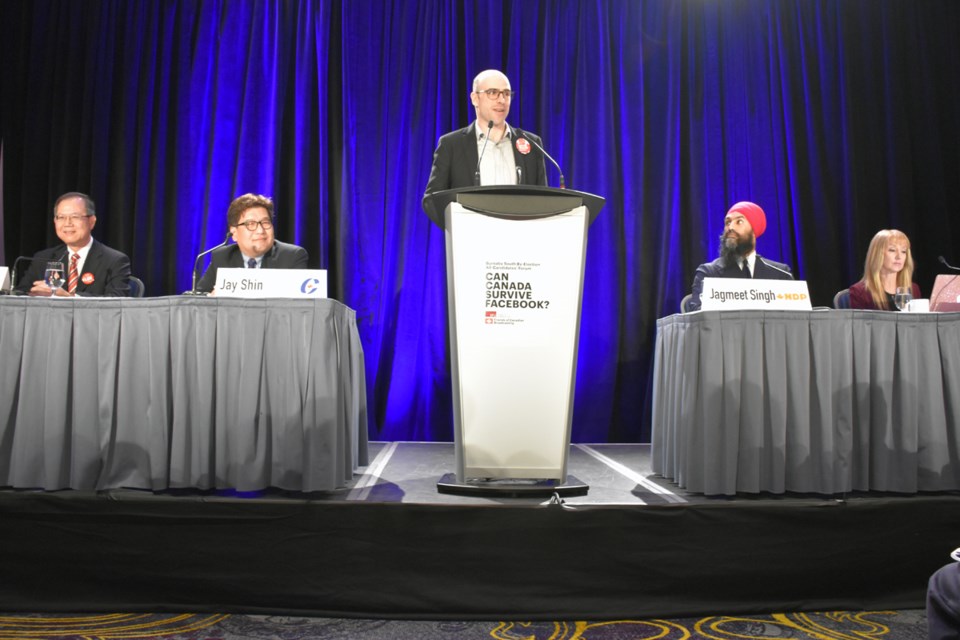 The debate carried on after the trio left the room. Singh was faced off against three of his opponents in the Feb. 25 Burnaby South byelection: Liberal Richard Lee, Conservative Jay Shin and Laura-Lynn Tyler Thompson of the People's Party.
The event was hosted by media lobby group Friends of Canadian Broadcasting and set out to answer one central question: "Can Canada survive Facebook?" 
The candidates were asked a series of questions about social media, foreign interference in Canadian democracy and the role of the CBC.
Lee suggested the United Nations should regulate the internet to combat misinformation. The comment drew loud boos from the crowd, which included a large contingent of People's Party supporters. 
Answering a question about misinformation, Shin said foreign-owned online publishers should be held to the same journalistic standards as the CBC and other Canadian news outlets. 
Thompson said she has been banned from Facebook several times and considers it a "badge of honour." She also answered several questions about funding and regulating the CBC by criticizing the public broadcaster. She said she "waxed eloquent" when speaking to the CBC but the TV story was edited to make her "sound like crap."
Singh said he has been a victim of fake news, referencing an ad recently seen online claiming he lives in a $5-million mansion. Singh said he lives in a modest rental in south Burnaby, but he wasn't worried the misinformation would affect his chances of winning. 
Singh said the federal government needs to do a better job of supporting Canadian culture and media to better tell the country's story.