The north wing of Burnaby Hospital sustained extensive damage during a suspicious fire that forced the evacuation of patients and staff Sunday night, according to the Burnaby Fire Department. 
Firefighters were called to the hospital at 10:14 p.m., according to assistant fire Chief Dave Younger.
On arrival, they found heavy smoke billowing from several doors and windows in the six-storey wing off Sunset Street and Ingleton Avenue.
"It was quite heavy, soot-filled black smoke," Younger told the NOW.
A crowd of people, including some wrapped in robes and blankets, had already been evacuated to a glassed-in patio outside, Younger said, but they were too close to the smoke, so crews escorted them to the street.
A transit bus driver who happened to be driving by in a bus stopped to offer help and arranged for three more buses to come to the area to shelter patients from the cold and intermittent rain.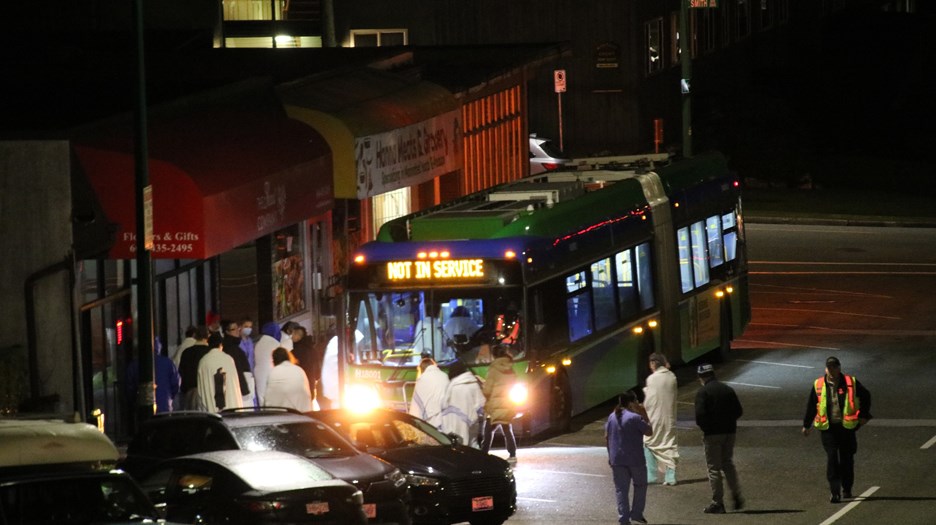 "He wouldn't give me his name. It was Terry something," Younger said.  "He was a man on the spot and did all the right things."
Inside the hospital, many patients had already been evacuated to the south side by staff, according to Younger.
"They took the ball and were running with it before we got there. They did a beautiful job," he said.  "They had people in all the hallways and shoved into all over the place is what I'm told."
Crews located the fire on the second floor in what Younger described as a common area or recreation room.
Once power was shut off to the north wing, crews knocked down the blaze "pretty promptly," but the whole wing sustained "extensive" fire, smoke and water damage, according to Younger.
"This is going to be a setback for that hospital, and obviously with COVID they're already hurting," he said.
Younger said the fire was "suspicious," and fire investigators were already on scene early Monday morning.
Seventeen trucks and 58 firefighters responded to the blaze.
There were no injuries.
The NOW has reached out to Fraser Health for more information.