Prime Minister Justin Trudeau said his visit to Burnaby on Sunday ahead of the Feb. 25 byelection was "an opportunity to reconnect with friends, an opportunity to talk about how we're moving forward as a country (and) an opportunity to spend time with my friend and yours (Liberal candidate) Richard Lee." 
But protesters saw it as an opportunity to voice their displeasure with his purchase and support of the Trans Mountain pipeline and its proposed expansion. The project's opponents – spread throughout the roughly 200-person crowd of mostly Liberal supporters – made themselves known not long after Trudeau took the stage alongside Lee at the Shadbolt Centre for the Arts.  
Some protesters stood quietly holding signs, only to have Liberal supporters move in with Richard Lee placards in an attempt to block their messages from the nearby news cameras. 
Others chose to shout directly at the prime minister, who did not miss a beat delivering a stump speech. Trudeau became nearly unintelligible as he spoke about his government's commitment to reconciliation with Indigenous people.
"It's not always going to be easy and there are going to be challenges along the way but we are going to demonstrate that reconciliation is a reality," Trudeau said as Liberal supporters cheered and clapped to drown out a heckler near the stage.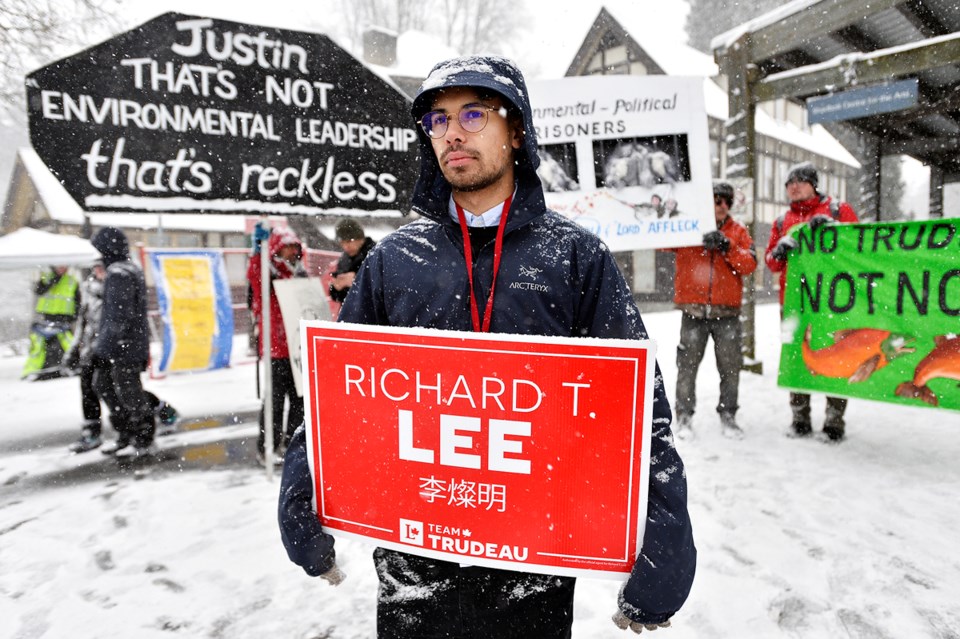 Trudeau was joined by several caucus colleagues including Burnaby North–Seymour MP Terry Beech, John Aldag, Harjit Sajjan, Joyce Murray and Randeep Sarai. Notably absent from the group was former attorney general and Vancouver Granville MP Jody WIlson-Raybould, who, according to the Globe and Mail, was pressured by the Prime Minister's Office to defer the prosecution of engineering firm SNC-Lavalin – charged with corruption and bribery for alleged actions in Libya.  
As Trudeau was wrapping up his short speech, Uni Urchin, a pipeline opponent involved with the Camp Cloud protest on Burnaby Mountain in 2018, called the prime minister a "criminal."
"You have broken the law. You're a criminal. Shame on you," Urchin yelled as someone tried to stand between her and a reporter's camera. 
Uni Urchin of Camp Cloud fame yelled at the Prime Minister as he left the stage. Several anti-pipeline protesters were peppered throughout the crowd. #cdnpoli pic.twitter.com/SIoOPEopG7

— KelvinGawley (@KelvinGawley) February 11, 2019
Trudeau handed the microphone to Lee who spoke for roughly three minutes as the heckling continued. The former BC Liberal MLA of 16 years said he is a committed community member excited to represent Burnaby South in Ottawa.
The pipeline opponents weren't the only ones to brave a snowstorm to protest Trudeau.. About 10 protesters in yellow vests, representing a nascent right-wing movement in the country, held signs outside the Shadbolt Centre accusing Trudeau of "treason" and opposing the UN Compact for Migration.   
Lee is challenging NDP Leader Jagmeet Singh, Conservative Jay Shin, Laura-Lynn Tyler Thompson of the People's Party, independent Valentine Wu and independent Terry Grimwood in the upcoming byelection.