It is with great sadness that I report the yellow vests are not only coming to Burnaby on Saturday, but they are running a candidate in Burnaby South.
The National Citizens Alliance sent out a news release this morning that said a rally will be held on Saturday at 11 a.m. at Burnaby City Hall. I reached out to the city to see if this group is actually allowed on city hall grounds for a political rally and they are. The city actually has a policy on this and have reminded the group to follow the guidelines, in case anyone was wondering.
The news release says this "meet and greet" is in "solidary" with "yellow vests, patriots worldwide against the United Nations and GLOBAL World Order and in support Canadian sovereignty."
If you don't know anything about the yellow vests, the use of the phrase "GLOBAL World Order" should be the first tip-off. They give this title capital letters as though it's a real thing, instead of a disturbing conspiracy theory.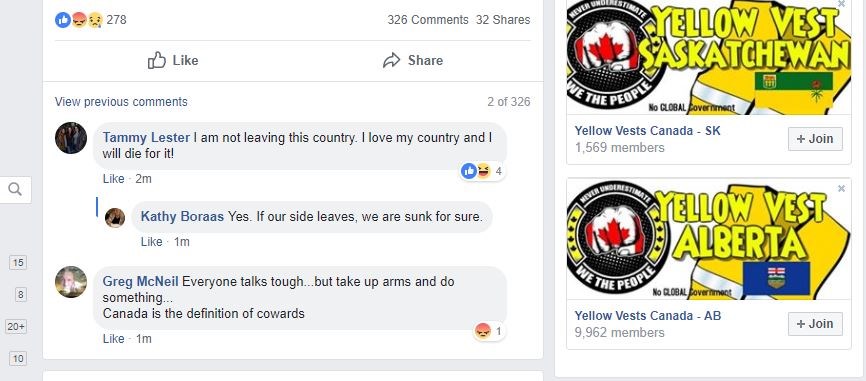 The yellow vests are controversial to say the least due to their opposition to immigration (they claim they for "legal immigration" but take a look at their Facebook page and you'll see different) and the violent threats some members have made against Prime Minister Justin Trudeau. They are not affiliated at all with the movement in France. 
The National Citizens Alliance says it's an "officially registered federal political party" and that it has a candidate, Zachary Johnson, for the Burnaby South byelection who will be at the rally.
I will state here that the yellow vests have tried to say it's just a "few bad apples" but when you scroll through their Facebook page – as I did on Friday - it's full of threats and virulent name-calling and racism, especially against refugees. I've included screenshots of comments against Alberta Premier Rachel Notley, plus someone calling for people to take up arms - a clear threat. I would have spent longer on this page, but it made me want to vomit.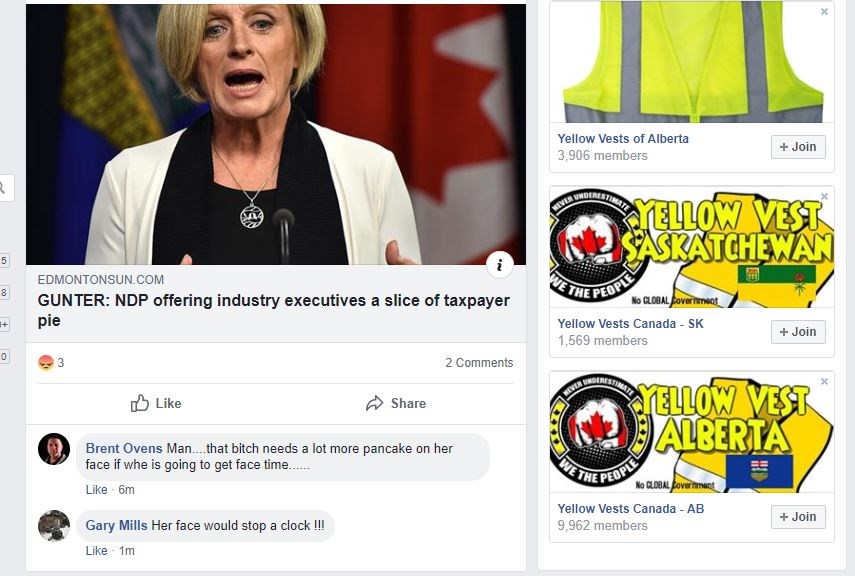 I should have worn a Hazmat suit.
I know some media commentators have said these are just citizens who feel left out of the political process, but that's what the Trump apologists said about his supporters and I'm so over that garbage.
If their leadership does have legitimate gripes with Trudeau, it's long been drowned out by virulent threats of violence from its membership.