Credibility is crucial when it comes to election campaigns.
Voters might like some of a candidate's platform, but if they don't find the candidate credible as a person, then they likely won't vote for them.
At least that used to be a thing before Trump and Rob Ford – two people who can seemingly make every misstep possible and still get elected.
So when I look at the social media antics this week by Laura-Lynn Tyler Thompson – the People's Party of Canada candidate in the Burnaby South byelection – I wonder if her actions might actually help her candidacy.
What antics? Well, let's start with her retweeting Feb. 13 a bizarre video from a supposed supporter entitled, "WHAT REALLY HAPPENED AT THE BURNABY DEBATE" (but of course it was in all caps).
The video takes a clip from Jim Carrey's comedy classic Dumb and Dumber and superimposes the faces of Thompson and federal NDP leader Jagmeet Singh.
Thompson's face is on the body of somebody ripping the heart out of Singh's chest. I've included the clip below.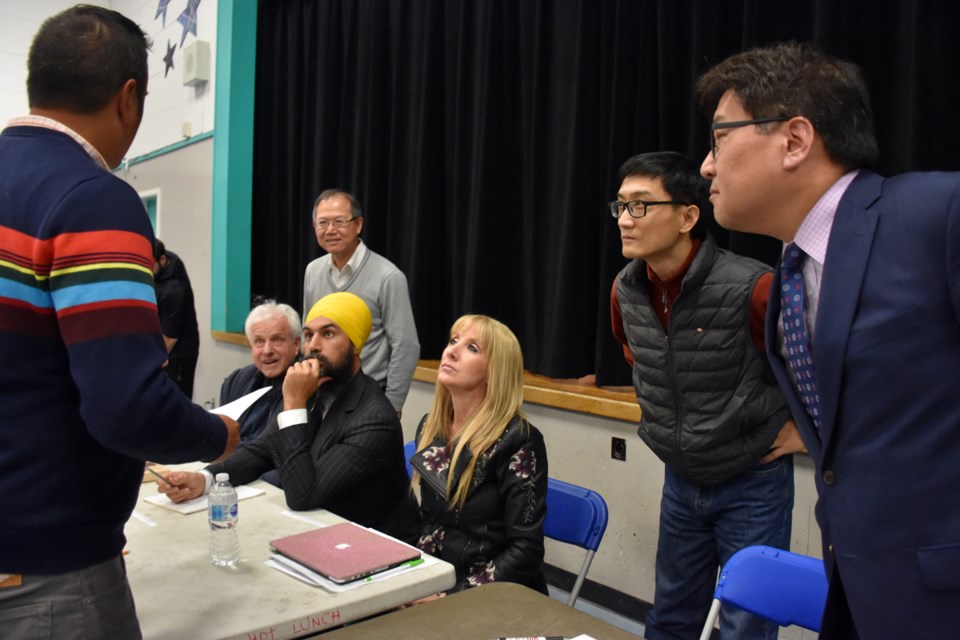 Look, I get that it's a joke implying that Thompson won Monday's Burnaby South all-candidates debate, but it's so freaking tacky that no credible candidate should be retweeting something like that.
We're supposed to be trying to preserve some dignity in Canadian politics, not dragging it into the gutter. Act like a grownup and maybe you'll be treated like a grownup.
On Valentine's Day, Thompson posted a serious accusation on Facebook against Conservative candidate Jay Shin. In the post, Thompson said she had filed a formal complaint with Commissioner of Canada Elections over Shin's campaign literature about her.
"Thompson believes that the brochure, which includes pictures of marijuana leaves and syringes used to inject heroin, is defamatory and misrepresents her position regarding cannabis legislation and drug injection sites, and clearly implies that she favours drug use," read the post. "Thompson contacted the Shin campaign to immediately cease and desist with the distribution of the brochure and asked Jay Shin to take responsibility for what he and his campaign have done."
Thompson said, "This smear brochure is an outrageous and false attack on my character and is also a direct inducement for people to vote against me. I believe this is in violation of the Elections Canada Act, so I have sent my evidence and complaint to the Commissioner of Elections Canada."
We'll see if the Commissioner of Canada Elections sanctions Shin in any way.
It's a fair point by Thompson to complain about "smear" tactics. I saw one pic of the literature, and Shin's campaign should be ashamed to publish that sort of stuff.
The connection with drugs comes from PPC leader Maxime Bernier's past statements, as well as the support the PPC has received from Vancouver's Prince of Pot, Marc Emery.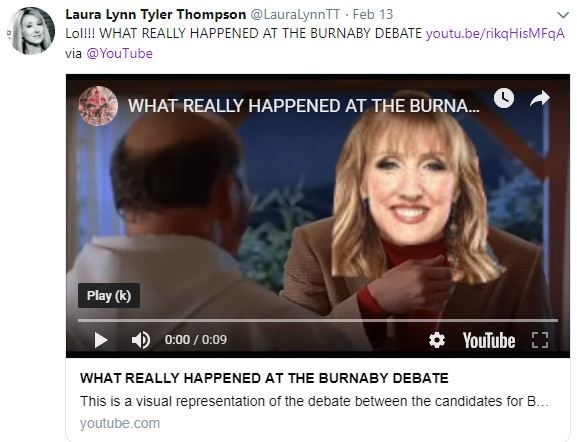 Shin's campaign sent me a response to Thompson's complaint, saying that Bernier's to blame for the PPC being connected to the drug issue: "Laura Lynn Thompson can explain Maxime Bernier's position on the legalization of marijuana and drug injection sites. Bernier has been directly quoted in the media as stating, 'In principle, I'm [Bernier] in favour of the legalization of marijuana', and more disturbingly, he stated, 'we must be open to review the position' on drug injection sites. It's up to Laura Lynn Thompson to explain Maxime Bernier's and the People's Party's position on these two matters. And if she is in disagreement with Bernier and the People's Party, why is she running for them?"
But Thompson wants to make clear that she doesn't smoke doobies, nor does she condone anyone else smoking doobies or Canada legalizing the smoking of doobies.
If she had just left it to posting her complaint, that probably would have been fine. On Twitter, however, Thompson called Shin's campaign literature "blazing lies," which would be a great name for a punk band, but from a federal candidate sounds goofy.
Of course, Thompson's campaign isn't exactly in the clear when it comes to supposed "smear" politics. Her campaign took out an ad in Thursday's NOW that included listing the word "Korean" four times and "Korea" once next to Shin's name. Those multiple references to "Korean" were followed by two words: "Identity politics?" I read that as saying the Conservatives are only running Shin as a candidate because he's Korean. That sounds pretty smearish and race-baity to me.
It's hypocritical because ex-Liberal candidate Karen Wang had to resign for her WeChat posts that mentioned race in the campaign, but Thompson definitely also dragged race into the campaign with her ad. Seriously, she mentioned Shin's ethnicity five times in one paragraph. This is ridiculous.
Thompson's ad also called Jagmeet Singh a "fake candidate!" Sorry, but you can't accuse one candidate of smear tactics and then run an ad with garbage like this.
But as I said, with the way politics is moving in 2019, maybe all this will actually boost Thompson's popularity.