The past few days have been an education for me on the subject of cycling.
I've spoken to and heard from a lot of cyclists in the wake of Saturday's tragedy involving Burnaby resident Charles Masala, a father of two who was killed while biking on Gaglardi Way.
So many people have reached out since then – telling me their horror stories and demanding changes to cycling infrastructure in Burnaby.
I've also heard from the City of Burnaby about how it approaches cycling infrastructure. The city made it clear in a statement that a protected bike lane is not in the immediate plans for Gaglardi Way or Burnaby Mountain Parkway, the two hilly roads that lead up the mountain to SFU, but "we will be reviewing the recent crash to identify the factors that led to it and any immediate changes that may be required."
That's disappointing because right now all that's there to protect cyclists is a white line, a little space at the side of the road and an occasional painted cycling symbol. Meanwhile, you have drivers racing up and down the hill. I know because I drive this stretch (slowly) every day.
You can read a lot more about what the city is doing later in this article, but first I want to share what cyclists have been telling me.
CYCLING COMMUNITY SHAKEN
Masala's death has deeply affected so many people, even those who didn't know him.
"My partner avoided cycling to SFU today after she learned about this hit-and-run," wrote Kamil Kisiel, in a tweet. "She told me she's already had quite a few near-incidents on the road up and this was just too much."
I've had a lot of questions for these cyclists because I don't even own a bike – partially because I'm lazy, but mostly due to the fear I have of cycling on public streets because of the recklessness of some drivers.
So I've asked questions and I've listened – something more drivers need to do if we're going to change dangerous behaviours.
One avid cyclist (he didn't want his name used) who rides to work on most days told me about the joy he feels when riding, as well as the physical, financial and environmental benefits that come with using a bike instead of a car.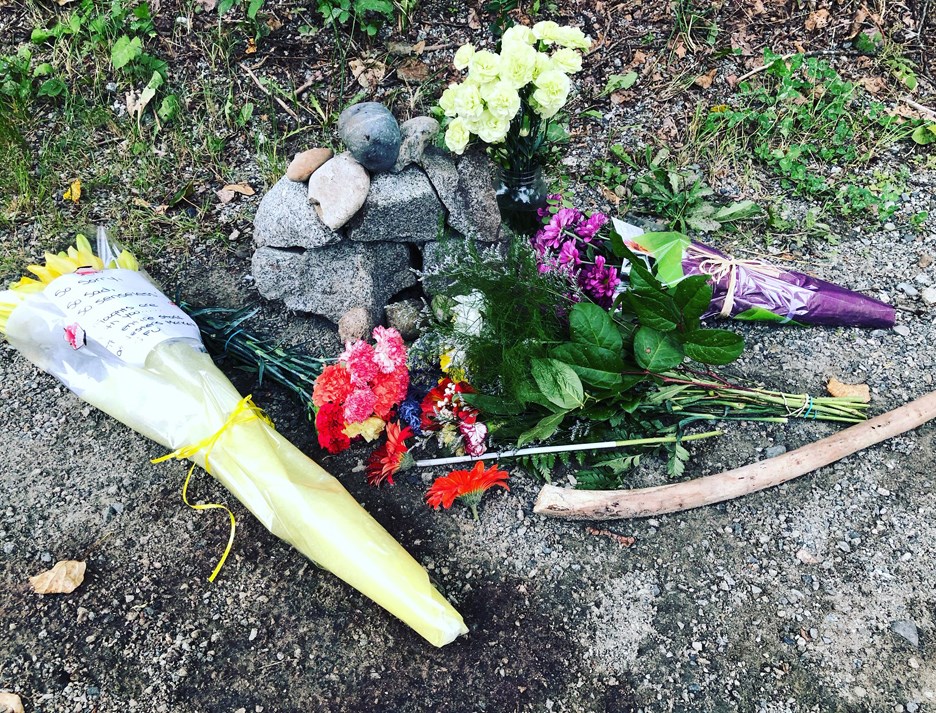 And yet, there are times when he feels he's "testing fate" by climbing onto his bicycle.
Cyclist shouldn't have to feel this way. They deserve to feel confidence when they head out for a ride.
On Tuesday night, I visited the makeshift memorial for Masala that's been set up where he died. I was there about 20 minutes and at least 20 people stopped to see it.
A group of three trail riders – this spot is at the bottom of a series of Burnaby Mountain trails – told me they never ride on the road, even if there are marked bike lanes. They just stick to the trails.
"I can't relax when I'm around traffic," one of them said before the group headed off.
CYCLING INFRASTRUCTURE
One thing that's been made clear since my Sunday column about the death of Charles Masala is that simply painting a bicycle in a lane at the side of the road isn't going to cut it anymore.
Cyclists want more – a lot more.
Cathy Griffin, chair of HUB Burnaby, has been outspoken about government agencies needing to do a better job consulting cyclists when it comes to planning infrastructure.
Griffin told me Masala's death has devastated her and the entire local cycling community. It also didn't surprise her one bit.
"This area, Gaglardi on the hill and then all the way down to Lougheed and south to Cariboo – it's a nightmare," Griffin said. "But it's not just there. So many parts of Burnaby are terrible for cyclists."
Griffin named the area around Sperling and Lougheed – the intersection and then up on the overpass – as a white-knuckler, but also listed intersections as a major problem.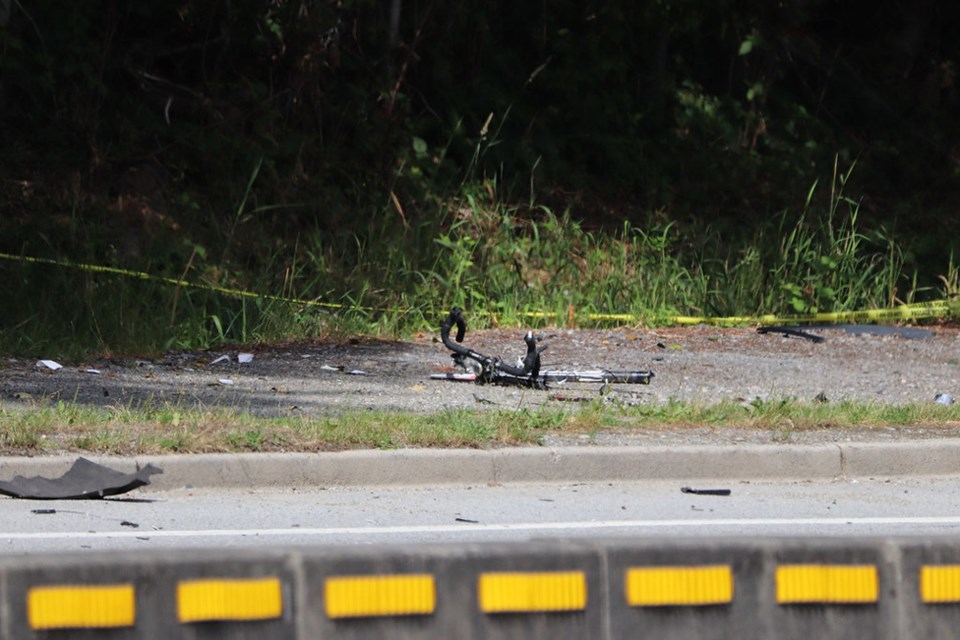 "So many intersections in Burnaby are not designed with cyclists in mind," Griffin said.
She would like to see more protected bike lanes added to separate cyclists and vehicles with some sort of barrier.
"A two-ton machines versus a 15-pound bike – it's no contest," Griffin said. "Painting a line and a cycling symbol on the pavement is the 1970s, 1980s kind of thinking. We didn't have this many cars, this many cyclists back then. We need to change our thinking so we can encourage more people to cycle while keeping them safe."
Protected bike lanes are, of course, expensive and take much effort to install. But Griffin said that in the short term, Burnaby can easily do a better job with signage that reminds drivers there are cyclists on the road, directs drivers' attention to the location of cycling lanes, and generally spreads the message to "share the road" with cyclists.
"That's something that is missing right now," Griffin said.
WHAT THE CITY OF BURNABY IS DOING
I reached out to the City of Burnaby about any possible cycling infrastructure changes on Burnaby Mountain and what the city is generally doing for cyclists in the community.
The city's statement discussed the philosophy the city takes on this issue.
"In recent years, we've moved away from creating things like bike lanes or wide curb lanes that don't provide physical separation from traffic," said the statement. "Our focus is now on designs for 'all ages and abilities,' meaning there is either physical separation from traffic or mixing with traffic on quiet residential streets. Recent projects include Urban Trails on 1.9 kilometres of Rumble Street and 1.4 kilometres on Willingdon Avenue. Through development approvals, we're also adding short sections of cycle tracks (separated from both traffic and pedestrians) in our Town Centres. Over time, this will create a very robust and high-quality network in these areas."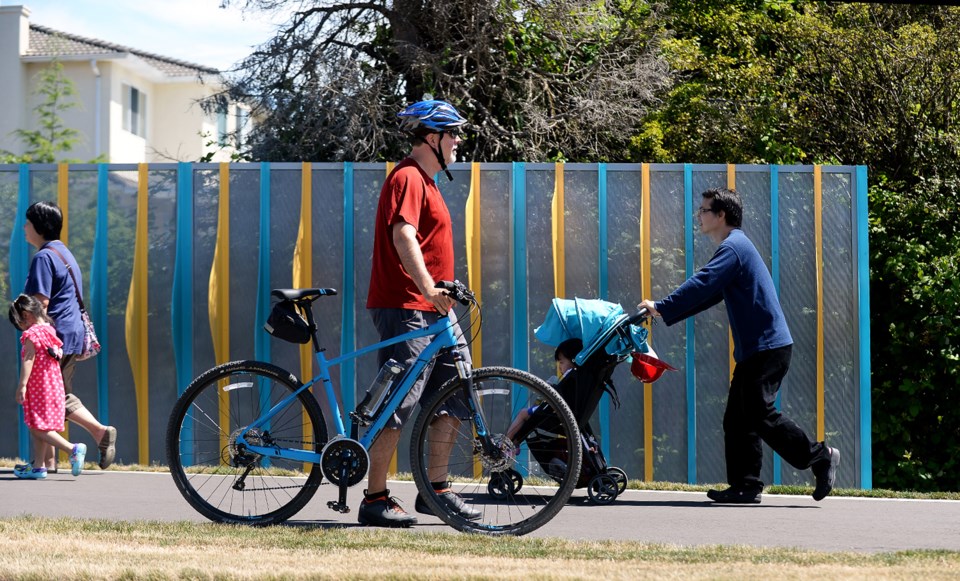 The city also says it's adding "two pretty big sections to the city's Urban Trail network soon. This year we're filling in the gap along Kensington Avenue, on the west side, from Joe Sakic Way north to Lougheed (~600m). And in 2020, we are filling in a section on Gilmore Diversion from Still Creek Avenue south to Canada Way (~800m)."
The city says it is also "embarking on an important conversation that looks at the issue of safety for everyone who uses the road, from a city-wide perspective."
The city is referring to public consultation on the new Burnaby Transportation Plan, expected to take place late this year or early next year.
The recently-adopted goals include some that are applicable to this discussion, such as:
Reduce deaths, injuries, and conflicts for all modes
Reduce frequency and severity of crashes for all modes
Increase the proportion of trips by active transportation modes (walking, cycling, and transit)
Provide well-designed and high quality streets and public realm
"And the vision for the updated Burnaby Transportation Plan considers the question: 'What if Burnaby's streets were not just corridors for movement, but public space to be enjoyed by all?' The vision for the plan is to create a transportation system that is balanced and inclusive, that offers accessible and safe mobility. We encourage residents to share their thoughts on how we can improve transportation safety."
Information on the Transportation Plan process is available at www.burnaby.ca/transportationplan. This describes both the work already done and what's to come. Anyone wanting to be notified of public engagement opportunities for Phase 2 can email a request to transportation@burnaby.ca. 
This plan sounds good, but in the wake of the death of Charles Masala, it feels frustrating because the emotions are so raw. People want change now, but when it comes to government, movement always feels glacial.
I hope the city does take a hard look at Gaglardi Way and fast-tracks something. Cyclists want protection on the mountain. They've said it loud of clear.
If we truly want to move to a society in which most people don't drive, we have to show them we're willing to make things safe enough to do so.
Follow Chris Campbell on Twitter @shinebox44.