It looks like former Christian TV host and outspoken critic of the province's sexual orientation and gender identity resource for schools is running federally in the Burnaby South byelection.
Laura-Lynn Tyler Thompson, a Christian blogger, author and former co-host of The 700 Club Canada – known for her vehement opposition to the province's SOGI 123 program – was announced in a tweet as running for the People's Party of Canada. She has been tweeting a lot about the party in recent weeks.
The party is new to Canadian politics, having been formed during the past few months by Maxime Bernier after his departure from the Conservative Party of Canada.
A tweet by the Burnaby North-Seymour PPC account named Tyler Thompson as its candidate and asked members to rally around her.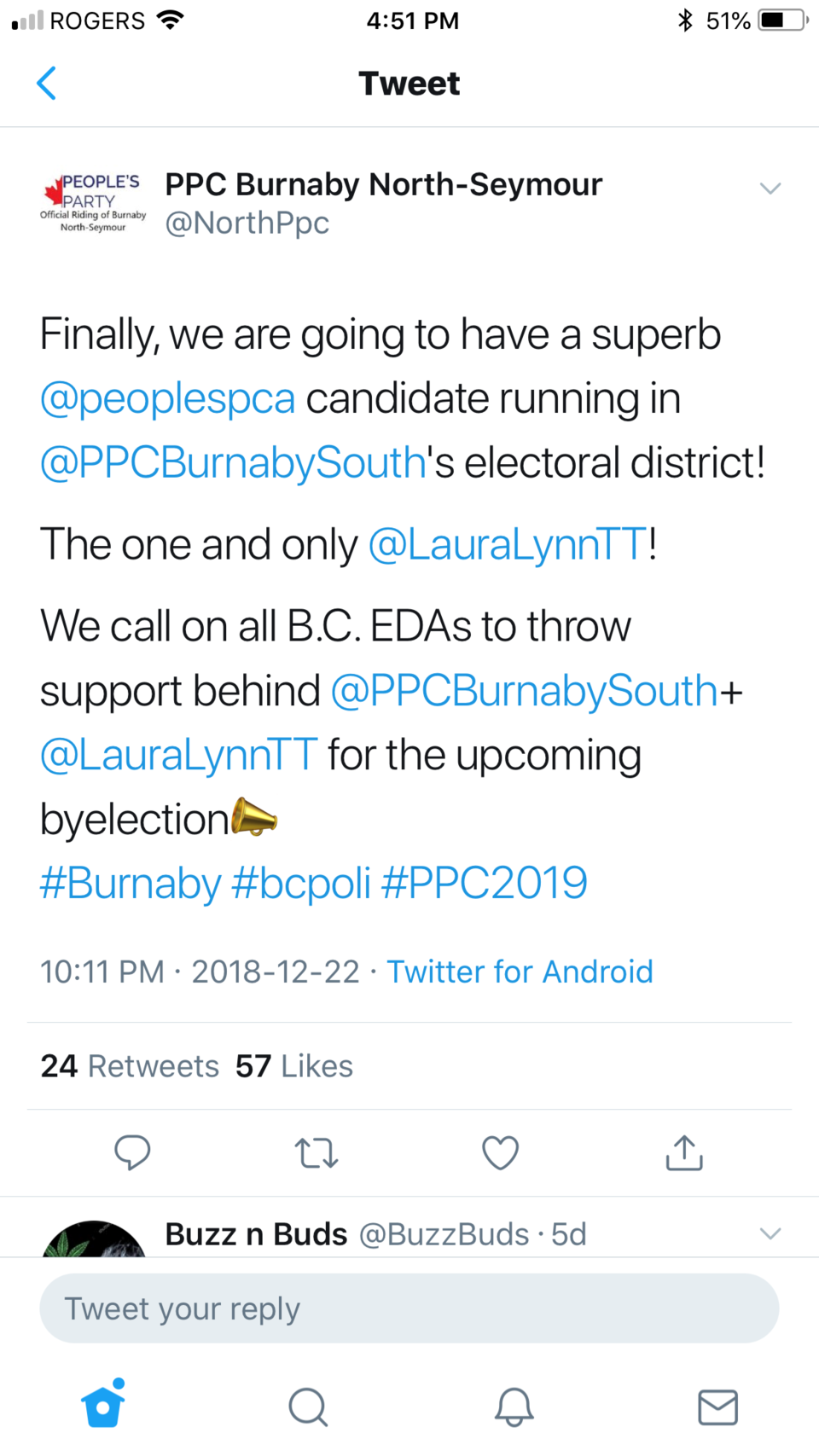 Tyler Thompson ran unsuccessfully for Burnaby school board, garnering 15,622 votes. She was a controversial candidate for her views, but still managed to win a lot of votes. But I don't see how someone who lost running for school trustee will be able to win a federal riding. 
"I think the most important issue facing schools is that parents are highly alarmed and very upset that children are being taught gender-fluid ideology. It has no place in school," she told the NOW during the civic election campaign.At rallies and on social media, Tyler Thompson has spoken against SOGI 123, a resource developed a couple years ago to help B.C. schools support gay, lesbian and transgender students and make schools more inclusive for them.
"A teacher is not trained, nor do they have the education to help a child dealing with gender identity," she said.
The PPC founded an electoral district association (EDA) for Burnaby South in early October, according to Al Rawdah, the EDA's president.
To address issues in Burnaby South, like poverty and housing, Rawdah said the party believes in small government and lower regulations for businesses. The party also believes in "controlled immigration" that works for everyone he added, criticizing the prime minister for putting refugees in hotels.
"We're conservatives, we respect Canadians' taxpayer money – it should be set up as controlled immigration policy," he said, but added the party is not against refugees.
The People's Party of Canada also plans to set up associations in New Westminster and Burnaby North-Seymour, according to Rawdah.