"Leave 'em alone. They are the reason why I smile on my way to work."
That's a comment on our Facebook page about a story detailing how the City of Burnaby is in the process of cutting down several heritage cherry blossom trees on Boundary Road in the Heights.
The story has generated a lot of reaction from people upset that the trees have been cut down - with more set to face the chainsaws soon.
This column isn't about if the city should be cutting them down. According to Burnaby director of engineering, Leon Gous, the decades-old trees are being felled to make way for a water line replacement and sewer separation project that requires it to dig up a section of Boundary Road between Oxford Street and Trinity Street. 
The city says tree cutting is unavoidable in this case and I guess we'll have to accept it.
But – and this is a huge "but" – the city did a terrible job of handling its consultation with the community because it wildly underestimated how much people care about trees – especially these blooming beauties that have been in place for decades.
These aren't just any trees. Cherry blossoms are a revered type of tree in Burnaby and the rest of Metro Vancouver.
We have entire festivals devoted to them. People go on tours just so they can take photos of them when they explode in all their pink glory. Just recently, Metrotown mall was the site of an entire art installation devoted to them.
When it came to cutting some of these beauties down, the city apparently gave notice to the homeowners living directly in front of the trees.
But for residents like Gordon Guenter, who lives a block away, he wasn't given a heads up and so when he heard the sound of the first of these trees being decapitated, it was like a gut punch.
The same goes for dozens of other people who contacted the NOW when they heard what was happening on the day the tree cutting began.
Now, I understand that public consultation is tricky in a case like this. How many notices do you send out? How far do you send out the message?
Well, why not contact as many people as you can? Hold a public consultation meeting to let people know what's going to happen. Maybe explain that the trees that are being cut down will be replaced with the same type. Perhaps that would have softened the blow instead of finding out by accident.
Cities constantly ask people to take ownership of their neighbourhoods when it comes to such things as crime and litter. People are asked to look beyond their own properties.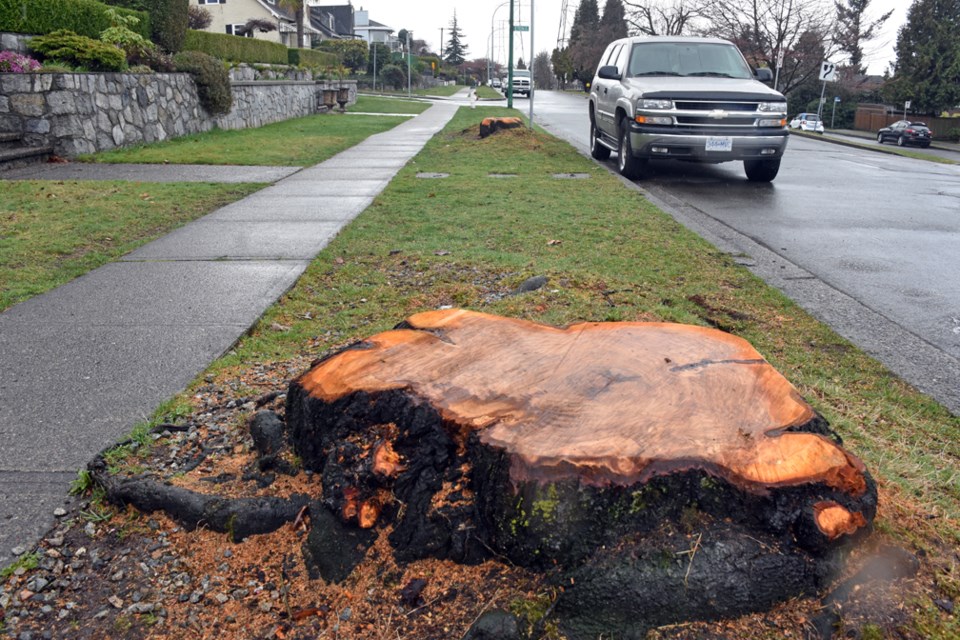 Well, it works the other way too. People are part of a neighbourhood and show-stopping trees like these ones are included in that equation. Just look at the quote at the top of this column. You can feel the love that person has seeing them every single day.
I took the news personally when I received a flurry of messages from Heights residents late Monday night.
I spent the first six years of my life living on Oxford Street, just down from these trees. My grandparents lived just around the corner from these trees and we would walk the neighbourhood and admire them on lazy spring Sunday afternoons.
They are not just any trees and the city should have realized this and taken extra care to inform area residents.
The same thing happened last November when eight giant old-growth trees in Central Park were felled by the city to make way for a new multi-use trail. People who live near or use the park felt like they had been smacked in the face when they found out. Once again, people felt ownership over these trees, which is a good thing and why it hurt so much to see them cut down.
Better public consultation could have made a big difference. I suspect that many cities shy away from this type of consultation because they don't want to give residents time to rally to save the trees. That's an insult to citizens.
Hopefully the city does a better job next time.
Follow Chris Campbell on Twitter @shinebox44