I won't for a minute ask readers to have any sympathy for what I go through as a journalist on a daily basis.
I'm a white male who enjoys enormous privilege and the abuse I receive as editor of the Burnaby NOW is a tiny sliver of what women and BIPOC receive throughout their lives.
Sympathy is the last thing I am looking for because of what happened to me this week – it really doesn't bother me.
It's more laughable than anything.
I arrived at work the other day and discovered that flyers calling me a "racist" had been plastered on our office windows and around the parking lot.
The flyers reads like this: "ELECTION RACISM The BURNABY NOW (fake crooked news) ANTI-CHINESE EDITOR CHRIS CAMPBELL SABOTAGES HEATHER LEUNG'S FEDERAL CANDIDACY BECAUSE SHE SUPPORTS INTEGRITY, HONESTY AND CHINESE/CANADIAN FAMILY VALUES."
It's not signed (of course) and actually looks a bit like a ransom note.
I've hung it up in my office as just another piece of memorabilia from my 30 years in journalism. I've been called a few bad things in my career. I've been threatened with violence by a certain outlaw gang. I've received many anonymous notes and voicemails and emails that would make your hair curl.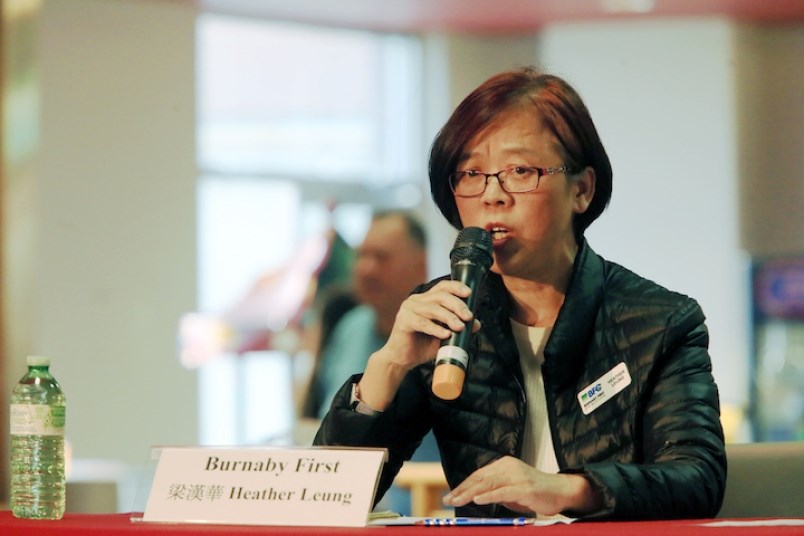 I've been called a "cuck" and "Trudeau's puppet" and now this latest missive says I'm racist.
All because Leung is Chinese and I've written several blogs outlining her homophobia and disturbing views on abortion. I've only ever used Leung's own views against her – and the Conservative Party of Canada agreed enough that it fired her as their candidate.
It's just such a laughable argument that criticizing a Chinese-Canadian candidate for their stances on social issues equals racism. It's lazy, too.
I don't think Leung's campaign had anything to do with it. I think it's just a supporter. I've heard from some of her other supporters going back to the 2018 municipal election. They too have tried to draw a line between my criticism of her policy views and her ethnicity.
Politics doesn't work like that. You run for office and your views face enormous scrutiny.
Printing up an anonymous flyer isn't going to change that.
Follow Chris Campbell on Twitter @shinebox44.