When it comes to crime in Burnaby right now, it's safe to call our local streets a target-rich environment for thieves.
COVID-19 has a lot of Burnaby residents staying home and not driving. I know I rarely go out. That has left my vehicle sitting on the street (I don't have underground parking) day after day after day.
I've noticed in the past two months that our street's parking is always filled up. It's really tough to get a parking spot.
Things didn't use to be like this. There were always spots available, but with people staying put, it's always full.
I've attached the latest Burnaby RCMP crime bulletin map on vehicle thefts and thefts from vehicles.
Just look at this mess. The green spots are thefts from vehicles and it's insane how many vehicles were broken into in April. That's crazy.
As for vehicles being stolen, it's safe to say that South Burnaby is a car thief's paradise. Just three vehicles stolen north of Highway 1.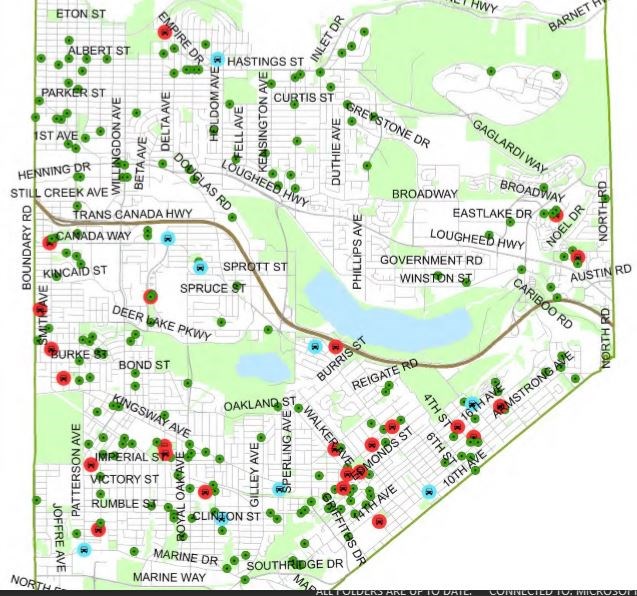 The Edmonds area is especially bad.
As for thefts from vehicles, there is no one or even two bad areas. It's a plague all over our city. Police constantly warn us that if you leave something visible in your vehicle, you're just inviting thieves to break in and steal it.
It doesn't really take much. To someone trying to get some quick cash to buy drugs, they won't discern. It doesn't need to be a big item.
I've learned this the hard way and so I empty out my vehicle every night when I come home – at least I did before I started staying home every day.
Some people think this is blaming the victim, but the numbers don't lie. Just look at all of those green spots on the map.
Follow Chris Campbell on Twitter @shinebox44.