Late last month, B.C. Premier John Horgan announced a freeze on evictions during the COVID-19 crisis (with some exceptions).
Horgan, in announcing a renters' supplement and a freeze on rent hikes, made it clear that this is a crisis and the provincial government wants tenants protected from getting booted out.
His message talked about how a mass number of people have been losing their jobs due to the pandemic.
Hence, the freeze on evictions.
And yet, a few days after that, one Burnaby landlord emailed a message to all of their tenants that ended with what sounds like a threat.
Nathan (I'm withholding his last name for fear of reprisals from the landlord) sent me a copy of the letter.
It ends like this: "Please keep us informed on the status of your rental payments to avoid further action." (There is a screenshot attached to this blog.)
"Further action" – that's a pretty ominous message to send to your tenants, some of whom are struggling through no fault of their own. It doesn't say what "further action" might be taken, but thankfully the province has banned evictions right now. Of course, who knows what could happen once the prohibition is lifted. Will they be marked for eviction once the crisis is over?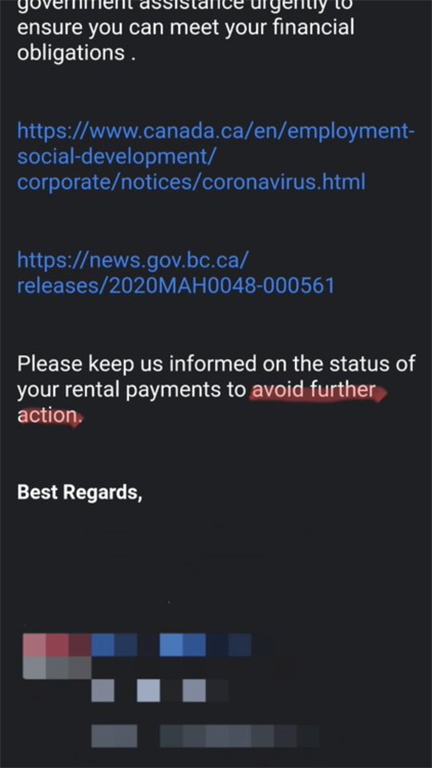 I've been getting hammered lately by a few landlords over my recent columns and yet I continue to receive copies of these kinds of unsympathetic and downright threatening messages from landlords. My overall message is that landlords need to recognize there is a crisis and find a way to work with tenants.
This letter is not an example of that.
It starts out OK, with the landlord admitting that it "does understand that there will be financial difficulties in these times of crisis."
But then the landlord says, "However, their position is that tenants are not permitted to defer any payments. Tenants must make full rent payments."
So they understand that you might be suddenly unemployed and not have any money, but the landlord is not willing to even work out a deal to defer a payment.
Instead, the letter suggests "savings, lines of credit, family and any other means" to pay the rent, and using credit cards to cover everything else.
Once again, it's insulting and condescending for a landlord to tell tenants to borrow off of family, etc. These are adults, they understand the options available to them.
Look, I get it, landlords want their payments and I'm not necessarily saying they shouldn't get those rent payments.
But this letter is yet another obnoxious response to tenants that includes a threat at the end that puts unnecessary stress on people already under enormous stress.
Follow Chris Campbell on Twitter @shinebox44.