*This blog has been updated because some readers have made some interesting additional points*
Ian Anderson, president and CEO of Trans Mountain, sent a letter to the editor to the NOW the other day about the physical distancing of workers at the tank farm it operates in North Burnaby.
The letter was actually responding to another letter, by Burnaby resident and TMX opponent David Huntley about photos that sure looked like tank farm workers weren't physical distancing while doing construction at the site. Huntley's letter was responding, in part, to a NOW story about the issue. (You can read that story here.)
Anderson's response said Trans Mountain was taking COVID-19 seriously.
"We are following physical distancing measures on-site and in offices through staggering work shifts and decreasing the number of people being transported in buses and vehicles," Anderson wrote. (You can read the full letter here and Huntley's letter here.)
It didn't take long for Burnaby residents to respond to Anderson's letter. In short, they are not buying it. Some have created memes using photos of Trans Mountain workers clearly not following physical distancing recommendations by B.C. health officials. You can see one of them embedded and see another by scrolling through the photo above.
The memes include Anderson's own words.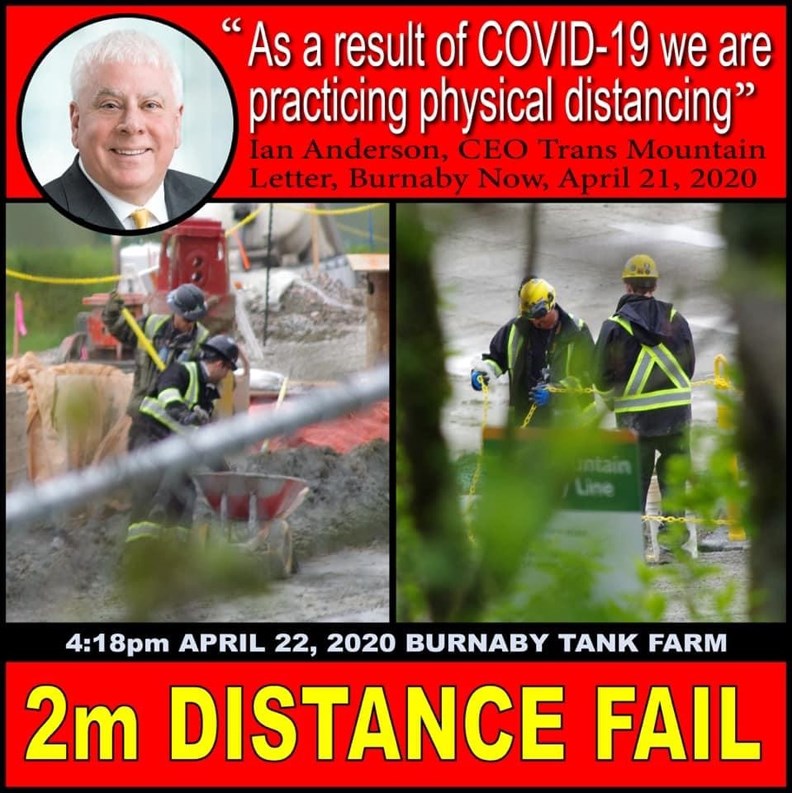 Another resident, who didn't want their name used, sent fresh photos from Wednesday that also suggest workers getting too closed to each other.
So, how much can people hold Trans Mountain responsible for workers who have been told the rules over and over again, but still aren't listening?
According to Robyn Allen – the former CEO of a Crown corporation who wrote to the NOW after seeing the first version of this blog - the company and its CEO have ways to ensure workers are following policy.
"Any well-managed company has its workers agree to abide by corporate policy as part of the terms of their employment, and if after being told the rules over and over again — if they don't listen — it's grounds for firing," Allen wrote. "Anderson is responsible for ensuring his workforce plays by the rules, and if they don't, then those workers must be replaced with employees who will."
People against the pipeline are, of course, desperate to shut down work in any way possible, so they go back day after day and take photos. There was also a new protest in front of the tank farm gates honing in specifically on the physical distancing issue.
Look to this point to be continually hammered home over the next few months.
Follow Chris Campbell on Twitter @shinebox44.