"We need to get more toilet paper."
The words were still hanging in the air as I ventured to the laundry room to check and noticed there was an entire unopened package just sitting there.
"We have plenty," I told my partner.
"I'm worried people will start hoarding it again," my partner replied.
She's got a point.
I've been seeing people talking more and more on social media about how they are considering stocking up again or reporting that they are seeing people doing this.
So, I investigated. I dropped by multiple Burnaby stores yesterday, including Walmart, Superstore, Costco etc. to see for myself.
The shelves are still stocked, but I saw a lot of people grabbing more than one bag of toilet paper at a time. One dude had three giant bags piled up in his cart.
You can tell a lot about the mood of society by looking at what they are buying.
A Costco clerk told me she's definitely seen a rise in the number of people making a run on toilet paper in the past two weeks.
It's not a surprise. Dr. Bonnie Henry recently ordered new restrictions due to the skyrocketing number of COVID-19 cases.
As things get worse, people are expecting a new lockdown coming and so they start to panic.
Why panic = toilet paper I don't know, but here we are.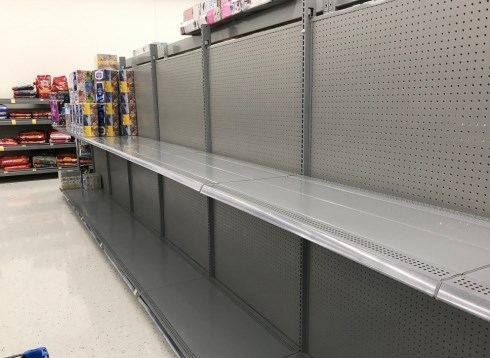 The spread and the fallout in B.C. from the COVID-19 pandemic continues to go deeper by the day, with several metrics reaching record levels.
The province lost 11 residents between Monday and Tuesday to the virus – the highest one-day total ever – pushing the death toll from COVID-19 to 310. Future record numbers of deaths could be on the horizon, given that the number of people now in hospital with COVID-19 is at an all-time high of 198 – 17 more than the previous record of 181, which was set Monday. 
There are a record 6,589 people who are actively fighting infections out of the 23,661 people in the province who have been infected at some point since late January, when the virus first appeared in B.C.
Fraser Health represents the majority of new infections.
That includes Burnaby, of course.
People don't need to panic and go shopping. They need to follow Henry's recommendations by wearing a mask, washing your hands, keeping physically distant and staying within your household group.
That's much better than toilet paper.
With files from Glen Korstrom
Follow Chris Campbell on Twitter @shinebox44.