As far as anniversaries go, this was one I was truly dreading.
At the end of June 2019, Burnaby resident Charles Masala was killed by a driver while cycling up Gaglardi Way.
The father of two was loved and respected by so many for his thoughtful outlook on life and his contributions to society, including founding Dwankhozi Hope, an organization that has brought education to over 1,000 children in rural Zambia.
I know how loved he was because in the year that has passed, I have been contacted by dozens of his friends and family from as far as Calgary and the U.S.
Mostly they have been checking in on what's happened in the year since he was the victim of an apparent hit-and-run driver.
"It is still a piece of my life that I have not been able to come to closure on, and like his family and friends still waiting for more from the Burnaby RCMP's investigation and seeing what will come from it," wrote Keith Mountjoy of Calgary.
I wish I had answers for them, but as of this writer I am not aware of any criminal charges relating to Masala's death.
The NOW is reaching out to the RCMP about this case.
As for what else has happened since then, well it's a lot.
A GoFundMe campaign has raised more than $8,000 so far. A "Ghost Bike" was created and left at the scene of his death. Then that "Ghost Bike" was stolen, stripped and then left at the side of the road. His friends then created another "Ghost Bike" that includes flags and markings that pay tribute to Masala. I pass by that bike multiple times a week because I live near it.
It always makes me sad. I didn't know Masala, but I can tell what a special person he was.
I also get angry when I pass by this site because nothing has been done to make cyclists safe on this part of Gaglardi Way.
Masala's friends are still angry too.
Another Chris wrote me about the fact that no changes have been made to this "murderous stretch of road" that leaves cyclists vulnerable.
The City of Burnaby is nearly finished making safety changes on the other side of Burnaby Mountain, with an urban trail on the north side of Burnaby Mountain Parkway.
Masala's friend Michelle has issues about this.
"One question to ask the city and get statistics about is which side of the mountain is more dangerous," she wrote. "I saw what looked like a separated path being installed along Burnaby Mountain Parkway … Yet when a separated pathway or barrier or speeding cameras (something/anything to get that road under control) was suggested for Gaglardi Way, it was mostly dismissed as unnecessary since Charles was the only cyclist to be killed on that road."
Yep.
What infuriates me is that the City of Vancouver recently did something seemingly simple that I wonder if could be applied to Gaglardi going in both directions.
Look at the graphic attached to this blog.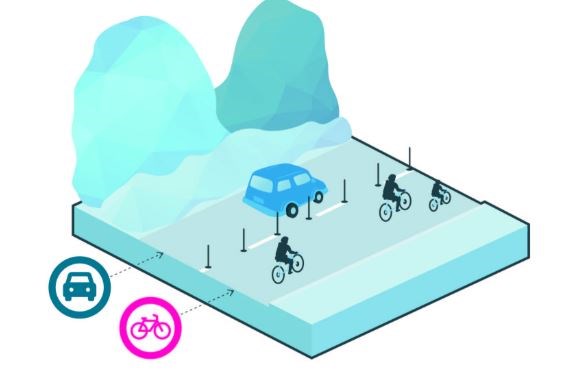 This is what has been applied to Stanley Park to create a separate bike lane, at least as long as the pandemic.
I saw photos of orange pylons placed in the middle and it's an instant bike lane.
I think this could be done on Gaglardi. The fact is this is not a really busy stretch of road going up and down the mountain (until you get to the Broadway intersection). It's two lanes in each direction and I've never seen enough traffic to warrant that many lanes, especially during the pandemic. It's not as good as an actual protected bike lane, but it's a start.
If Vancouver can do it, then I think Burnaby could. The city is already doing this type of thing by closing lanes in other parts of the city, with six already picked out.
Is the city just being stubborn?
Follow Chris Campbell on Twitter @shinebox44.