People laughed and choked on their morning coffee recently when it was reported that Airbnb actually had the gall to lobby the Canadian government for financial relief and tax breaks for its hosts.
The COVID-19 pandemic has destroyed the Airbnb market because few people are travelling and so the company wrote to the feds asking for a whole bunch of support.
Child, please.
Airbnb has a long, sordid history of destroying rental housing markets, not paying Canadian corporate taxes and hosts not paying their fair share in taxes. Cities have tried to crack down, but many hosts find ways to keep their locations hidden.
According to this Toronto Star article: "Thorben Wieditz of Fairbnb Canada, an advocacy group that has long called on stricter regulations on short-term rentals, says 'ghost hotel' operators that use the Airbnb platform aren't paying their fair share in taxes and don't deserve a bailout. He notes Airbnb itself doesn't pay Canadian corporate taxes and that Airbnb hosts aren't subject to the higher commercial property tax rates that hotels are subject to. 'There is very little that comes back from this company,' Wieditz said."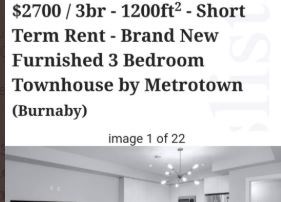 So spare me the tiny violins for hosts who have exploited the market and flouted laws and taxes for years, but now feel like taxpayers owe them anything.
In Burnaby, we've seen how much of a panic these hosts are in because they have flooded the local rental market with "furnished" units that are offered on a month-by-month basis.
I had checked this out recently and thought there was an unusually high numbers of these types of units.
I'm not the only one. On Twitter, @katiepeheakoe actually counted 239 of these types of units. Normally, landlords want an iron-clad one-year lease, but suddenly these landlords are like, "Hey, let's go by the month."
This means the renter has absolutely no security. If (when?) things get back to normal with travelling, you know tenants will get bounced.
Oh, and these Airbnb hosts might be desperate for tenants to cover their mortgages (some hosts have multiple units), but they are still asking for absolute top dollar.
Omg you guys there are so many "furnished apartments " suddenly available on craigslist in #Burnaby.

Some of them are straight out saying "no lease" which I'm not sure is legal in BC or "month to month lease only" #Airbnb #housing #bcpoli

— Little dying leaves (@katiepeheakoe) May 1, 2020
The funny thing (to me, at least) is that I have my doubts many people will snap up these units. First, they are hideously expensive and lots of people are suddenly out of work. Second, there's no security. Third, people who can afford top dollar usually have their own furniture. And, finally, who wants to risk moving during a pandemic?
Sorry, but I have zero sympathy. Airbnb was originally pitched as a way for people to rent out a spare bedroom once in a while to make extra money.
Today, it's people running their own mini-hotel chains. I'm sorry you are mortgaged to the hilt, but you've exploited our housing market for years so bye, Felicia.
Don't expect taxpayers to care.
Follow Chris Campbell on Twitter @shinebox44.