You have to wonder how awful or desperate a person is to steal a memorial to a dead person.
Friends of Burnaby cyclist and father Charles Masala – killed this past summer after being struck by a suspected drunk driver – chained a "ghost" bike to a post along Gaglardi Way, where he died.
Someone then cut the chain and stole the memorial, leaving his friends and family heartbroken and angry once again.
Undeterred, his friends built a duplicate, painted white and with the colours of the Zambia flag, along with nods to his adopted country of Canada.
That bike is now bolted to the same post.
Late Saturday, I received an email from a reader who swears she saw the stolen "ghost" bike lying in some brush at the side of Gaglardi Way, south of where Masala died.
I went out early this morning and, well, there it was, sitting propped up. The wheels are gone, but the rest of it is intact. Some friends who built the bike told me they had removed the chain and it could not be ridden, so I guess it's not a surprise that it was found relatively close to where it was stolen.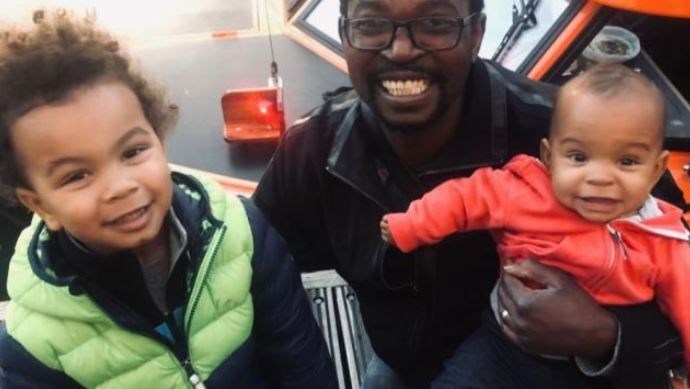 The bike is in a safe place. I have reached out to his friends to see if they can pick it up.
I don't know what to think about this. It doesn't change anything. Masala's friends and family are still grieving. The RCMP investigation is still grinding away at a glacial pace – I was told these investigations can take close to a year to complete before charges are laid.
Still, finding the original bike feels like something. I don't know why. I guess I'm grasping for something positive in this whole awful, crappy mess. I pass by the scene of Masala's death every day, see the new "ghost" bike and think about this man.
I never met him, but I've been impacted by the kind words his friends have shared with me about how Masala affected their lives.
A GoFundMe page has been set up by Masala's friends to help out his family. It's raised about $5,000 so far.
"Charles was an amazing human being," reads a post on the page. "His smile and laughter were so infectious it instantly lit up a room. No matter how you were feeling you couldn't help but smile back. He was always willing to lend a helping hand to anyone who needed it whether he knew that person or not."
Follow Chris Campbell on Twitter @shinebox44