He came into the federal election campaign with the lowest expectations of any political party leader, but the federal NDP's Jagmeet Singh has proven to be formidable campaigner.
The question now is if he can translate his good performance into electoral success for his party, which may still find itself in desperate straits despite Singh's efforts.
I have been around him on several occasions and have been impressed with his ability to not only attract crowds, but hold them in his spell. He was nearly mobbed at the climate action march in Victoria Friday and drew a large crowd to a town hall later that evening.
The next day, his campaign deftly boarded a BC Ferries vessel, where he found a receptive audience for 90 minutes and later drew hundreds to a rally in Surrey.
He seems to be getting a fair amount of attention from young voters who seem particularly drawn to him. It is not quite Singh-mania, but his style of campaigning is much closer to Justin Trudeau than anyone else.
Singh may even be rivalling Trudeau when it comes to being the selfie king of the campaign.
He held his own in the only televised debate so far and no doubt has benefitted from Green leader Elizabeth May's rough start to the campaign. He seized upon May's promise that she may possibly support a Scheer Conservative government to paint her party in right-wing hues.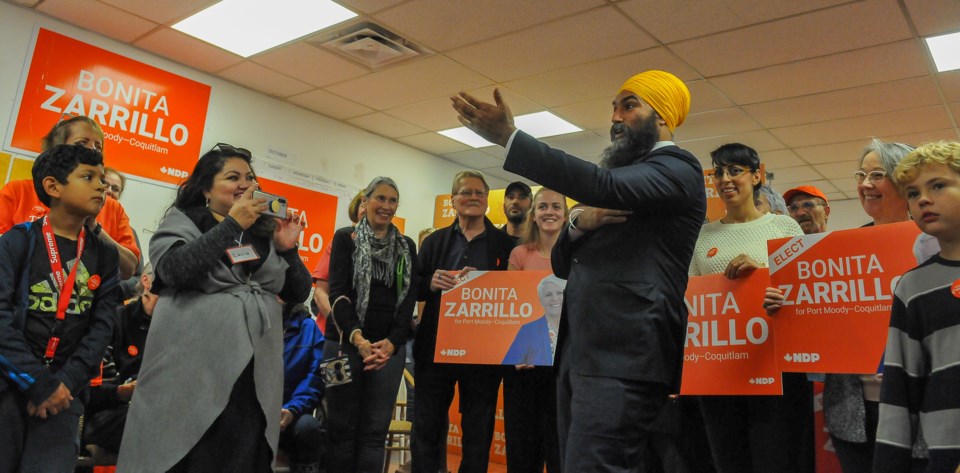 Moreover, Trudeau's past foibles may have breathed some life into Singh and his party. The polls do not necessarily reflect that – they continue to suggest public opinion has been locked in with little movement since the campaign began – but I think they may be a reason for the crowds he is attracting.
And yet, I still wonder if he is trying to push a very large boulder up a rather steep hill.
This past weekend, he curiously paid a visit to the riding of Vancouver Kingsway, which normally should be considered a lock for the NDP. Riding visits are of strategic importance so his drop-in there may indicate some nervousness.
In Victoria, once considered an NDP stronghold, the Greens seem to be running neck-and-neck with the NDP when it comes to candidate lawn signs on home lawns (as opposed to ones on public property such as boulevards), which are indicative of actual voting intentions.
However, he also visited Surrey-Newton, a riding won by the Liberals in 2015 by a huge margin. Singh told me before the campaign began that he thinks the NDP can pull an upset there.
I am not so sure about that, but I am sure if the NDP suffers an electoral disaster on Oct. 21, the blame shouldn't automatically be placed on Singh's shoulders.
Keith Baldrey is chief political reporter for Global BC.