When I wrote about a cyclist nearly getting mowed down on Kingsway back in July, a few drivers took issue with my headline referencing a "bike lane."
Even though cyclists considering the far-right lane of a road a "bike lane" some drivers didn't want it called that – never once showing any concern that a driver nearly killed the cyclist.
OK, fine, if you really want to be technical about it, then I present you with a different example.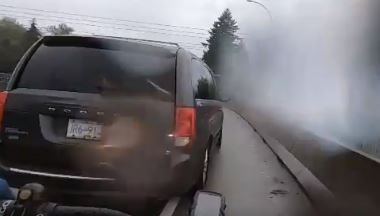 And even heartless drivers can't argue about this one because, as you can see in the photo above, there is literally a white bicycle symbol pictured as a driver wanders into the bike lane.
This incident happened just north of the Cariboo Road overpass that crosses Highway 1 in Burnaby. Cyclist Will Richardson-Little captured video of the driver driving recklessly.
"Your daily reminder that paint is not cycling infrastructure," tweetedRichardson-Little, a reference to how protected bike lanes are the best way to keep cyclists safe.
The City of Burnaby really needs to step up its game and start adding more protected bike lanes around our city. This is ridiculous.
Your daily reminder that paint is not cycling infrastructure pic.twitter.com/D97wYyDyf1

— Will Richardson-Little (@wwrlittle) September 13, 2019
Richardson-Little also tweeted a second photo on the Cariboo Road overpass, this time coming north. Once again, a driver drifts well into the bike lane.
I'm sure I'll still get some driver emailing me to whine about how cyclists are really to blame, yada, yada, yada.
Follow Chris Campbell on Twitter @shinebox44.