I have only anecdotal evidence to go on, but living room furniture seems to be the most popular item for Burnaby dumpers.
Or maybe it's drywall and construction waste.
Let's call it a tie.
All I know is that I can't seem to go driving around Burnaby without seeing rotten old couches dumped all over the place. And, no, I'm not talking about those items left in designated spots to be picked up by the City of Burnaby.
I saw the couch pictured above tossed at the side of Lougheed Highway, making for a really ugly sight.
People seem to think they are decorating Burnaby roads like a living room. I've seen couches, end tables, coffee tables, lamps, carpets, dining room tables and more all strewn across our community.
According to the city, it more than spent $113,000 in 2019 on cleanup of illegal dumping.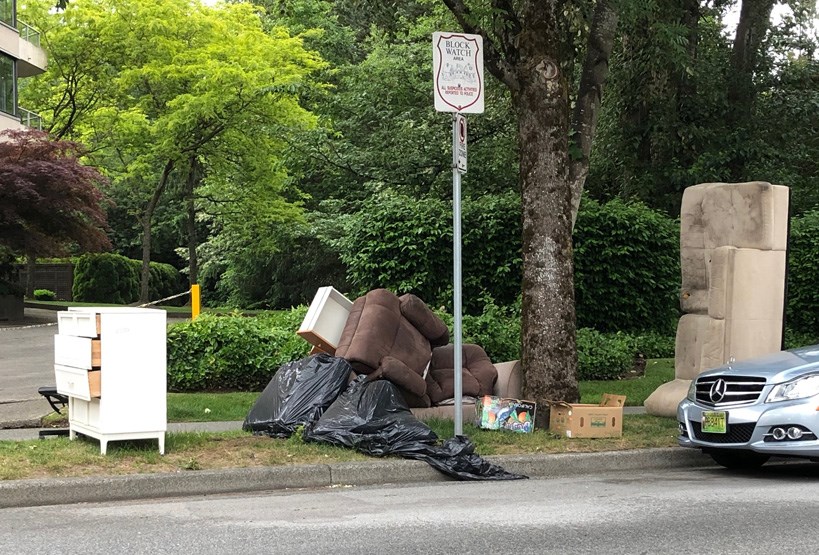 "This represents the cost of collecting items that were dumped illegally/without notice," said the city.
Sure, maybe it's a drop in the bucket compared to a huge annual budget, but it's still money that could be spent elsewhere and staff resources that could be doing other things.
The City of Burnaby aims to curb illegal dumping through its residential curbside program. Burnaby residents can call the city at (604-294-7972) and arrange for pick-up of bulky items and appliances. These include items like mattresses, old fridges and stoves.
People can find more information on the residential curbside program at: https://www.burnaby.ca/City-Services/Garbage---Recycling/Large-Item---Appliance-Pick-Up.html