Richard Campbell is happy.
The cycling advocate is so happy he's using exclamation marks to show his support for some road infrastructure changes in North Burnaby.
Campbell (no relation) asked the City of Burnaby about nine months ago to fix what he called a dangerous problem on Lougheed Highway heading eastbound, just on the other side of the Gilmore Avenue intersection.
When cyclists or pedestrians crossed Gilmore, there was no room for either group. It was just a vehicle merge lane. With a new construction project on the side, there was no longer anywhere for people to get out of the way of vehicles. See the photo below. Just a terrible situation.
Now, pedestrians and cyclists will both have options.
A new bike lane has been added on Lougheed in this area. And shipping containers are now being installed to allow people to go east-west and be safe from traffic.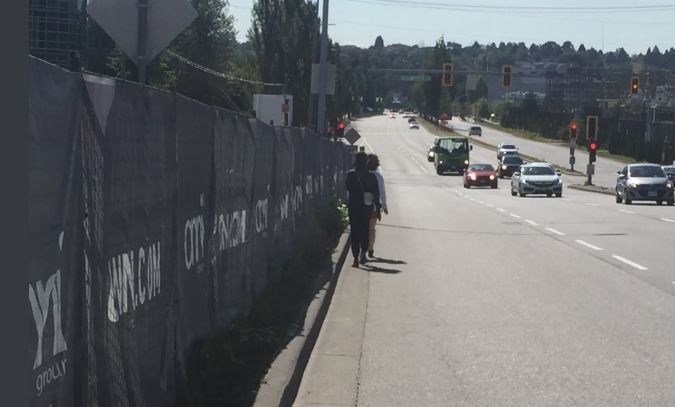 "FINALLY!!! 'Only' nine or so months after bringing it to @CityofBurnaby's attention, sidewalk along south side of Lougheed west of Gilmore almost in place," Campbell tweeted. "The good news is that it is weather protected and armoured. Badly needed for protection from constructions and Burnaby drivers.
"And, as a bonus, that dangerous merge lane eliminated and there is now an eastbound bike lane from Gilmore! A great reallocation of an unneeded traffic lane. Probably by far the safest temporary reallocation during the pandemic. Definitely should add shipping container to toolkit!"
I do have concerns about the bike lane that's painted there because it looks awfully tight, but it's a deifnite improvement.
I wrote about this area in July 2019 and at the time the problem, according to the City of Burnaby, was that the property next to the highway is owned by the development company Onni, which is working on a multi-tower project on the site.
Developers have to provide a "traffic management plan as part of the development process," according to the city. "This includes pedestrian circulation. The intention is to ensure pedestrian access is maintained throughout construction. When access issues are brought to our attention, we follow up with the developer to ensure compliance."
However, in this case, since this isn't an official, paved sidewalk next to Lougheed, the city couldn't really do anything about the grassy section being blocked off.
But since then, something obviously got worked out. I wish the city had let me know since I asked them about it in the first place.
I'm just glad it got done.
Follow Chris Campbell on Twitter @shinebox44.