It's been a little more than one year since a driver took the life of Burnaby resident Charles Masala.
I've written several articles in the past few days about the death of Masala, who was killed by a driver while cycling up Gaglardi Way. But on Monday night, while driving home, I saw a tribute to Masala that just broke me.
While driving past the spot where Masala died, at the entrance to the Burnaby Mountain trails used by so many cyclists, I noticed a sign has been erected that's in clear view of drivers.
"Slow down. We miss our daddy." Also on the sign are two handprints of Masala's two children who have been left without a father.
The message is so devastating that I hope at least some of the drivers who go racing by at dangerous speeds will think to slow down. As  I took photos of the sign, drivers were whizzing by are far above the speed limit. I could feel the wind nearly lift me off of my feet.
Gaglardi Way is a racetrack that is regularly policed by Burnaby RCMP because people treat it like the Autobahn.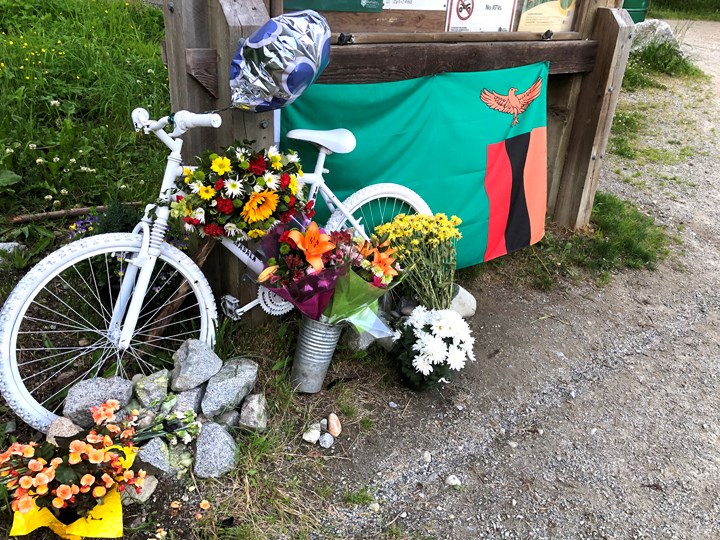 Just this past weekend, police caught 11 drivers doing more than 91 km/hr in the 60 km/hr zone on this stretch of Gaglardi, with one driver caught doing 124 km/hr.
This road is so dangerous, a petition has been started in Masala's name that calls for changes on the road where he died.
The father of two was loved and respected by many for his thoughtful outlook on life and his contributions to society, including founding Dwankhozi Hope, an organization that has brought education to over 1,000 children in rural Zambia.
Now some of his friends are rallying to produce change through a new petition that you can read and sign here.
"Charles' death could have been prevented," the petition says. "Separated bike lanes, barriers, speeding deterrents and education could have saved his life … Please sign this petition to request speeding cameras and a separated bike lane for Gaglardi Way. Let's prevent another tragedy from hitting our neighbourhood."
A GoFundMe campaign has raised more than $8,000 so far for Masala's family.