When people say the word "barbecue," they might not realize just how complicated the concept is.
It's not just about grilling something – it's how you grill it and what you add to it that makes things so complex. Oh, and whether or not you prefer pork or beef ribs.
Just trying to decide on what kind of smoke to add to your food can take a lot of deep thinking.
And then there is the idea of a sauce. If you watch as much Chopped on the Food Network as I do, you'll see sauces can cause crazy arguments. Chopped held an entire tournament with regional competitors from Memphis, Carolina, Kansas City and Texas all arguing that their style was the best.
I've tried so many different types of barbecue sauces, from the vinegar of eastern North Carolina to Kansas City's sweetness to Texas-style "mop" sauces, that I know barbecue isn't as simple as people think.
So I feel I'm qualified enough to bring some veteran barbecue-eating experience to the, ahem, table and declare the best barbecue ribs in Burnaby.
My view is they are found at Hastings and Gilmore at Butchers Block BBQ.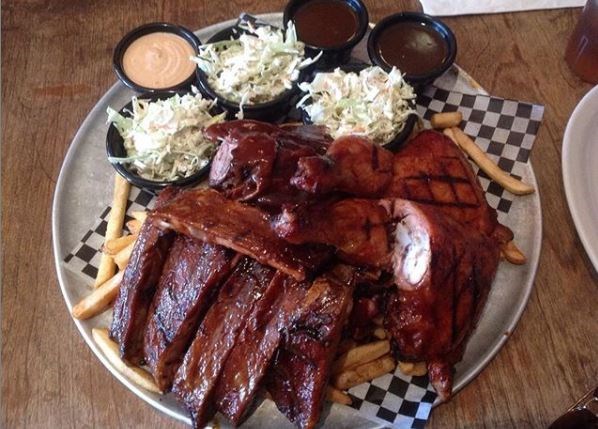 These pork ribs are tender, juicy and generally falling off the bone. And while it's tempting to slide the meat off the bone and then eat it with a fork, I find it's more fun to just pick up these big boys and eat right off the rack.
There's a nice smokiness to it that is done in-house by the cooks each day. Butchers Block blends its own sauce and even sells it in bottles at the front desk.
My friend and I always order a side dish of sauce so we can dip the ribs into it – the sauce is that good.
They don't say if there is a particular region their barbecue is based on, just that it's "backyard-style".
The platters come with coleslaw, beans and cornbread, which is just fine for mopping up the sauce and beans off the plate.
It's like being at a backyard barbecue, but without the mosquitoes.
DISCLAIMER: I have not been paid or compensated in any way by the restaurant in question. They don't even know I am writing about them.
Follow Chris Campbell on Twitter @shinebox44.